Review: Samsung Galaxy S5 Active for AT&T
Form Performance Basics Extras Wrap-Up Comments 3
Media
The Active includes the stock Google-made Play apps. The Google music, video, TV, book, and magazine stores are all fine places from which to rent or purchase content. The individual apps to consume them are decent and haven't changed in quite some time. The Active also includes the standard YouTube app, a generic MP3 player for sideloaded music, and a generic video player for sideloaded video. AT&T's crummy Mobile TV app is also on board. This for-pay app lets you stream live and pre-recorded content over AT&T's network. Don't bother.
Thankfully the Active carries over Samsung's Smart Remote app. Smart Remote can both control your home theater equipment and also peruse various content sources for something good to watch. Setting up the remote is a cinch. It walks you through the process of pairing with various devices and doesn't take more than a few moments to lasso control over your TV, cable box/DVR, Blu-Ray player, and receiver. The app's "smarts" come from the Peel engine. Answer a few questions and the app will be able to interact with all the content from your cable provider, as well as view schedules in advance, interact with the DVR, and so on.
AD article continues below...
Last, AT&T preloaded Beats Music, too. Beats costs $5 extra per month for unlimited streaming. Why Beats is on the Active as opposed to Samsung's own Milk Music app is a curiosity I can't answer. (As an aside, it is worth pointing out that Apple recently agreed to acquire Beats Music. Apple said it will continue to offer the Android app, but it is possible that will change down the road.)
Camera
The Active may not have a dedicated camera button, but the excellent camera application opens in a jiffy from the lock screen.
The viewfinder fills the entire screen; the controls float within. There are some quick settings available on the left side of the screen, including a toggle for the user-facing camera, selective focus, HDR, and the full settings. The action buttons on the right include a dedicated video camera button, a separate shutter button, and access to the various shooting modes and gallery.
The full settings are organized in a grid of icons. It is easy to interact with them and understand exactly how changes you make will affect the outcome. Further, it is customizable; You can drag the icons for the settings around in the grid and arrange them however you like. The Active offers control over picture size/resolution, metering modes, stabilization, timer, white balance, exposure, guidelines, shutter sound, and on. Basically, everything you need is there.
The Active has six different shooting modes preinstalled. They are auto, beauty face, shot & more, panorama, virtual tour, and dual camera. There is also a link in the mode listing to the Samsung app store where you can download more modes if you want, such as sports mode, which isn't preinstalled.
Samsung was smart to make the HDR feature accessible all the time. You can turn it on or off quickly when needed, and I find that really helpful. The same goes for the selective focus control. Like Nokia's ReFocus tool or a Lytro camera, selective focus lets you blur the background while the foreground is in focus and vice versa. You need to have a clearly defined subject and background in order for the feature to really work. Images turn out best if you are really close to the main subject. In fact, Samsung recommends you be about 1.5 feet away, with the background object at least 5 feet from the foreground subject. You can set the foreground to be in focus, the background to be in focus, or both to be in focus after the fact. This shooting mode also takes a little bit of practice to use properly, but the results are cool.
Just like the GS5, the Active has the picture stabilization tool on by default. I suggest you deactivate it because it really bogs down the speed of the camera. Every shot takes several seconds to focus and capture. When turned off, the Active's camera will focus almost instantly and can take pictures as fast as you can press the shutter button.
Photos
The Active captures images as large as 16 megapixels in the 16:9 aspect ratio or 12 megapixels in the 4:3 ratio. I was pleased with the shots I got. I didn't see any appreciable difference when compared to the results I obtained with the regular GS5. The Active delivered razor-sharp focus, good exposures, and accurate white balance. In general, the pictures are better than those I got with the HTC One. Most people will be pleased with the shots they take, even if all they ever do is use the automatic mode. Active owners who take time to explore the different shooting modes will be rewarded with images that go beyond the ordinary.
The front camera does a good job, too.
Video
The Active can shoot 4K (Ultra HD) video, but it's wasted without a 4K TV on which to view it. Skip recording in 4K entirely unless you have a monitor that can show it or you need the highest possible resolution. The 1080p HD video that I captured looked great. I was really impressed with the quality of focus, exposure, and white balance. The results accurately represent the real-world scene I recorded. Your YouTube fans will be impressed, no doubt.
Gallery
Samsung's gallery app offers some fun extra features. The Active will automatically sync thumbnails from your Google+ and Dropbox accounts, but you can thankfully turn these off. There's a drop-down menu accessible from a button at the top of the screen for sorting between albums.
When you dive down into the individual galleries, the Active goes into a split-screen mode: a vertical list of other galleries forms a strip along the left edge of the screen, and the rest is reserved to show larger thumbnails of the images in the gallery you chose to view. You have to press one of the thumbnail images to go into a full-screen view of that image. The entire screen of thumbnails can be pinched to make them smaller or enlarged. Once you open a single image, you can swipe through photos and share quite easily thanks to the numerous options in the gallery app.
The editing features are extensive. Not only does the Active offer crop, resize, and rotate, but it includes a number of handy tools for making OK photos exceptional. It allows users to adjust brightness, contrast, saturation, and red/green levels. It includes a number of Instagram-like effects. There's a suite of tools for touching up portraits, such as red-eye reduction, airbrushing, and blurring. Now you have no excuse to look like an unkempt mess in your selfies.
The Active also includes the Google+ Photos app, which can be used to sync and backup images to your Google account. Google+ Photos also includes the nifty Auto-Awesome feature for making GIFs and other improvements.
Activity Zone
The one significant new app on the Active that's not available to the standard GS5 is the Activity Zone. This app lets you tap into the Active's outdoorsy sensors, and more. The basic info screen shows you the elevation, barometric pressure, and compass. There are two large buttons that toggle on/off the flashlight or stopwatch. Them there's a dropdown menu accessible from the top-left corner that lets you drill down into each of these individual tools to get more detailed readings and measurements.
The Activity Zone also automatically finds other apps that tie into activities, such as Samsung's own S Health. The two can share information to enhance your view of your activities, exercise, and health. For example, it might be helpful to know that perhaps you're more winded than normal because you're at a higher elevation and the humidity is nearing 100%.
Apps
The Active includes a Samsung app store where you can download all the silly Samsung apps you want. AT&T has 11 different apps on board, most of them useless duplicates of stock Android apps.
The Active carries over features such as Air View, Smart Stay, S Finder, S Voice, and multi-window for running two apps at a time. Samsung included a data usage tool so you can monitor how much data you consume in a given day, week, or month. Sharing content from the Active to other screens is easy thanks to a screen-mirroring tool. Music and video content can be pushed to TVs and stereo systems via Samsung Link. It is brain-dead easy to use and can connect to most any nearby device.
The phone comes with what Samsung calls Blocking Mode. It's basically a Do Not Disturb function. It lets you set times when notifications are turned off. The app allows you to select certain contacts who will be able to reach you even if all others are blocked. Blocking Mode can be controlled manually, or set to turn on and off at certain times each day.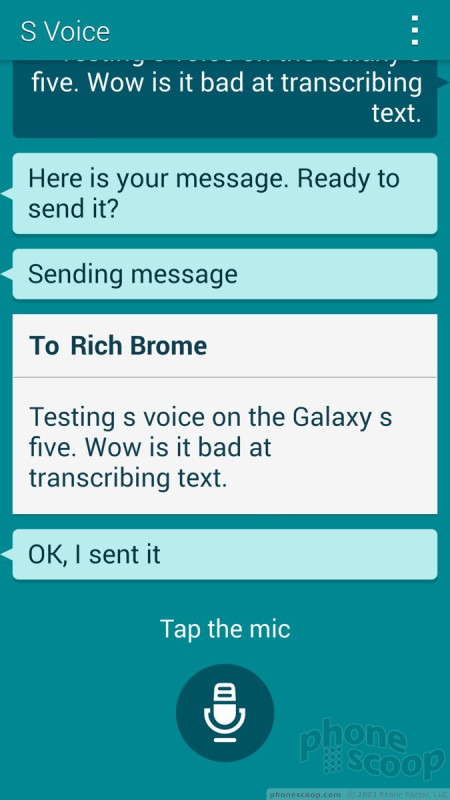 Bluetooth
The Active supports Bluetooth 4.0 LE. I was able to pair it successfully with a number of different devices, including headsets and speakers, as well as other smartphones and PCs. Phone calls routed to a headset offered excellent quality - much better than the standard GS5. Since the Active supports the aptX profile, music sounded amazing coming from aptX Bluetooth speakers.
Browser
The Active ships with an AT&T-skinned version of the stock browser, and Google Chrome. The AT&T app has toolbars that come and go as you browse through sites. One at the bottom offers basic back, forward, home controls, as well as a link to your favorites and a notepad. The top navigation bar lets you type in web addresses as well as manage tabs and so on. The browser does a fine job of rendering web sites and was quick over AT&T's LTE network.
Chrome is Chrome. It looks and acts the same way as it does on other Android devices. It performed well on the Active and AT&T's network.
Clock
You can choose to put a clock on the lock screen or not. It's your call. If you do, it'll be a large, white, digital one. The weather can be paired with it, which shows the current conditions wherever the Active happens to be. I wish you had more control over the lock screen clock.
GPS
AT&T Navigator and Google Maps are both preloaded. The Active performed excellently as a navigation tool. It pinpointed me in about 5 seconds consistently, and had no trouble plotting routes and finding nearby points of interest. Google Maps is free and Navigator carries a monthly fee. Maps offers all the same tools as Navigator and more, with features such as Street View.
Private Mode
The Active includes Private Mode, a special, sealed-away part of the OS that is password protected. Private Mode is mainly meant to protect sensitive files. It can interact with the photo gallery, the Google+ Photo app, the MP3 and video player apps, as well as the file browser. You can, in effect, hide pictures, songs, and videos you don't want others to see or hear. Though privatized pictures will technically exist in the gallery app, they can only be viewed when in private mode. Private Mode can come in handy for those who may want to keep some adult content on their device and take comfort that others won't be able to view it.
S Health
S Health taps into a bevy of sensors and can be used as a fitness pal and diet planner all in one. S Health forces you to create a profile, including your age, sex, height, and weight. It automatically calculates your body mass index and asks how active you are in general. You can use the app to track walks, runs, hikes, and bike rides. The Active has a built-in pedometer and heart rate monitor. Pair these with the calorie tracker and you really have a good idea of your fitness level. I found the pedometer to be fairly accurate at counting steps and measuring approximate distances. The heart rate monitor was also accurate, as it delivered the same result that my treadmill did. The one bummer is that you have to be still to track your heart rate. This means you can't track while you're actually working out. You have to stand still for 30 seconds with your finger on the sensor to get an accurate reading.
The food tracker is highly detailed and lets you be explicit in monitoring your diet. For example, I was able to pick out the exact brand of yogurt I ate for breakfast, including the flavor! The food tracker can find nearly anything you search for, which is very helpful if you're monitoring calories strictly. You can track breakfast, lunch, dinner, and snacks. The software automatically knows how many calories you need to consume to maintain your current weight. It can help you set limits if you actually want to lose weight.