Microsoft Improves Facebook Messenger for Windows Phone
Article Comments 4
Jun 5, 2014, 3:15 PM by Eric M. Zeman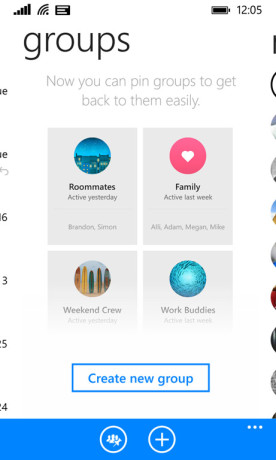 Microsoft today announced the availability of a new version of Facebook Messenger for Windows Phone. The revised application adds a couple of new features, including support for groups. The app lets Windows Phone owners create, name, and organize groups, as well as set group photos and pin them to the Start screen. The app reduces the complexity of sending photos within messages, which Microsoft says now requires but a single tap. Messenger offers quick access to the photo gallery, as well. The application received some stability improvements, too, and optimizations so it consumes less mobile data. Facebook Messenger for Windows Phone is free to download from the Windows Store.
I love seeing WP news
It makes me feel like I made a less bad, but stil terrible, decision to switch to WP
Interesting....i made the switch last December after years of iOS and Android and I couldn't be happier. I guess you're one of those who just can't live without their 4th party weather app. I've been completely happy and impressed with WP.