Apple to Support Third-Party Keyboards within iOS 8
Article Comments 19
Jun 2, 2014, 1:35 PM by Eric M. Zeman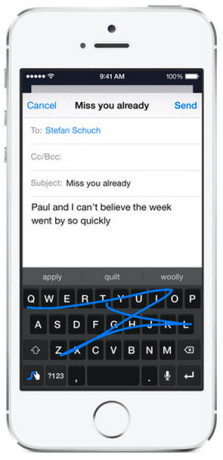 Apple today said that iOS 8 will support third-party keyboards, such as Swype, through the new extensibility feature of the App Store. Third-party keyboards will function in all apps system-wide if the users permits it.
source: Apple
Keyboards
I never thought Apple would allow this, but it would be nice to see Google keyboard, swype, and all the other keyboards on Android come to iOS.
Well, it's not like they had any other choice. Their market share was going down, so they had to "open" to other areas where the competence is strong. Not only this, but the iPhone 6 will come in 2 different sizes as well, this since people were getti...
(continues)
FINALLY!
One of the few things I detest about my iphone will FINALLY be fixed! WAHOO!!!
Yeah, it was pretty awful having to hit extra buttons to access the . and @ symbols. Whoever designed that needs to be shot.
Yup. Apple is finally copying Google more and more.
UPPERCASE and lowercase?
You mean iPhone users may finally be able to tell whether their keyboard will make an uppercase or lowercase letter by seeing the text change on the keyboard from uppercase to lowercase? Wow!

I should look for a keyboard for my Android because I find it infuriating how I have to press and hold "b" to get a period symbol, and the "backspace" key was programmed to add chunks to a word when it isn't throwing the cursor to a random point in the message.

Yes some people actually put punctuation into their writing.