AT&T Lands Another Pantech QMD in the Vybe
Article Comments 16
May 22, 2014, 9:33 AM by Eric M. Zeman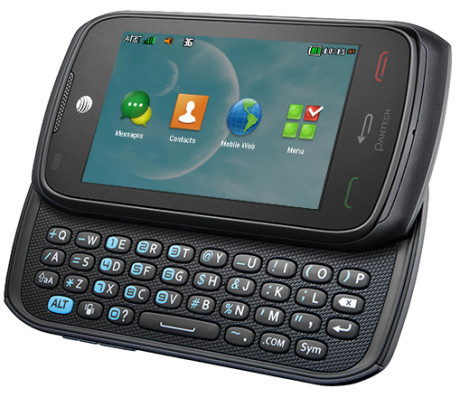 Pantech today announced the Vybe, a quick messaging device that features both a touch screen and a slide-out QWERTY keyboard. The Vybe, which is an update to the Ease, includes a 3.2-inch 400 x 240-pixel display with three customizable home screens. The Vybe can also be put into Easy Mode, which simplifies the home screens and menus for inexperience users. The Vybe uses a proprietary, Java-based operating system. The Vybe offers a 3-megapixel camera and can be launched quickly thanks to a dedicated button. The Vybe also includes shortcuts to social media apps, and a number of AT&T services, such as Drive Mode, Navigator, Address Book, Family Map, and myAT&T. Other hardware features include a 1230mAh battery, and support for HSPA data and Bluetooth. The Pantech Vybe will be available online and in stores beginning May 23. AT&T is asking $30 with a new two-year contract.
2007 called
It wants its phone back. I'm sorry, but I had to say it.

What happened, did someone just realize that these things had been sitting in the back of a warehouse for seven or eight years?
Also with no LTE support, you're stuck on 2007's premier 3G airlink technology. I don't know why telcos continue to release NON-4G devices years after LTE has been in widespread use. It just makes it that much harder to shut down the 3G network and mi...
(continues)
Why
Why would anyone buy this? If you message that much, why not get a real smartphone?
Maybe because then you have to purchase data.