First Smartphone Announced with UIQ 3
Article Comments 10
Oct 10, 2005, 9:05 AM by (staff)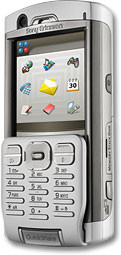 Sony Ericsson today announced the P990, the company's new flagship device and the first smartphone to use Symbian OS v9.1 and the new UIQ 3 software platform. The new UIQ 3 will enable software written for the P990 to also work on a variety of lower-end devices, including those without touchscreens. The P990 is a 3G UMTS device that will be available for Europe and Asia in the first quarter of 2006. Features of the device include Wi-Fi, a QVGA touch screen, 2 megapixel camera, QWERTY text keyboard, and a Memory Stick PRO Duo card slot.
more info at Sony Ericsson »
more info at Sony Ericsson »
P910 or P990?
Hi, Ihave a P910... should I change it for the new P990? Is it really better? Thanks!
using 990i in the us
I currently have the p910a and i just can't wait for this phone to come on the market. I was just wondering because i don't know if this is possible but if i buy the p990i for the euro market, it should work here just fine right? I use cingular for my services. SE kicks ass in the smartphone bizz.
The US?
Any idea if this phone will ever be available in the US? We're so far behind!
the P990 is really focused on EMEA markets. it uses their 3G standard, and lacks the EDGE that we would need to get any reasonable data speeds here in north america. it is possible sony ericsson could create an hsdpa or quad band EDGE version for the ...
(continues)
What is UIQ
forgive my ignorance, is this SE UI for symbian phones? how does it compare with Nokia series 60 (or 80 for that matter)? what doe3s version 3 have?
i researched it myself.

google is a wonderful thing...an allmighty power one day 😈
VoIP?
Any idea if this phone will support WiFi VoIP, or perhaps UMA?
P900, wow
Looks like a great phone.

So excited about UIQ 3.