Motorola Redefines Entry-Level Smartphones with Moto E
Article Comments 4
May 13, 2014, 5:48 AM by Eric M. Zeman
updated May 13, 2014, 8:50 AM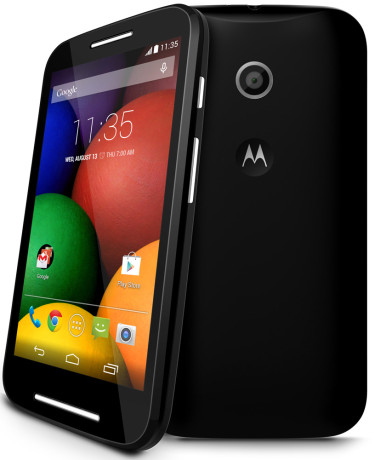 Motorola today announced the Moto E, a new low-cost handset meant to put a nail in the coffin of feature phones. The device bears a familial resemblance to last year's Moto X and Moto G, but downgrades specs to further drop the price. Motorola is offering 20 different interchangeable rear covers to allow for personalization of the phone, which is splash proof and scratch proof. The Moto E features a 4.3- inch display with Gorilla Glass 3 and a 1.2GHz dual-core Snapdragon 200 processor with 1GB of RAM and 4GB of internal storage. It comes with a 5-megapixel camera that can capture panoramas as well as 720p HD video. The phone also includes support for a microSD card up to 32GB, an FM radio, and a 1,980mAh battery that Motorola claims is good for a full day. The Moto E runs Android 4.4.2 KitKat and Motorola is guaranteeing at least one major system update in the future. The Moto E will be sold by 80 carriers in 40 countries in the next few weeks. It does not support LTE networks, but does support HSPA and CDMA in various geographies. The Moto E costs $129. Motorola also announced a refresh to the Moto G, which adds support for LTE and microSD cards. The Moto G + 4G will sell for $219 and goes on sale in early June.
Why kill feature phones at all?
Put down the every-company-in-cellular-koolaid, feature phones will never fully die and the idea that everyone Simply Must Have Smartphones is what every company in cellular misleads you to believe...I wonder why?
Then if your really cool you'll also need the new shinier one that's eleven percent faster and has 7 percent greater pixel density in 9 months, and you should be happy to pay more for the privilege of paying even more again to "upgrade". Gee thanks.
Lots of people don't need a smartphone, don't want a smartphone and absolutely shouldn't have to make up for the losses carriers incur due to smartphone subsidies but at least there are finally low cost actually-use-the-phone plans coming out now.
There are still many out there who...
(continues)
There were feature phones offered. They bought the smartphone because they wanted it.

Why would anyone use a cell phone to call people. Calling people takes so much time and effort. Just send a quick text and move on to the next thing.
The only way to kill feature phones...
...is to have plans as cheap as the ones feature phones are on now. My daughter is on a feature phone because it would cost considerably more to upgrade her plan for use with a smartphone.
What company are you with? For most companies its only $10 extra.

And a lot of people want the simplicity of a basic phones. Smartphones require a bigger degree of a learning curve.