Sprint and Virgin to Sell Kyocera Hydro Vibe
Article Comments 7
May 5, 2014, 9:26 AM by Eric M. Zeman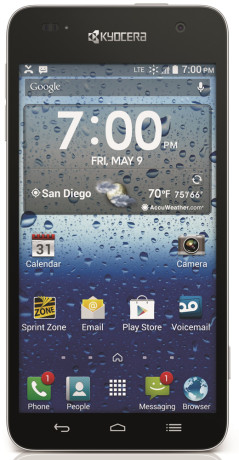 Sprint and Virgin Mobile USA today announced the pending availability of the Hydro Vibe, a new water-resistant Android smartphone from Kyocera. The phone can withstand a 30-minute bath in waters up to 1 meter deep and has a break-resistant 4.5-inch qHD screen. The device is powered by a 1.2GHz quad-core Qualcomm Snapdragon processor. The Vibe includes an 8-megapixel main camera with LED flash and HDR/panorama shooting mode, and has a 2-megapixel user-facing camera. The Vibe offers some Kyocera-specific features, including its Smart Sonic Receiver audio technology and Eco-Mode and MaxiMZR power-management apps. The Hydro Vibe also offers NFC, wireless charging, 8GB of internal storage, and support for memory cards up to 32GB. The Kydro Vibe is compatible with Sprint Spark in markets where available. Sprint will begin selling the Kyocera Hydro Vibe May 9 for $0 down and 24 monthly payments of $9.59. Virgin Mobile USA will begin selling the Vibe May 27 for $150.
Another junk phone from Sprint yet again
Why do they even BOTHER releasing these phones? They don't sell worth a damn - they do nothing but give the consumer a bad taste in their mouth - meanwhile they're going to and ALWAYS blame the carrier first, and then the manufacturer second.

I would almost say they cost the carrier more money than what they make - between shipping & their service and repair issues - I don't get why they waste their time on sub-par phones NO ONE wants.


There about about 10 phones on the market that actually sell worth a damn right now, and they ALL have water & physical abuse cases that are FAR superior to what this phone has to offer, in addition to being MUCH better devices.
Sprint NEEDS to add low-end Spark phones to their lineup that answer to this market segment. Not everyone wants to buy the latest Samsung Galaxy just to enjoy the Spark network. This will be Sprint's first tri-band LTE budget phone. Good for them!