Review: LG Lucid 3 for Verizon Wireless
Article Comments 3
May 2, 2014, 2:15 PM by Eric M. Zeman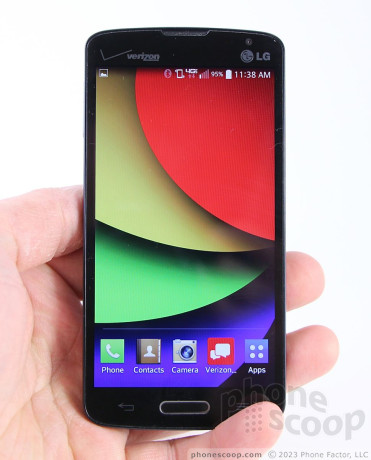 The LG Lucid 3 is an Android smartphone for Verizon Wireless that offers some of LG's high-end features in a low-cost package. Here is Phone Scoop's full report.
Advertisements article continues below...
Form
Is It Your Type?
The Lucid 3 from LG is a mid-range smartphone that offers some of the features found on flagship devices but skips some of the more fanciful extras. With downgraded specs, it also enjoys a lower price point. For those who want a simpler device that lacks thrills - but lets you keep up with your bill - the Lucid 3 is worth a gander.
Body
Like the Lucid 2 before it, the Lucid 3 doesn't aspire to be much. It's a low-cost Android smartphone that packs the basic toolset included with most such devices. LG tossed in a few of its proprietary apps for good measure.
The Lucid 3 isn't a bad looking phone. LG kept the design rather simple so it won't be confused with its high-end phones, such as the G2. The front is black, but the plastic covering the back has a midnight blue hue, and the outer edge is defined by a gray band. The camera lens is rimmed in chrome, and the Home button on the front stands out thanks to its design. I'd say the Lucid 3 is a second-hand suit compared to the G2's fresh tuxedo. It keeps things classy, but in a casual sort of way.
The Lucid 3 has about the same size and footprint as the Moto X, which means it's relatively compact. It's certainly smaller and easier to handle than today's flagship phones. It's a little on the chubby side for my tastes, but the weight is good. The plastics are decent in quality, though the glossy finish doesn't do the Lucid 3 any favors. Not only is it a very slippery phone, it excels at collecting fingerprint schmutz all over. It presents no trouble come time to stuff it into your pocket, and should fit most pockets with no trouble at all.
The front face is all black, save for the silvery Verizon and LG logos. Bezels are minimal, which is just fine by me. There's a fairly sharp edge where the glass panel on front meets the side edges. It has a slight lip to help protect the screen. The glass has been notched at the very top to make room for the earpiece speaker. LG cut an oval in the glass below the screen for the physical Home button. The button is easy to find and has good travel and feedback. A capacitive Back button is to the left and a capacitive Menu button is on the right. Both these buttons function just fine and include haptic feedback.
The side edges of the Lucid 3 curve toward the back, which helps the phone sit more comfortably in your hand. The volume toggle is on the left side, within the gray-colored band of plastic. It's a short button and doesn't offer good travel and feedback. Its size and the lack of any physical markings make it very easy to accidentally raise the volume when you intended to lower it, and vice versa. The screen lock button is on the right edge, exactly opposite the volume toggle. This button is also small, but has better travel and feedback. The stereo headphone jack is on top and the microUSB port is on the bottom. There is no camera button.
I had no trouble peeling off the Lucid 3's back cover, which is rather thin and flimsy. The battery is removable, and in fact it has to be taken out if you want to pull the SIM card. The SIM card and microSD card share a slot, with the memory card stacked on top of the SIM. It is possible to remove the memory card without pulling the battery, but it takes some finesse.
On the whole, I find the Lucid 3 to be rather boring - but that's not a surprise, and that doesn't make it a bad phone. Low-cost devices have to make sacrifices to meet their price point.
Performance
Screen
LG tackled the bigger-is-better ideal by increasing the size of the Lucid's screen. The original had a 4-inch panel and the Lucid 2 had a 4.3-inch panel. The Lucid 3's panel measures 4.7 inches, but keeps the same qHD (960 x 540) resolution from last year's phone. That means the pixel density is actually a bit less. The Lucid 3 sticks with LCD technology. Colors look quite good on the screen, and I find it to be plenty bright indoors. I'm not sold on the number of pixels, though. Icons, text, and other elements of the user interface had a slight hazy effect to them. I had trouble using the Lucid 3 outdoors under a sunny sky. The screen was often obscured by glare (thanks to fingerprints!) and it was difficult to read some portions of the UI.
Signal
Verizon's network was no match for the Lucid 3, which connected to it tightly. I drove around the metro NYC region with the Lucid 3 and it always remained attached to Verizon's network, even in known weak spots. The Lucid 3 connected all calls on the first dial and never dropped or missed any during my review period. 4G LTE data speeds were good, but not the fastest I've seen. I certainly have no complaints about how quickly the Lucid 3 was able to update my Twitter and Facebook feeds, but uploading photos sometimes took longer than I had the patience for.
Sound
Call quality was a little bit of a mixed bag. The earpiece produces sharp voices that sound like they're being passed through tinfoil. I didn't have trouble understanding people, but the sound was a bit jarring to my ears. Volume is good, but a hair's breadth short of excellent. I could hear calls in most environments without too much trouble, but the loudest spaces - busy coffee shops, the car, city streets - sometimes made conversations difficult to hold.
The speakerphone had the same harsh tone as the earpiece. It wasn't very pleasant to use for calls, but the solid volume meant I could hear callers via the speakerphone with ease.
People with whom I spoke through the Lucid 3 said I sounded very good.
Ringers and alert tones always got my attention, even when set fairly low. The vibrate alert is quite good.
Battery
The Lucid 3's battery actually holds 20mAh less capacity than its predecessor, but as far as I can tell this doesn't impact battery life at all. Thanks to the somewhat low-resolution screen and moderate processor, the Lucid 3 holds its own when it comes to keeping a charge. I found the device easily lasted an entire day, despite heavy testing. Using the device throughout the day for email, Twittering, Facebooking, shooting some pictures, downloading app updates, and listening to music posed no threat to the Lucid 3's energy reserves.
The Lucid 3 includes a rudimentary battery saver tool. It lets you adjust the phone's behavior once the battery level reaches 30%. For example, battery saver mode can turn off Wi-Fi and Bluetooth, turn off vibration feedback, as well as adjust screen brightness to a predetermined setting, shorten the amount of time before the screen goes to sleep, and control the notification lights.
I can comfortably say most users should expect to only charge the device once per day.
Menus
The Lucid 3 runs Android 4.4.2 KitKat with LG's user experience dropped on top.
The lock screen is fairly flexible. It can be set to show only the clock, or the clock plus shortcuts and notifications. Users can choose to add a password of some sort, as well as current-location weather updates.
There are five home screen panels active out of the box. Three are littered with widgets and shortcuts, but of course all of them can be modified in any way the user sees fit. There's a dock at the bottom of the screen for your four favorite apps, plus the app menu.
The pull-down notification shade provides shortcuts to control the wireless radios and LG's QSlide apps. These controls, however, take up half the screen, leaving less room to view the actual notifications. At least you can reorder and customize the shortcuts if you want to.
The main menu is a grid of apps. LG offers plenty of flexibility to customize it. You can view the main menu with large icons (default) or small icons to fit more apps on each individual page. You can sort apps alphabetically or via install date. You can't, however, view them in list form. Apps can be hidden from view, (though they remain installed,) but LG nixed the tool that made deleting bloatware a breeze. This makes me sad.
Anyone familiar with Android will feel right at home with the Lucid 3's settings menu, which functions just as on other Android devices. The settings are dressed up with LG's colors and icons, but the organization and functionality are intact. Users can tweak most facets of the Lucid 3. For example, the Lucid 3 includes a half dozen different fonts. There are three themes pre-installed, the notification LED can be customized (different colored patterns for the light-up Home button,) wallpapers can be changed throughout, and so on.
As far as performance goes, the Lucid 3 uses a 1.2 GHz quad-core Qualcomm Snapdragon 400 processor. This is Qualcomm's low-cost chip for volume devices. We've tested it before and found it to work well. The 400 does a fine job for the Lucid 3. I didn't notice the Lucid 3 stopping to catch its breath while testing it. I was able to play games like Temple Run 2 with no issue.
Calls and Contacts
The software dialpad is large enough so that it may be used with ease. The phone app provides tabbed access to call history, contacts, favorites, and groups along the top. In-call options run the standard, such as add a line, send to Bluetooth, hold, reject with message, or mute. You can also open the notepad and messaging apps, or toggle on/off noise reduction (which makes calls clearer for those with whom you speak.) The Lucid 3 lacks some of the advanced calling features found on the G2 or G Flex, such as Answer Me.
The phone app is one of the QSlide apps. There's a button in the phone dialer that minimizes the phone app, but leaves it open and running on top of other apps. This means you can always have the phone controls front and center while performing other tasks. QSlide apps take some getting used to, but they are helpful once you learn what they can do.
LG's contacts application doesn't really differ from the stock Google version, apart from the look and feel. Within the contact app itself, you can choose which account(s) it syncs with and/or displays, how contacts are arranged, and easily lump them together into groups. The Lucid 3 has several contact widgets for the home screen. My favorite is a 3x3 grid that shows my favorites. As with the phone, the contact app can be minimized as one of the QSlide apps and left running on the home screen or on top of other apps if you want.
Messaging
The Lucid 3 follows the same path set by other recent Verizon phones, such as the HTC One and Samsung Galaxy S5. Verizon Messaging is set as the default messaging application and it handles SMS/MMS. Verizon Messaging offers access to some neat extras. For example, it includes its own set of animated emoticons. The app can be used to create a postcard, as well as to record a voice message or send a Glympse. Glympse is a location-sharing tool. I was able to send my location data to other phones quite simply. The app lets you control how long the location details are visible to the other person. The shortest period of time is 15 minutes and it stretches up to two hours. You can follow the person live on a map, as well as map directions between the sender and recipient.
Beyond these tools, the functionality of Verizon Messaging is OK, but I find it lacks polish. It also lacks templates with pre-composed messages. The LG-designed keyboard is rather small, but makes up for it by adding a row for special characters, such as punctuation.
Since Google allows Android device owners pick which app they want to use for SMS, you can ditch the Verizon app if you want and use the stock SMS app or Google+ Hangouts, both of which are hidden in folders created by Verizon.
Aside from Google+, no other social networks are installed. You'll have to snag Facebook, Twitter, and others from the Google Play Store. The Lucid 3 does have the standard Gmail and email applications, both of which function well.
The phone also has a dedicated app for receiving emergency alerts. In fact, the device alerted me to a warning about potential flooding thanks to the six inches of rain that pelted New Jersey this week.
Extras
Media
The Lucid 3 includes the typical list of stock Google-made "Play" apps. The Google music, video, TV, book, and magazine stores are all fine places from which to rent or purchase content. The individual apps to consume them are decent and haven't changed in quite some time. The Lucid 3 also includes the standard YouTube app, a generic MP3 player for sideloaded music, and a generic video player for sideloaded video.
Verizon also installed a whole bunch of undeletable bloatware, including Verizon Tones, NFL Mobile, and Verizon Games. There's also Audible and Amazon Kindle for listening to and reading books, and the Amazon MP3 store/player. This exact same collection of apps is preinstalled on the One and GS5, so it's likely we'll see them again and again on other Verizon devices throughout the year.
There are no fancy media apps, such as a remote control, but you do get a number of different ways to share content with other devices, including Android Beam, SmartShare Beam (reserved for LG devices only,) and Miracast. I was able to get Android Beam and SmartShare to work with no trouble, but Miracast continues to be a headache (on all devices, not just the L3). It wouldn't work for me.
Camera
The Lucid 3 carries over the camera software from LG's flagship devices, including the G2 and G Flex, though it strips out some of the cooler features. It stinks that there's no physical camera button, but the camera launches quickly enough from the lock screen or home screen shortcut.
The camera UI includes controls running down the left and right sides of the screen. There's still plenty of room on the screen for the viewfinder. The left is where all the interesting settings and features are located. Four quick action items appear here, though they can't be customized as on LG's high-end devices.
In terms of shooting modes, the Lucid 3 offers HDR, Panorama, VR panorama, burst shot and beauty shot. The VR Panorama is similar to Android's Photo Sphere, but it doesn't produce quite the same results. Photo Sphere images are easy to view and share via Google+, but LG's VR Panorama shots are not. In short, you start capturing images both back and forth, and up and down to creative a massive 360-degree shot of your viewpoint.
Burst shot takes 20 pictures in a burst and keeps all of them.
The Lucid 3 also includes a sports mode and LG's Time Catch Shot, which saves a short burst of pictures that starts before you actually press the shutter button. This helps you not miss a fleeting moment, even if you're late with the button. But you have to be in Time Catch mode already. Missing in action: Dual-shot, which lets you take pictures with the front/back cameras simultaneously. (This could be a limitation related to the processor.)
I found all the different modes more or less behave as advertised, though they each take a bit of practice to master. The VR Panorama is really a pain to learn, and you can't share the results (aside from handing your phone over to someone else), so I question why anyone should bother with it.
Beyond the shooting modes, there are a handful of controls and settings that allow you to adjust the brightness level, the focus mode, resolution/aspect ratio, ISO (or speed), white balance, color effects, timer, and so on. I like that the tools are all laid out in a single easy-to-see grid and not buried in painful menus and drop-down lists.
The on-screenshutter button is on the right. If you want to shoot video, you have to switch the Lucid 3 into video mode first. The video app is one of the slower apps on the device, but at least it lets you take stills while capturing video.
Photos
The Lucid 3 has a 5-megapixel sensor and, as you might expect, it isn't all that great. Most of the photos I took looked OK, but none of them looked great - or even good. White balance was generally on target, but focus was often soft or not accurate. Exposure ranged from good to bad. Bright spots had a tendency to blow out the sensor, which resulted in lost detail. Indoor shots were full of grain, and the flash doesn't do all that much to help other than kill the white balance. It's acceptable for those crucial shots you might otherwise miss, but bring a separate camera with you on vacation.
Video
Video, in general, comes off a bit better than regular pictures. The Lucid 3 can capture full HD video, and I found focus and exposure to be good. I didn't think white balance was all that accurate, though. You'll get the best results outside with good lighting. The Lucid 3's video camera will suffice for casual shooting, but if you're serious about your video you need to use something else.
Gallery
There are two gallery apps on the Lucid 3, an LG version of the stock Android gallery and the Google+ gallery.
The LG-modified gallery is functional and looks pretty good. It lets you view the gallery by album, date, or location. It separates the local camera roll from other online galleries that might be visible. It's a cinch to drill down into albums and swipe through individual photos. The app offers plenty of editing options. Images can be moved and renamed, cropped and rotated, as well as adjusted for exposure, color, and so on. There are a number of built-in filters that adjust the tone and artistic appeal of photos. Sharing tools are a breeze to use, and let you easily send your photos to just about any online destination.
The Google+ Photos app functions the same on the Lucid 3 as it does on other Android handsets. It has its own set of editing tools, and the Auto-Awesome feature will automatically enhance photos and turn burst-shots into animated GIFs.
Apps
With 15 Verizon-branded apps preinstalled on the Lucid 3, you could say it is crammed with bloatware. The six Amazon apps don't help. Unlike other recent Android phones from LG, none of the bloatware can be removed, which is frustrating. The operating system and preinstalled apps consume 4.44GB of the Lucid 3's 8GB internal storage. That leaves just 3.56GB for the owner. In other words, you need to get a storage card, especially if you want to use the Lucid 3 to listen to music or consume other types of media.
Bluetooth
The Lucid 3's Bluetooth radio functioned without issue. I was able to pair it with PCs, headsets, and speakers. Calls sounded OK via Bluetooth, but shy of great. Music sent to stereo Bluetooth speakers was also good, but not great. I've heard better.
Browser
The Lucid 3 skips the old Android browser entirely and only offers Chrome out of the box. Chrome is well-known at this point and it behaves well. I like the way it syncs open tabs and bookmarks between other devices, and it does a fine job of rendering web sites. It performed well on the Lucid 3 and Verizon's network.
Clock
The Lucid 3 has a simple digital clock that adorns the lock screen. I could not find a way to alter its appearance. It's white, but big enough that it is visible indoors no matter what else you have on the screen behind it. It's impossible to see outside, though.
GPS
The Lucid 3 comes with Google Maps. Paired with the Lucid 3's GPS radios, I found Maps to work perfectly. It was able to pinpoint me in less than 15 seconds and to within about 30 feet. The Lucid 3 also packages in the VZ Navigator app. VZ Navigator costs $5 per month. It is fine for plotting directions from point-to-point, but Maps is better for related searches and alternate travel methods (mass transit, etc.)
Guest Mode
Guest Mode is meant to safely protect the owner's data and settings while lending the phone to someone else (read: a kid.) Guest mode lets people play games or listen to the media player, for example, but not access email, messaging, or settings. It's a cinch to set up and helps keep private info private. The mode can be accessed with a dedicated lock screen pattern (drawing a "G" on the screen.)
KnockON / Knock Code
These two features let you wake or unlock your phone with taps on the home screen. KnockON is meant to wake the display. With KnockON, you tap the screen anywhere twice and it wakes up so you can see the lock screen. Knock Code is similar, but adds a security code. When I first demoed Knock Code earlier this year, I didn't think it worked very well. After training my own pattern on the Lucid 3 and using it for several days I can say it works quite well. Essentially, you record a pattern of knocks (between 2 and 8) using the four quadrants of the display. Once you've trained the pattern, simply tap the pattern on the locked Lucid 3 and it will automatically wake up and go to the home screen. Using Knock Code bypasses the lock screen. It worked perfectly every time for me. LG says there are more than 80,000 possible Knock Code patterns, so don't worry about others figuring it out.
QuickMemo
Like most LG devices, the Lucid 3 includes the QuickMemo app. QuickMemo lets users capture a screenshot and then open it in the Notebook app. The Notebook app lets you scribble on the screenshot with various pen styles and in various colors. You can add your own scrawled text, or insert actual typed messages, photos or videos, and send the file via email, MMS or Google+.
QSlide
The QSlide apps, which are accessible from the notification tray, are apps that appear in separate windows on top of whatever else you might be doing. The QSlide apps are resizable and let you adjust the transparency to make it easier to see what's behind them. You can also choose to open the full app by tapping a toggle button. The idea is to let you quickly access a few handy apps (calculator, notepad, calendar, videos, phone, contacts, messaging, file manager) no matter what else you're doing. Earlier this year LG gave developers an SDK so they can create their own QSlide apps. So far, only those made by LG are available, but that might change.
Smart Screen / Smart Video
The Smart Stay feature can be used to keep the Lucid 3's display on for as long as you're looking at it. It doesn't always work. For example, it is more or less useless if you're reading a Twitter update in the dark. There's a similar app called Smart Video that keeps the video player playing as long as the front-facing camera can see your face. It'll pause the video if you look away and resume when you look back. As on other phones, these features are gimmicky at best.
Wrap-Up
The LG Lucid 3 is a solid little phone. It doesn't compete with flagship devices, and instead serves as a low-cost alternative that should appeal to bargain hunters who still want some unique powers in their device.
The hardware is plain, but well made. The battery life and network performance are quite good, though call quality isn't perfect and the screen is somewhat disappointing. LG's customizations to the user interface aren't overbearing and often help enhance the experience. The home screens and menus of Lucid 3 can be widely customized, giving owners plenty of latitude to make the device their own.
LG's custom apps, such as Knock Code, QSlide, and QuickMemo, are useful and add value. The Lucid 3's biggest weakness is the camera, but that's easy to ignore if you don't prioritize imaging or often carry a separate camera of your own.
Verizon sells the Lucid 3 for $300 at full retail price, but it is free with a contract. Either way, it's a bargain.
So it's worse than the Lucid 2...got it ;-)
Larger in every dimension, same resolution screen but now larger for no reason, smaller battery, and awful physical home button to mimic Samsung's stupidity. I'm glad I got my mom the Lucid 2 last year, it's a far nicer phone in overall size, performance, and it's larger, removable battery and only-capacitive face buttons. It makes no sense to mix a physical key with capacitive keys, I"d rather have them on-screen or as all-capacitive.

It's annoying that they don't even have the Lucid 2 on the website or for sale anymore too.
And no wireless charging option, like the optional back for the Lucid 2. I've looked in vain on VerizonWireless and LG and Google search, and found no mention of wireless charging. You'd think that with the increased overall size, and similar (9.9 m...
(continues)
The Lucid3 does have LTE 1700 support, which Verizon is rolling out in many areas for capacity and speed.