Kyocera Adds Bluetooth to Lineup
Article Comments 3
Sep 27, 2005, 4:16 PM by (staff)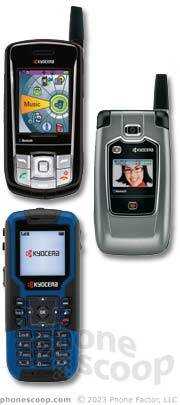 Kyocera today announced three new models, two of which feature Bluetooth. They have added Bluetooth to a version of the Slider Remix, as well as added a new midrange clamshell with Bluetooth. They also announced another ruggedized Push To Talk phone for the US.
KX5 Slider Remix Bluetooth: shares all the same features as the original Remix including a bright 176 x 220 screen, 1.3 MP camera, TransFlash slot and music player. This version also squeezes Bluetooth into the same package. It is expected to be available world wide in November this year.
KX160 Xcursion: an average sized clamshell handset that features Bluetooth and a VGA camera. It includes a 128 x 160 internal color display as well as a 96 x 96 external color screen. Also features BREW, speakerphone and voice dialing. Available in November this year.
KX12: a ruggized, water resistant, dust resistant handset with Push To Talk. Features a high capacity battery, color display and BREW. Available in the first quarter 2006
*Replacement for my trusty Nokia 3589...
I like the looks and utility of the KX12...I could use a rugged phone as an appraiser (if I could also get a cheap voice plan with Verizon...which isn't going to happen. Tmobile here I come).
replacement for KX414
Any chance this will be replacing the KX414 for Verizon?