Music and Imaging Unite in New Nokia Smartphone
Article Comments 12
Sep 25, 2005, 1:01 PM by (staff)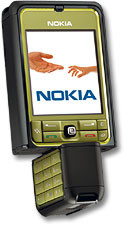 updated At Trends Berlin, a large techno concert sponsored by Nokia, the manufacturer showed off a new Series 60 smartphone with dedicated music controls and a 2 Megapixel camera. The 3250 is a new mid-range smartphone with a unique design. The keypad rotates 90 degrees to convert the phone into a camera held like the N90, or another 90 degrees to reveal music playback controls. The tri-band GSM 900/1800/1900 MHz phone features EDGE high-speed data, Bluetooth, a 3.5 mm headphone jack for stereo headphones, and a microSD (TransFlash) memory card slot supporting cards up to 1 GB.
That sh** is fugly
EWWWWWWWWWW......... 😡
I absolutely agree I would NEVER buy that because it is SOOOOOOOO ugly and I hate Nokia!
I agree that the picture on the phonescoop websit is ugly as hell. It's not even the actual color of the phone. If you look at the 'full story' link, it will pull up actual pics of the phone in it's real color. Personally, I like the phone. But, I'm a...
(continues)
I love this phone.. but..
☹️ No 850gsm, so I would have to pass on this phone ☹️
Seems a bit... ugly...
I guess the problem is that they have about 12 phones "coming soon" that look far too similar to this one. Biggest difference is that swivel at the bottom, which although it's nice, isn't profound. If anything, this phone is rather fat and chunky, in my opinion. Perhaps the RAZR products are spoiling me.

This phone seems very... eh...

The RAZR2 - now that looks exciting! 😁
haven't i seen this somewhere?
i love nokia, they make the best phones. but none of their designs are that original. i could be mistaken, but haven't i seen a phone like this b4?
Trends Berlin?
Was Nokia Trends also in Berlin? We had it here on Saturday in São Paulo and Rio de Janeiro. Didn't hear about any phones being shown, though. But I wish I was there!
AWESOME!!!
very innovative 😁