Kyocera Delivers A Good Old Fashioned Slider to Sprint
Article Comments 20
Apr 8, 2014, 11:23 AM by Eric M. Zeman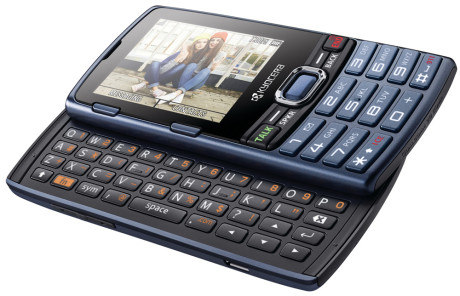 Kyocera announced the Verve today, which will be sold by both Sprint and Boost Mobile. The Verve is a feature phone that has a traditional number pad on the front and slides sideways to reveal a full QWERTY keyboard underneath. Some of the hardware features include a 2.4-inch display, 2-megapixel camera, Bluetooth 2.1, speakerphone, and a stereo headset jack. The feature phone operating system is ideal for heavy texters, according to Sprint. The phone is limited to CDMA 1X-Advanced and does not support LTE. Sprint is offering the Kyocera Verve for $0 down and 24 monthly payments of $5.42. Sprint's Framily plans start at $55 per month for the Verve. The Sprint model can be ordered online and via telesales beginning April 11. Boost Mobile will sell the Verve for $50 and offers no-contract plans starting at $50 per month. It will reach Boost stores May 6. Sprint said that the Verve will also be sold by Virgin Mobile's payLo brand, beginning May 13, as the Kyocera Contact. It will cost $40 from payLo.
Wrong idea
Budget smartphones are filling the feature phone gap. Stick that keyboard on a high-end fully featured device, where it will actually be appreciated.
There is a big difference between feature phones and smart phones:

They are not compatable with the systems that are used to mine metadata and so are a smart way to boycott big data.

They are stylish as hell; they are a phone, not a compressed...
(continues)
A step in the right direction!
I'd love a great feature phone the way they used to be made with a modern twist... a great camera.
Give me a good old fashion flip phone, sturdy, great reception, loud ear piece and a great camera... I can text better with T9 than with a full keyboard.
This phone has a full keyboard. So, how is it "a step in the right direction" if you text better with T9 than with a full keyboard? Wouldn't you prefer that they cut out the bulk added by the seemingly useless keyboard?
I NEED THIS PHONE!
I have honestly been looking for one like this!
Back in time 5+ years
Remember the LG Rumor, that came out.. hmmm.. must be just over 5 years ago ?

Looks pretty similar to this phone, and with the changes, it still appears to be pretty old tech in this device. For $125 too? I don't think so.
thats really not bad for a feature phone especailly one of very few if any that have alide out keyboard which a lot of people want

and if anything can get it from boost like mentioned for 50