Microsoft Details Windows Phone 8.1 with 'Cortana' Personal Assistant
Article Comments 2
Apr 2, 2014, 10:40 AM by Eric M. Zeman
updated Apr 2, 2014, 1:27 PM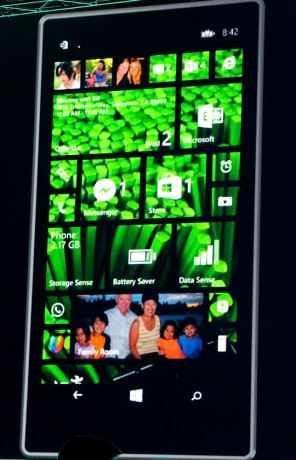 Microsoft today revealed what's in store for the next-generation of its Windows Phone platform, called Windows Phone 8.1. Windows Phone 8.1 adds a number of features that are meant to bring the platform in line with Android and iOS. The first feature revealed by Microsoft is an action center, which mimics the behavior of the notification tray in Android. It provides access to radios, actionable notifications, and other tools. Windows Phone 8.1 adds the ability to personalize the lock screen, which can be interactive and appear in a wide range of styles. Microsoft plans to offer APIs to developers so they can create their own lock screen customization tools. The third new feature is an evolved Start Screen experience. With WP8.1, users can choose a high-density layout that includes three columns for tiles, as well as use custom background images that appear behind all the tiles. Windows Phone also introduces Cortana, a voice-activated search assistant that responds to users' voice commands and questions. Cortana is built on Microsoft's Bing search engine, and can perform searches, schedule appointments, set reminders, and more. Cortana can learn users' most-frequently contacted people, places they prefer to go, and even what music they typically search for. Cortana can be used to set "do not disturb" time, which Microsoft calls Quiet Hours. Like Google Now, Cortana will scan the user's email for things such as flight details, and automatically provide details such as travel times to the airport, flight delays, and more. Microsoft says that Windows Phone 8.1 is also a better choice for business users thanks to new support for secure VPNs, and the ability to read encrypted emails. Devices can be activated by businesses and turned into secure work machines, but can also be stripped of enterprise apps and data if an employee were to leave a company and keep their phone. Windows Phone 8.1 includes significant changes to the Windows Phone Store, such as more personalized recommendations, easier-to-use categories, and quick links. There's a new calendar in WP8.1, which allows users to swipe from day-to-day as well as see "week" views. A feature called Wi-Fi Sense suggests known, good, free Wi-Fi networks that may be available in public spaces - and will automatically connect to them. Microsoft has also added a new keyboard to Windows Phone that allows users to swipe their finger across the keyboard rather than type. Last, Microsoft said Windows Phone includes IE 11 and new synchronization tools that will better share information between the mobile phone and Windows desktops.
Can't wait!
I'm excited to see and play with all these new features. I'm sure it will only make my and others experience with WP8 even more enjoyable.
Woo!
This looks awesome! This may or may not propel Windows into second place (probably not, that's a hell of a gap right now), but these are welcome additions to an OS I'm already quite fond of 🙂

Now, lets just hope the new flagship Lumias will NOT be AT&T or Verizon exclusives like the 920, 1020, and 1520 (and Icon?) have been :\ As much as I love my Lumia 925 on T-Mobile, I'm in desperate need (well, desire) for something to use my Jump upgrade on.