Review: HTC One
Article Comments 19
Mar 25, 2014, 10:45 AM by Eric M. Zeman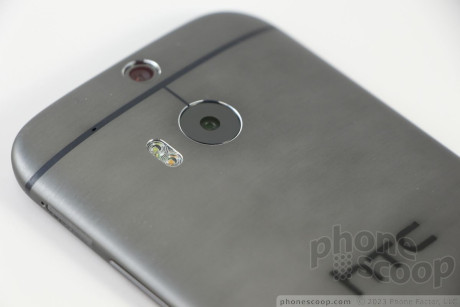 HTC's new flagship Android smartphone ramps up the drool factor with its all-aluminum design and updated software. Here is Phone Scoop's full review of HTC's mobile marvel.
Advertisements article continues below...
Form
Is It Your Type?
HTC is back with the All New One. This year's flagship smartphone bears the same name - and more than a striking resemblance - to last year's device. Don't be fooled; it's an entirely new piece of hardware that HTC says is in no way an "incremental" update. The One has been re-envisioned to be even more powerful, easier to use, and better looking than its predecessor. Is it for you? Answer these questions: Do you like pretty, well-made things? Do you prefer metal over plastic? Do you want the best of the best in your mobile phone? If you answered "Yes" to any of these, then the HTC One might be for you.
(NOTE: HTC is using "One" as the name for the phone it released last year as well as the new phone it is releasing this year. You'll see HTC sometimes refer to the new, 2014 One by its model designation, which is M8. The 2013 One's model designation is M7.)
Body
Every so often something comes along that resets the rules. We saw that last year when HTC introduced the One, a stunning aluminum-and-polycarbonate smartphone that was both gorgeous and well made. Nearly everything about the One was exceptional, and it was among the most well-reviewed devices of the year. It may be hard to believe, but HTC actually improved the hardware when compared to last year's phone. The 2014 One is almost a piece of art.
This year's One has more aluminum, and the metal now wraps fully around the phone and forms the side edges as well. Aside from the glass front and some narrow bands of plastic, the One is mostly metal. There is absolutely nothing cheap or chintzy feeling about this device. It's a hardcore piece of metallic awesome.
When viewed side-by-side, the new One has softer corners and edges than the old One, and is slightly taller. The bloodlines are clear between the two, and it is obvious they come from the same genetic stock. The new One is being offered in three shades: dark gray, silver, and gold. All three shades feature a brushed aluminum exterior that feels exquisite. HTC said it made an effort to soften the look and feel of the phone. This means the edges have more aggressive tapering and are less sharp. The black plastic bands (white on the silver model) cross the back in two places, just as with last year's phone. HTC also placed a plastic band on the front to provide it with a nice frame.
The aluminum is smooth almost to the point of being slippery. The back panel is gently curved to allow the One to sit deeper in your hand. There are no hard corners or seams. Last year's One had a sharper edge where the glass on the front met the side edges. This year's model does away with that edge and the chamfered side surfaces are angled perfectly to meet the glass. As good as it feels, there's no denying that the One is a big phone. It's not overly heavy, but it isn't light, either. It may be too big for some. Even so, the slim profile means it will easily slip into pockets.
The materials and build quality are second to none. Only Apple makes hardware in the same class as this. The design and manufacturing are top notch. The One puts most other smartphone designs to shame.
The One's front face has the now-familiar BoomSound dual-speaker setup. There are machine-drilled holes in the plastic panels above and below the screen to house the speakers. In the top set of holes, one tiny opening is reserved for the notification light. There are also some sensors and the user-facing camera above the screen. HTC has done away with physical buttons on the One and now uses the on-screen control buttons that are part of the Android operating system. This is a welcome change. The screen, which measures 5 inches, has plenty of bezel above and below, but minimal bezel along the sides. This gives the One a bit of an oblong look, but I'm not put off by it.
The SIM card tray is located along the left edge of the One, just like last year's model. It requires a SIM tray tool or paperclip to eject it. Of note, HTC has switched to a nano SIM card, which is the same size SIM card used in the iPhone 5 and just a handful of other phones at the moment. Both the micro-USB port and 3.5 mm headphone jack are positioned on the bottom edge of the One. The volume toggle is on the right edge; it's a thin strip that has a reasonably good profile. Travel and feedback are decent. One bit of news that should make people happy: the new One supports microSD memory cards up to 128GB. The memory card tray is positioned on the right edge and also requires a SIM card tool or paperclip to eject.
The screen lock button is on top. It is placed in a strip of black plastic. This strip also houses the infrared port. The lock button itself has a low profile. I wish it were easier to find with my finger, though travel and feedback was all right.
As with last year's phone, the battery of the One is sealed inside. The back panel houses two cameras, a dual-LED flash, the NFC antenna, and microphones for recording audio. All of these elements are arranged in a pleasing way.
Simply put, the One's hardware is impressive. It should appeal to most anyone seeking a high-quality smartphone.
Performance
Screen
The One offers what has become the standard screen for flagship smartphones. The Super LCD 3 panel measures 5 inches across the diagonal and includes 1920 x 1080 pixels. Such screens offer a relatively good balance between real estate and usability, though I still found it hard to reach the far upper corner of the display with my thumb. How does it look? Luscious. It is incredibly sharp and very bright. Colors are rich and accurate. There's no color change when the phone is tilted side-to-side, but there is a wee bit of brightness drop off. It's nothing to get upset about, though. I found the One to be easy to use indoors and out, and had no trouble using it to take pictures outdoors on a sunny weekend afternoon. It competes well with similar panels from Samsung and LG.
Signal
HTC gave us an unlocked UK variant of the One for our first pass of testing. That means it isn't optimized for any U.S. network, nor does it include support for U.S. LTE. Our review unit was limited to HSPA+ at 42 Mbps. We tested it with an AT&T SIM card. Despite the lack of optimization, the One performed exceptionally well on AT&T's network in the greater New York City region. It consistently showed a strong HSPA+ signal and data speeds felt fast enough via HSPA+ that I didn't miss LTE (too much). Calls consistently connected on the first dial. I didn't miss any calls, nor drop any calls during my initial tests with the One. It did well in regions where the signal was weak, and managed to connect calls even when it registered only zero or one bars. Data speeds were a little bit slower in poor-signal areas, but I was still able to update apps without suffering too much delay. So while we can't yet speak to LTE performance, the general radio and antenna engineering looks promising.
(We'll update this review to report on LTE as soon as we're able.)
Sound
The One has next-generation BoomSound speakers on board, and they sound great. The speakers have a more powerful amplifier and HTC claims the speakers are 25% louder than last year's. While we can't prove that claim, we can say the BoomSound speakers are incredibly loud for a cell phone. You can easily fill a small room with plenty of sound - whether that sound is your boss on a conference call or your favorite Pandora radio station. Regular phone calls are sent to just one of the two speakers. Calls are plenty loud and audible with the volume set between 40% and 60%. If you put it up much more than that and press the One to your ear, you might be in danger of damaging your hearing. Call quality was a little bit mixed. Most of the time it was good, but every so often I'd hear a bunch of noisy interference. Calls routed to the speakerphone are insanely loud. You can use the One to fill a board room with mostly clear voices.
Music - even stuff that's somewhat bass heavy - sounds great when pumping through the BoomSound speakers. The HTC One produces alarmingly loud ringtones and alerts. If you crank the ringtone volume, you won't miss them even if you're several rooms away. Seriously, I'm surprised my neighbors haven't filed any noise complaints yet. The vibrate alert is pretty good, but I'd prefer if it were a bit stronger.
Battery
HTC is making some bold claims with respect to battery life. According to HTC, the enclosed and sealed battery is 40% bigger than last year's. The phone takes advantage of a more efficient processor as well as tweaked software to provide a full day of heavy-duty use. I punished the One over the weekend and still had plenty of power left at the end of the day. I did discover, however, that if there's one activity that really drains the battery, it's taking pictures and shooting video (see usage charge below). It drops noticeably when shooting video.
Last year's One had a power saver mode that was quite effective at extending the life of the device. It turns off a bank of processors and a few other background sync items and really lets you extend the usable life of the phone. The new One still has this function, but HTC one-upped last year's device with an additional extreme power saving mode. This mode kicks in when the phone hits 5% battery life. It turns off almost all services except for text messages, phone calls, and manual email refresh. It even goes so far as to simplify the user interface for this low-power mode. According to HTC, this mode will let people send messages, make calls, and read their email for another 15 hours. Fifteen. In other words, you can still do the basics for the rest of the day even when there's next to nothing left in the battery. Extreme power saving mode can also be set to kick in once the battery hits 20% or 10% left.
It's quite safe to say that most users will get a full day of usable battery life out of the HTC One, and the power saving modes mean you can, theoretically, go a few days in between charges if that's how things shake out.
A few words about charging. The One supports Qualcomm's Quick Charge 2.0 spec, which charges phones to full capacity quicker than they might otherwise charge. HTC said that the in-box charger supports the Quick Charge 1.0 spec, but it will offer an optional charger that supports Quick Charge 2.0 later this year. According to Qualcomm, Quick Charge 1.0 lets devices charge 40% faster, while Quick Charge 2.0 lets devices charge 75% faster.
Last, due to its metallic design, the One does not support wireless charging without a special cover accessory.
Basics
Menus
The One runs Android 4.4.2 KitKat with Sense 6.0 providing the user interface. HTC redesigned aspects of Sense while still providing the same feature set offered on last year's phone.
Frankly, Sense feels as heavy-handed to me as ever. The one thing it has going for it over Samsung's TouchWiz and LG's UI is that I actually like the fonts, icons, and other elements that make up the user interface. It has a more modern, angular look. Obviously that's a personal preference, and one which you might not share. Let's start at the beginning and work our way inward.
The lock screen can be customized in many different ways. As always, users can choose to employ a screen lock or not. Possibilities include a pattern, PIN code, and traditional password. You can put up to four shortcuts at the bottom of the screen that can be opened directly from the lock screen. When a lock is used, only notifications and the camera can be opened from the lock screen. Everything else requires that the device be unlocked first. The lock screen can be given its own wallpaper, can be set to show notifications, can be set to include the time/weather, and can also be turned off entirely. As far as lock screens go, it offers a lot.
One thing HTC added this year are gesture motions. These are gestures you can use to make the One perform certain actions even when it is locked. For example, pick the phone up and tap on the screen twice to turn on the clock. Tap twice again to turn it off. Similarly, you can swipe to the right to reveal Blinkfeed (more on that below,) or swipe to the left to reveal the home screen. I like the idea behind the gesture motions, but in reality I found they hardly ever worked correctly. The problem is they make the phone hyper-sensitive to being handled. For example, at one point I took the phone out of my pocket and put it on a table. In so doing, I accidentally unlocked it and launched Blinkfeed simply due to the way my fingers brushed the screen. If you hold the phone in your hand at all for any length of time, you're going to accidentally lock it, unlock it, turn it on, turn it off, and so on. In fact, I often found that I'd accidentally moved my home screen widgets around. In the end, I had to disable this feature, as it started to drive me crazy.
The home screen panels behave somewhat differently compared to the old One. First, BlinkFeed is no longer the default home screen. Instead, it is one screen to the left. There are two additional home screen panels active out of the box, but you can add or subtract from the number of home screen panels whenever you so choose. I like that you can easily set the actual "Home" home screen panel (the one that appears when you press the home button.) The home screen panels can play host to apps, folders, widgets, and all the normal items that go along with any Android home screen. There's a common dock at the bottom that holds four shortcuts plus access to the app menu.
A word about the buttons. Last year's One had two hardware buttons: home and back. I hated that set-up. It drove me nuts. This year, HTC saw fit to ditch the hardware buttons entirely and now uses the standard set of three software buttons that come and go as needed. They are back, home, and multitask. I'm very happy to have the multitasking button back once again. HTC still uses its grid-style multitasking screen, rather than the vertical column used by most Android devices. HTC alsop redesigned a number of the system icons. Some might be unrecognizable and take getting used to.
The app menu looks and functions exactly as it does on the 2013-era One, One max, and One mini. Apps can be arranged alphabetically, in a customized order, or by most recently used. The tool bar at the top of the page lets you search among your apps, as well as hide them, manage them, and change the size of the app grid. The default is a four by five app grid, but you can switch it to three by four if you want. Last, there's a link that will take you directly to the app section of the Google Play Store. You can't view the app menu as a list, but you can use folders and a hide/unhide tool to help manage clutter.
Using the settings menu to customize the One isn't too troublesome. Its basic layout is similar to that of other Android devices. All the wireless and network controls are bunched at the top, followed by the personalization tools, and hardware tools. Personalization tools run the norm. Users can of course select their own wallpapers, ringtones, and alerts. HTC has included several different themes, too. The themes offer different wallpapers and accent colors to go along with them. The differences are subtle, but enough that the personality of the phone feels sufficiently altered if you switch themes. If you've used any device running Android 4.0 and later, you'll feel at home using the settings tools.
The notification tray is one of the simpler features of the user interface. As with most Android devices, it has actionable notifications, as well as a shortcut to the radio toggles. HTC doesn't put the toggles themselves directly into the notification tray, like Samsung and LG do. I don't mind the extra step to reach the toggles, as it leaves more room in the notification tray for, you know, notifications.
The HTC One is powered by the Qualcomm Snapdragon 801 with four cores at 2.3GHz each and 2GB of RAM. The 801 can support clock speeds up to 2.5GHz, but HTC decided to go with a slightly slower clock speed in order to keep power use down. That's not a bad thing, not at all. I ran the HTC One head-to-head with the LG Nexus 5, which has a Qualcomm Snapdragon 800 with four cores at 2.3GHz each. The One spanked the hell out of the Nexus 5. To my eyes, the One did everything twice as fast. It opens apps instantly. It performed searches faster. Everything about the One feels insanely fast. I didn't run into any performance problems of any kind while testing the HTC One. It is a fast, fast, fast phone.
Blinkfeed
HTC has more or less rewritten BlinkFeed from the ground up. BlinkFeed is a social news reader akin to Flipboard. It can be used to cull content from the owner's Facebook, Twitter, and Instagram accounts, as well as sprinkle in content from just about any other site/feed you might wish.
Some of the significant changes include the introduction of color. HTC has added nice, bright colors to BlinkFeed in order to liven it up a bit. Honestly, they help. Second, HTC got rid of the annoying page-by-page scroll action and replaced it with natural, continuous scrolling. These together go a long way toward making BlinkFeed more usable and more likable.
Adding content is a bit different. Before, HTC offered a wide range of pre-loaded content sources from which to choose. The initial content options on the new One are fewer, but it has a much more powerful search tool. You can search for just about anything and instantly create a feed that pulls stories, images, and video from across the internet. For example, I performed a search for Captain America. BlinkFeed found several news sources, as well as captured all the Tweets it could find about Captain America and created a single news source for all things Captain America. What's cool is you can parse the initial results to pick and choose which sources you subscribe to or simply subscribe to them all.
HTC told us that they wanted to make it easier for people to "snack on content" with BlinkFeed, and I think it achieved that goal. Personally, I still prefer the UI and tools offered by Flipboard, but BlinkFeed is a solid substitute - especially since it is presented in a format made specifically for the One.
Calls and Contacts
The One's calling and contact apps appear to be mostly carried over from last year's phone with only minor changes. The phone app is straightforward to use. The default view is whichever section of the app you used last. There are five tabs: call history, dial pad, favorites, contacts, groups. The tabs can be edited if you wish (you can rearrange them or substitute in several other options). The dial pad is easy to use, or you can switch it to show a keyboard so you can type the name of a contact rather than a number. In-call options run the norm, including adding a line, send to speaker/bluetooth, mute, and so on. You can also use voice commands ("Call Mom's cell") if your hands are otherwise occupied. I had good luck with the voice commands.
The contact app does a great job of pulling in social networking details, and lets you sort between your various contact sources (phone, SIM card, Facebook, Twitter, etc.) with a drop-down tab. (It doesn't interact with LinkedIn data, though.) When scrolling through the full contact database, the app shows you the most recent social network status update from each contact, be it a Facebook post or Tweet. It does a great job of porting over profile images. It's a cinch to start a call or a message from the full contact list, but you can open each individual contact card to see all the person's information, as well as make edits.
Together, the phone and contacts apps work well together and offer a lot of shortcuts between the two.
Messaging
Most of the messaging functions offered by the One are Google's services, such as Gmail, Google+, Hangouts, and so on. All the Google apps work without issue just like on every other Android device.
The new One's native SMS app appears to be carried over from the old One. The app places a blue bar to the left of each thread that contains unread messages. It's not intuitive at first, but you get used to it after a few days. Your messages float on a gray background, while those with whom you're chatting are outlined in white. It makes it easier to see which side of the conversation you're looking at. The app also has some powerful tools for saving and/or backing up conversations. Since Google now lets Android device owners pick which app they want to use for SMS, I've moved on to Google Hangouts and avoided HTC's SMS app.
I still don't like the HTC keyboard. I find its swipe-style auto-correct isn't nearly as accurate as Google's standard Android keyboard. Further, it is way too easy to accidentally switch the keyboard to another language thanks to the placement of the language switching key on the keyboard itself. I wrote an entire sentence in French before I'd realized I'd changed the language. In the end, I substituted the native Android keyboard for HTC's.
Since we're using an international, unlocked One, it's worth pointing out that carrier-branded versions may offer alternative messaging apps, such as catch-all services that bundle SMS, Facebook Messaging and Twitter DM.
Extras
Media
Since we're testing an unlocked and unbranded version of the HTC One, there's no carrier bloatware. That's most apparent in the media department, which is devoid of crummy extras that might otherwise mire down the phone with too many music or video apps.
The One includes the basic Google Play apps, including Music & TV, Video, Books, Newsstand, and Games. You can use the Play Store to purchase or rent content and then consume it in the corresponding app. These apps are fairly mature and haven't changed much in the last year or so. They work just fine.
HTC went out of its way to improve the HTC TV application. This app has two functions: It serves as a remote control for your TV set and also serves as a content guide for your local TV provider. Setting it up takes seconds. I had the app showing me all my local TV shows in no time. It's quite easy to use and was accurate as far as matching shows to the channels available to me through my local provider (Verizon FiOS.) One big piece of the remote app is access to sports. It has partnered with several sports-centric web sites to make sure live sports are always available. OK, so, in the middle of the day on a Monday that meant all I could watch was some cricket and some soccer, but you get the idea. It is also easy to set up the One so it controls various pieces of home theater equipment, such as TVs, cable boxes, receivers, and so on. The content/remote combo makes this app much more useful than it was in last year's phone.
The One includes 7Digital, which is a separate music store. It offers the same selection that most other online stores do, but charges more per song ($1.49 versus $1.29) than those other stores do. I say skip it.
There's a fairly advanced stand-alone MP3 player for music that you've sideloaded or stored on a microSD card. It's quite full of features and can even pull down album covers and band data from online. It is much less of a pain for listening to music that the Play Music app. There's no corresponding app for sideloaded video, however. Anything you put on a microSD card will play in Google Play Movies & TV. Last, the One includes an FM radio. You need to use a headset with it, though, which really stinks since the radio would sound great with the Boomsound speakers. Alas, you can't use the FM radio with the Boomsound speakers at all.
Anything you play via the Boomsound speakers is going to sound good, but I was also quite pleased with the quality passed from the One through my favorite set of headphones. HTC uses a better headset amp in its phones than most other phone makers do, and this really helps with music playback. The One also supports the best stereo Bluetooth profile (aptX) for playing music back wirelessly. Bottom line, this phone makes media sound good.
Camera
HTC reimagined the One's camera software, but kept just enough intact that it feels familiar to owners of last year's model. The app can be opened from the lock screen or the home screen panels. There's no dedicated camera button. Alternately, the camera can be opened when tipped on its side joined by a press of the volume key. The camera opens swiftly.
The basic UI has several key elements. Most of the screen is used as a viewfinder and controls are kept to a minimum. Along the right edge of the viewfinder you'll see a thumbnail of your most recent shot, the shutter button, and a switcher tool that lets you jump between the basic shooting modes. On the left, you'll see a tool for adjusting the flash, as well as access to the full set of tools.
Let's first discuss the basic shooting modes. HTC has done away with the two-button approach. It used to offer one button for the camera and a second button for the video camera, allowing you to shoot either from the main screen. Instead, there's now one shutter button on the still photo viewfinder; you have to switch modes for video. The video mode does include a second button for snapping stills while recording video. There are six basic shooting modes: normal, video, Zoe, Selfie, Dual-Capture, and 360 Panorama (similar to PhotoSphere). Most of these are self-explanatory.
The Zoe mode has been altered a bit. It now shoots 1, 3, or 5 seconds of video along with taking a burst of corresponding photos. If you hold the button for more than 5 seconds, though, it automatically switches to full video mode and you can let go of the button. Speaking of which, video mode now lets you pause filming and resume while creating a single file rather than two. This means you can put multiple cuts in your video and have them automatically pasted together in the end result. The One can also record in slow-motion for those moments that deserve a bit more drama.
Dual-capture uses both the front and back cameras to capture images. The user-facing camera produces a small 16:9 rectangle that floats in the viewfinder. You can adjust the size of the box and reposition it at will, but you can't change the shape to a circle, or square. You can, however, reverse it, so the user-facing camera fills the viewfinder and the rear-mounted camera produces the small 16:9 box. The Selfie mode offers a countdown timer and lets you adjust all the same settings as the main camera, including filters, exposure, and so on.
These shooting modes are fairly easy to master and produce results that you expect. I still have trouble grasping the benefit and appeal of Zoes, but I like the dual-capture mode a lot.
The full set of tools for adjusting the camera is quite extensive. Press the three little dots in the lower-left corner and a control strip pops out across the bottom if the viewfinder. There are controls here that let you adjust ISO, exposure, and white balance on the fly, as well as apply one of 19 different pre-set filters (normal, sepia, grayscale, warm, cool, etc.). The tools offer access to a handful of scenes, which include night, HDR, simple panorama, electronic image stabilization, full manual control, portrait, landscape, backlight, text capture, and macro. Each of these scenes is meant for a specific type of photography. Seasoned users will know what to do with them, but it might take longer for novices to figure some of them out. I do wish that they were easier to reach. As it stands, you have to press two selections just to open the menu for selecting a scene, and then choose the scene itself. The scenes should be easier to reach, especially HDR, which is among the most useful of the tools.
That said, HTC has added a masterful trick to the One that, for many, may overcome the futzy scene controls: Owners can create and save their own camera profiles, and access them from the shooting mode switcher. Let's say you've spent time honing the perfect mode and settings for taking sunrises or sunsets and you'd rather use your own settings rather than the presets. After you've made your adjustments, simply choose the "Save Camera" option and it will automatically save the settings and let you name the camera anything you want (in this case, perhaps "Sunnies" would suffice?). You can save at least three different personal cameras, all of which can be opened from the shooting mode switcher without requiring users to dig around and reset all the parameters. That means you can just turn on HDR and set an HDR camera, among any of a million other configurations. Cool.
In all, the One offers the ease-of-use that many prefer (point and shoot), while still giving creative types plenty of options for exploring their artistic side.
Last, the One's camera is among the fastest I've ever seen. It focuses and saves images in a blink and lets you get right back to taking photos almost as soon as you've lifted your finger off the shutter button.
Photos
The HTC One has two cameras on the back. The main imager is the larger of the two. HTC is sticking to the 4-megapixel "UltraPixel" main sensor it used last year, which is backed up by HTC's ImageChip 2 for fast processing. HTC claims the sensor's pixels are larger than standard pixels and let in up to 300% more light, for better low-light performance. The secondary camera is just for capturing depth data (more on this later) at the moment you take a photo. According to HTC, no images are stored from this second camera.
If there's one thing I can say about the images I captured with the new One, it is that they are remarkably sharp. The One has no trouble capturing stationary objects in exquisite detail (see the purple flowers below). It had more trouble focusing on two moving objects, such as my daughters (see swinging shots below).
Even if the kids are out of focus or blurry due to their motion, you can see that the background is razor sharp. White balance and exposure are nearly always accurate. In my tests, the One didn't require HDR mode to balance out several contrast-y scenes; it was able to do so with the "auto" setting. Pretty much all the pictures I took were accurate representations of the scene in which they were taken. The one issue you might face is the resolution. Bigger pixels or not, you can only scale images up so far with 4 megapixels. I mean, all the shots I took looked great on my 55-inch TV, but there are practical limits to how far you can blow the pictures up before you see gaps in the detail.
If you're curious how the One's filters look, here are some examples:
The selfie cam … er, the user-facing camera has been bumped up to an impressive 5-megapixels. It has a wide angle of view, so you can cram a lot in the shot if you want. I'm no master of the selfie, but the images I captured looked pretty good despite crummy conditions and my poor compositional skills. Here are some examples:
This panorama is probably the sharpest, most accurate panorama I've ever taken with a smartphone:
Video
Both the front and back cameras capture 1080p HD video. The main video camera shoots excellent video. The One did a great job keeping both my girls in focus while they were on the swings, and handled the lack of light pretty well, too. Colors look to be spot on as far as I am concerned.
Gallery
HTC has done some really nice things with the gallery app. Photos are organized by timeline (segregated by date), by album (grouped by event), or location (grouped by geo-tagged data). These three main albums are arranged in vertical columns and you swipe side-to-side to switch between them. When viewing a certain album - let's say Timeline - the photos are arranged by date with the most recent photos nearest the top. Each day gets its own photo album, and the album shows a large cover image followed by thumbnails to let you see what's in that particular group of shots. Press any of these images and you'll dive into that specific gallery.
Individual images can be edited in a nearly unlimited way. For starters, you can crop, rotate, add frames, flip, draw on, and straighten the pictures. If you forgot to apply a filter while shooting the picture, you have an entirely different set of filters in the gallery that you can use to give your photo some flair. You can also add effects, and here's where HTC really got creative.
The coolest effect is called UFocus. Like a Lytro camera, or Nokia's ReFocus app, UFocus lets you change the point of focus (aka, depth of field) after the image is taken. This works particularly well if you have a portrait or any other type of shot where the subject clearly stands out from the background. The UFocus tool can automatically focus on the subject, the background, and other points in between to get the effect you want. Because it's using the depth data captured by that extra camera, it produces results far closer to that from a professional camera than a software-only effect like what the Galaxy S5 seems to have. It's really neat. Similarly, the Foregrounder effect can be used to keep the foreground/subject in focus, and then blur the rest, or posterize it, or make it into a cartoon, etc.
There's another tool called Dimension Plus. It uses the point-of-view data collected by the secondary camera to add a 3D effect to images. It's subtle, but still visible. You can also add animated seasonal effects, stickers, copy & paste, as well as touch up images. In all, the editing options are a hoot.
Sharing options for standard images run the norm. It's easy to push photos to your friends via email or social networks. Photos can also be moved, renamed, added to slideshows, and so on.
Zoes
Zoes are HTC's combined still image/video file mashup. It is a cinch to interact with them on HTC hardware, but HTC wants to make them more social. It has an app in the wings - not available just yet - that will let multiple people contribute to Zoes. Say, for example, three people are using HTC devices and capture Zoes of kids playing in a backyard party. Using the Zoes app, all three people will be able to upload their Zoes of that moment to HTC's servers where they can be combined into one larger Zoe highlight video. HTC sees this as the next step for Zoes. It had hoped to roll the feature out as a beta with the launch of the device, but has since delayed the launch until later this year. We'll have more to say once it is available. Sharing Zoes is painful, which is in stark contrast with how easy it is to share regular photos.
Bluetooth
The One works with nearly all Bluetooth devices. I was able to pair it with my PC, my car, as well as Bluetooth headsets and speakers. As far as calls go, quality through my car's hands-free system was quite good. I was pleased with both volume and the ability to understand callers clearly. The One supports the aptX Bluetooth profile, which offers the highest-possible quality stereo playback. I paired it with my favorite Bluetooth speaker and was happy to rock out for a while thanks to the excellent sound produce by the One.
Browser
The One ships with both the generic Android browser as well as Google's Chrome browser. The generic Android browser has been skinned by HTC. It looks and functions well enough. It hooks into your Google account and uses Google as the home page. It has a really neat tool that brings up Google's other sites/services with an expandable tray that slides out. Both the generic browser and Chrome work perfectly well for rendering web sites, whether they are full HTML or not. They were decidedly quicker to perform over Wi-Fi, but still did well enough over AT&T's HSPA+ network. We didn't get to test them over LTE just yet.
Clock
HTC has included a useful clock tool on the One. As noted earlier, you can pick the phone up and double-tap the screen to turn on the display. It shows the lock screen, and the clock is a big part of the lock screen. You can set the clock to just show the time, or to also include weather. It is a white, digital clock and cannot be customized. I wish it were just a bit bigger, but I can deal with it as is.
One neat-o accessory that HTC announced with the One is the Dot View case. It is a wrap-around case that has large, see-through dots drilled on the side that covers the screen. When attached to the phone and the case is closed, the One's UI sort of changes a bit. It will use large, plain lettering, which is visible through the case's actual dots, to show some basic lock screen items, such as the time, and incoming call/message alerts. The case itself is simple, but puts the phone into a specific mode to interact with it. The case costs $50. It is available first in gray and eventually in orange and green, too.
GPS
The One has Google Maps for planning and routing directions. Google Maps performed really well on the One, thanks in part to its speedy processor. The One was able to pinpoint me consistently within several seconds no matter where I was or what sort of signal strength was available. Google Maps remains the premiere free mobile mapping software available, and it can help you find walking, biking, driving, and public transit routes between points, as well as street-level views of where you're going. It's a known entity that delivers on its promise.
HTC Apps
There are several apps on board that bear HTC's name, including HTC Backup and HTC Guide. The Backup app comes with 50GB of storage on HTC's servers for saving your device settings and content. If you're serious about picture-taking, it's well worth taking advantage of HTC's offer. The 50GB is free for a period of two years, and can store most any file type you want to sync. The HTC Guide is a handy tool that walks you through every aspect of using and adjusting the One. It's worth a spin if the One is your first HTC smartphone. Lastly, there's a service called HTC Apps. This is an update tool that lets you look for updates to core HTC apps/services and perform those updates in bulk if you so wish.
Wrap-Up
The new HTC One is a marvel. The hardware is among the best created, as far as smartphones go. The aluminum design was crafted with care and manufactured almost to perfection. I have very few quibbles with the physical form of the One, save to say that it is perhaps too big for some people. It's right on the border of being a two-handed device.
HTC made a lot of advancements with Sense 6.0, which is highly prevalent throughout the user interface. Perhaps the best changes in the new software are the alterations to BlinkFeed and the home screen panels, which are now easier to customize and manage. HTC over-thought some of the lock screen tools, but they can be customized.
The One covers the basics in spades. The screen looks great, calls sound good, multimedia sounds amazing via the BoomSound speakers, the battery lasts long enough, and even the non-optimized version we tested performed well on AT&T's network. The One has all the same messaging and social networking tools available as every other smartphone, and they perform just as well.
If you're really looking for one killer feature, I'd say it is the camera. There's a little bit of a learning curve, but I think the results are well worth it - especially if you consider the wide array of fun and exciting editing tools.
Should you buy the HTC One? Unequivocally yes. For $199/$249 there's no better option out there. Run, don't walk, to your nearest wireless retail store and grab the HTC One as soon as you possibly can.
Why is it so hard for Samsung to produce something this nice?
Not the biggest fan of the brushed aluminum (reminds me of my Note 2's craptastic back finish), but at least it

1) Is Real Metal
2) Doesn't look like a Band-Aid
Because they have a plenty of customers who live in the real world and don't care.
Still needs removable battery
I'm glad HTC has added SD capabilities back, but can they please give us the removable battery back.

I have friends who bring extra batteries to the field with them for the Samsung smartphones because we do not have any plug ins. Just so they can have a phone that lasts a 3 days
In our review, we found it to have excellent battery life. It also supports the newest QuickCharge.

I don't think it's realistic to have a removable battery in a phone like this. The high-quality, solid feeling of the unibody metal construction is ...
(continues)
My impressions
I just made the move to the M8 from the DNA. I'm happy but worth noting my following caveats: Hot spot and WiFi activation are slow as molasses. And Blink-feed in Sense 6.0 as compared to Sense 5.0 may offer more content options but the missing clock and the missing automated stops makes it's usability rather lame. I've turned it off.
HTC One M8 battery drain in low signal areas?
I had an htc one and loved it BUT it had one problem. In low signal areas the battery drained really fast. Combine that and slow charge speed and I had to get rid of it.

In your review did you notice faster battery drain in low signal areas?
arouth said:
I had an htc one and loved it BUT it had one problem. In low signal areas the battery drained really fast.
That's going to be an issue with any phone, by the nature of physics. If it drained noticeably fa...
(continues)