Virgin Mobile Launching Second Cameraphone
Article Comments 8
Sep 14, 2005, 2:04 PM by (staff)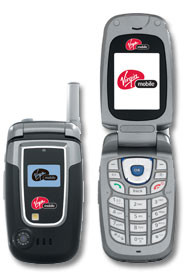 Virgin Mobile USA will launch their second cameraphone this month. The Snapper is based on the UT Starcom 8915 and features a VGA camera, LED flash, speakerphone and large color screen. It is fully compatible with Virgin XL content and ringtones and is also Virgin's first phone to feature an AOL Instant Messenger client. The Snapper will be available later this month for $150.
source: Virgin Mobile
who cares?
An Audiovox 8915 being released (in most areas the 891X is being discontinued) is not news.
The 8915 is technically an all-new phone that replaces the 8910. It's not that different from the 8910 in terms of features, but technically it is new.