Review: Nokia Lumia Icon for Verizon Wireless
Article Comments 13
Feb 13, 2014, 4:59 PM by Eric M. Zeman
updated Feb 13, 2014, 4:59 PM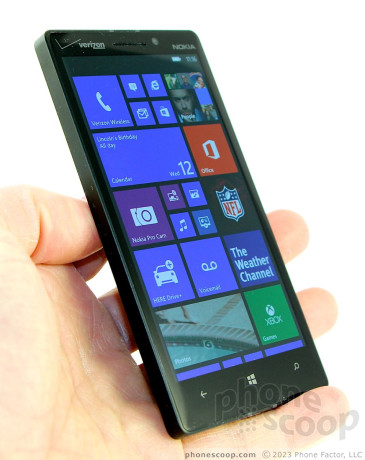 Verizon finally gets the Windows Phone it deserves in the Lumia Icon from Nokia. The Icon has a full HD screen, 20-megapixel camera, and many other enticements. Phone Scoop put them to the test in this full report.
Advertisements article continues below...
Form
Is It Your Type?
Windows Phone fans who happen to be Verizon Wireless customers finally have a device to get excited about. The Nokia Lumia Icon is a "hero" phone that packs all the features they might want into a solid piece of hardware. For Verizon customers, Windows Phone doesn't get much better than the Lumia Icon.
Body
The Nokia Lumia Icon (nee, Lumia 929) merges the design of the Lumia 928 with the features of the Lumia 1520. Like the 928, the Icon is blocky and blunt. It skips the smooth and rounded edges found on Nokia's other Lumia devices and opts for hard edges, sharp corners, and a rather boring design. There's a metal band that that forms the outer edge. It is perfectly flat; flat enough that the Icon will stand on edge if placed on a table. On the back, the band is chamfered a bit where it meets a polycarbonate panel that forms the back surface. This seam is mostly clean, but I noticed a small area where it is uneven. On the front, the glass panel that forms the entire face is tapered a bit where it meets the metallic band, but the edge is still fairly square.
Nokia can't seem to make thin-and-light Lumia smartphones, and the Icon is another example thereof. It is thick and heavy, and feels ponderous in the hand. The rear panel is curved gently to better fit your palm, but the hard edges negate the benefit. That said, the materials all feel top-notch. The Icon may be weighty, but that lends some credit to its perceived quality.
As expected, the front surface is nearly all display, and what a gorgeous display it is. The Icon's 5-inch OLED display looks great. There are three capacitive buttons below the screen for interacting with the Windows Phone interface, and they work well. There's a thin slit in the glass near the top for the earpiece speaker, and the Verizon and Nokia logos are wedged up there, too.
The Icon follows the same design as most Lumia devices when it comes to physical buttons. All buttons are all packed onto the right edge. The volume toggle is closest to the top, the screen lock key is in the middle, and the dedicated camera key is near the bottom. All three have very good profiles, which make them easy to find. The travel and feedback is quite good, too.
The stereo headphone jack is found on the top of the phone, as is the hatch for the SIM card. The hatch is sort of tricky to release, and requires some fingernail action to coax open. The micro-USB port is on the bottom.
Sadly, the Icon's rear panel cannot be removed; like nearly all other Lumia devices, the battery is sealed in. Further, the Icon does not support memory cards. That means you're stuck with the 32GB of included storage, of which only about 23GB is available to end users.
In all, the hardware is well made, though it would be nice if Nokia could slim things down, even if by 10% or 15%. We're testing a black version of the Icon, but it also comes in white.
Performance
Screen
The Icon has a 5-inch display with 1920 x 1080 pixels. That is exactly where the Icon needs to be in order to compete with other flagship devices, such as the LG G2 or Samsung Galaxy S4. It's the sweet spot in-between too small and massive (phablet-size.) The screen uses Nokia's ClearBlack technology to improve contrast, and the OLED panel is easily viewed indoors and out. It's sensitive enough to be used when wearing gloves, which we thoroughly tested in the single-digit temperatures of New Jersey. I like the screen on the Lumia 1520 a little bit better, but the Icon's screen clearly bests every other Windows Phone in terms of size, resolution, and overall quality.
Signal
The Icon performed exceptionally well on Verizon's LTE 4G network. Thanks to the proliferation of Verizon LTE signal, the Icon never dipped down to 3G. It was able to connect all calls on the first dial, and never dropped or missed calls. Call set-up times were generally short. Data speeds were consistently good. I noticed some slight slow-downs in data when network coverage was at its weakest, but it was never anything to complain about. It's one of the stronger devices I've tested on Verizon's network in recent months.
Sound
Call quality was surprisingly inconsistent. Despite five bars of coverage and an instantaneous connection, the quality of about half of all calls coming through the earpiece was below average. I noticed lots of choppiness, gurgling, and other interference. The other half of calls were OK, but not great. Volume, when set all the way up, was good; I had no trouble hearing calls. On the flip side, people I spoke to through the Icon said I sounded really, really good. The speakerphone offered great volume, but the same inconsistent quality. (The quality issue was present in several areas, so I don't think it was related to the local cell. I haven't seen the issue before, only with the Icon) Ringers and alert tones were able to get my attention without issue, and the vibrate alert always made itself known.
Battery
After several days of testing, I give the Icon a tentative thumbs up in the battery department. I was able to get at least a full day out of it from a single charge, despite heavy use. The 2,420 mAh battery packed inside the phone provides enough juice to keep it going from breakfast to bedtime.
Basics
Menus
Like the Lumia 1520, the Lumia Icon runs an updated version of Windows Phone 8. Microsoft and Nokia had to tweak the code to support the 1080p resolution. Before the 1520, the highest-resolution display of any WP8 device was 1280 x 768, and Windows Phone devices couldn't make use of quad-core processors. Now they can, and the Icon uses Qualcomm's excellent Snapdragon 800 processor. The most obvious benefit here is found on the Start screen, which now has an extra column for Live Tiles.
Where the 1520 has a 6-inch screen and plenty of space for numerous Live Tiles, the Icon's smaller 5-inch screen means the smallest Live Tiles are pretty small. Even so, I like the extra space and find it makes a huge difference in the usability of the Start screen.
As on all Windows Phone devices, the Live Tiles can take three different shapes: small square, large square, or large rectangle. The Tiles can be resized and rearranged however the user chooses. The best part of the Tiles is that they also act as widgets and can be set to display active, changing content, such as unread counts in your inbox, or the latest breaking news from CNN.
Puzzlingly, Nokia's Glance app is absent. Glance provides a clock screensaver with active notifications. This is a major bummer, because it's a highly useful tool that's installed on many other Nokia Lumia devices.
The lock screen has its own clock, which is paired with the date. The lock screen can be set to include alerts, if you so choose, and the alerts can be prioritized. The notifications pop up on the lock screen to tell you how many unread messages or missed calls you might have. You have to unlock the Icon to access those messages or calls.
The full app menu is accessed by swiping the Start screen to the left. It lists all the apps installed on the Icon in alphabetical order. This screen cannot be customized, nor can the settings screens, which are packaged together in their own text-only menu.
One neat feature that's been added is called App Folder. It's the first time Windows Phone has really supported folders. You can create them in the main app menu and then pin the folders to the Start screen. The folders are a great way to store a custom collection of apps on the Start screen without cluttering up the space with individual Tiles for each app. (Of course, Android and iOS have supported app folders for years.)
The Icon has a quad-core 2.26 GHz Qualcomm Snapdragon 800 processor. It's one of the best chips available, and delivers a great experience on the Icon. Windows Phone is a fast operating system to begin with, and it's extremely quick on the Lumia Icon. I didn't experience any trouble running apps, transitioning from screens, or multitasking. It's a fast phone.
Calls and Contacts
The phone app functions the same way across all Windows Phones. Nokia hasn't added any fancy features. It's a stark and simple app that doesn't take much brain power to master. When opened, the call history is the default view. There are four main functions: voicemail, dialpad, contacts, search. During a call, the buttons are laid out plainly and include the features most people expect these days, including the ability to mute or hold calls, merge calls, or route them to the speakerphone or Bluetooth. Though all the tools are there, it's high time Microsoft updated this app, as it's been essentially unchanged since Windows Phone 7 debuted in 2010.
The Lumia Icon has one of the best contact apps available on a smartphone. Microsoft thinks the people in your life are more important than serving as sterile "contacts," and has thus named the contact app the People Hub. The Hub is not just a list of phone numbers and email addresses. It is a much more involved space that ties in users' Facebook, LinkedIn, and Twitter profile data. It provides a virtual flood of status updates and posts to go along with the faces and phone numbers contained therein.
Messaging
The Icon covers all the messaging basics, which include email, SMS/MMS/IM, Skype, social networking, and so on. There is only one email app, but it can handle any type of email account, including Gmail, Exchange, and other standard email types. Perhaps its best feature is that it lets you pull multiple email accounts into a single inbox.
There is a single app used to handle all non-email messaging tasks. The messaging app includes text and picture messages, instant messaging, Facebook messaging, and Skype. Some may appreciate having all these messages locked down in a single place, some may not. I do wish the app weren't so spartan in its design. What I like best is that it will link SMS and Facebook conversations with the same contact into a single thread rather than keep them separate.
Other WP8 messaging tools include Groups and Rooms. These are both subsections of the People Hub. They essentially let you manage, communicate with, share photos with, and coordinate calendars between small groups of people.
Though the People Hub incorporates Facebook and Twitter for basic messaging, you're better off downloading the full Facebook and Twitter apps from the Windows Phone Store for full functionality. They aren't pre-installed.
Extras
Media
There are multiple avenues through which to find and play back content on the Lumia Icon.
All Windows Phones include Microsoft's XBox Hub. It's changed a bit, though. To listen to music or watch videos, you open the Music & Videos app. This single app is where you'll see any content you've sideloaded, as well as shop for more content from Microsoft. The XBox Hub branding is no longer in the app. The store offers plenty of selections for music, movies, and television shows, and allows you to rent or purchase much of it. This app also includes an FM radio, which requires headphones (for an antenna) in order to be used.
Only Nokia Windows phones include Nokia MixRadio, (formerly Nokia Music,) Nokia's own content store. It, too, lets users purchase music, and also includes 150 streamable radio stations, personalized music recommendations, and a tool for searching local live performances. Premium features, such as an unlimited number of track downloads, cost $3.99 per month.
The Icon also has Verizon's NFL Mobile App. The football season may be over, but this is a great app for fans of the pigskin. It offers daily news, video, and lets you track your favorite teams. Verizon also jammed a ringtone application on the Icon, which lets you buy overpriced ringtones.
You can find plenty of other music apps in the Windows Phone Store, which has many of the most well-known, including Pandora, Slacker, and many others. If you're a fan of YouTube, you're pretty much out of luck. There's a basic YouTube app that essentially repackages the mobile YouTube web site. It's not great for viewing videos. Thankfully, Nokia created its own YouTube Uploader app to make posting your own videos to YouTube a snap.
Camera
Nokia's camera applications are great, but I'll be darned if there aren't way too many of them. Seriously, Nokia, many of these need to be combined in a single app. That said...
The Icon ships with the basic Windows Phone camera app, as well as Nokia Camera, Nokia Refocus, Nokia Cinemagraph, Nokia Glam Me, and Nokia Panorama. Each of them is slightly different, though Cinemagraph and Panorama are really just "lenses" (think: plug-in) for the Windows Phone camera app.
The basic WP camera app is simplistic to a fault. It includes only the most basic shooting functions and modes, but it opens, focuses, and shoots photos quickly. The hardware camera button can be set to open this app if you want, but out of the box, it's set to open the Nokia Camera app. The basic WP camera is the best app for regular people who just want to take pictures and don't care to futz with controls.
The Nokia Camera app is a professional-level application that is beyond compare. It's not suited to beginners. It gives users full control over all the possible settings through a unique, ring-like user interface. For example, ISO can be set anywhere from 100 to 4000, shutter speed can be set anywhere from 1/16,000th of a second to 4 seconds, and focus can be set to toggle between macro and infinity. The long exposure tool is particularly interesting because it opens up a wide range of creative nighttime imaging. For people who understand how each of these factors interacts with the others to produce a result, the level of control is unparalleled on a smartphone.
Nokia Cinemagraph is for creating animated GIFs, Nokia Panorama is for creating (duh!) panoramas, and Nokia Glam Me is for taking glorified selfies. Nokia Refocus lets you create Lytro-like images that let you control the depth of field after you've shot the picture. Nokia Refocus is a bit tricky to use and takes practice to master.
The Icon supports lossless zoom, though not to the extent of the 41-megapixel Lumia 1020. It allows you to zoom in and reframe images after the fact without losing any resolution. You can't zoom in as far with the Icon as you can with the 1020, but at least it's something.
Last, and not least, the Lumia Icon supports RAW imaging. RAW imaging is only available in the Nokia Camera app, and is an option that must be explicitly turned on. It results in massive files (tens of megabytes) compared to what most cameras produce. The experience of taking RAW images doesn't differ from normal picture taking, and the Icon also captures a regular 5-megapixel image at the same time that can be used/shared easily from the phone. RAW photos can't be edited on the Icon itself; they're too big. You have to offload them to a computer before you can do anything useful with them, but they are unprocessed and contain an incredible amount of detail that would otherwise be lost.
Photos
Despite all its powerful features, the Nokia Camera app - and the basic Microsoft camera app, too - had real trouble with white balance. Granted, I was shooting snow under a gray, cloudy sky, but still. Even some of the indoor shots show incorrect white balance. Focus was razor sharp, though, and exposure was generally accurate. The white balance issues I noticed can be adjusted somewhat after the fact, (and are a non-issue with RAW images,) but it would be nice if you didn't have to. I assume better outdoor shooting conditions will result in better images. Shooting with the other modes takes practice to get good results. For example, the setting the shutter to 4 seconds will give you amazing blurs. You have to set the scene properly. Same goes for Cinemagraph and the other modes.
Video
The Icon has one neat trick regarding its video camera: it offers lossless zoom when recording 1080p HD. You can easily zoom when capturing video by sliding a single finger up or down the screen. It lets you zoom in 3x without losing any pixels. See the samples below. That said, I saw the same white balance problem that I did with the camera, but focus and exposure are really good. My guess is, when used on a sunny day, the white balance will correct itself.
Photo Hub
The Photo Hub is Microsoft's version of a photo gallery. The Photo Hub stores all images captured on the phone itself, but also syncs with social media accounts, most notably Facebook. The Hub itself is an active place where you can view your own images as well as peruse those of your social networking friends.
The photo-managing features are typical for most phones and it's easy to move images between folders or share them with others. It's worth the time to set up SkyDrive (Microsoft's free cloud storage service) to automatically back up your photos.
Editing features in the Photo Hub itself are limited to rotate and crop. This is where Nokia's Creative Studio comes in play. Creative Studio lets users apply various filters and effects to change the tone/appearance of their photos. Creative Studio also includes the ability to blur the background, or use a tilt-shift adjustment tool to give photos a unique look. As far as tilt-shift tools go, it works pretty well. Creative Studio has a pretty good feature set for those who like to tweak their images after the fact. Creative Studio is another Nokia exclusive.
The Icon also includes Nokia's newer Storyteller application. Storyteller creates stories from photos based on where and when they were taken. It's can be used to automatically generate slideshows, which are mostly for your own, personal enjoyment. It has a tutorial that walks you through the process of adding captions, seeing the location details on a map, and so on. Storyteller is still in beta. It's sort of like HTC's Highlights app.
Apps
The Icon is chock full of apps out of the box. There's the typical set of Windows Phone basics, which are joined by nearly a dozen Nokia-branded apps and more than a half-dozen Verizon apps. One thing I like about Windows Phones is that you can easily delete any app from the device, including those that you might consider to be junk.
Bluetooth
I didn't have any issues with the Icon's Bluetooth radio. It connected to other devices easily. The phone calls I made through my favorite headset were good; I didn't have any of the quality issues I noticed when making regular calls. Music sounded excellent when pushed to a Bluetooth speaker.
Browser
The Icon was quick to browse the web, on both 4G and Wi-Fi. Internet Explorer is a decent mobile browser, but it trails Chrome on Android and Safari on iOS in terms of features. It renders both desktop and mobile-optimized web sites just fine, but lacks intuitive navigation controls. That said, it was fast on Verizon's network.
Clock
Without Glance on board, the only way to check the time is to press the screen lock button to wake the Icon up. Once you do, the time and date is clearly displayed on the screen along with notifications. The appearance of the lock screen clock cannot be changed, however. For example, you can't set it to be analog.
HERE
The GPS radio of the Icon itself performs perfectly. It pinpointed me quickly and accurately no matter where I was.
Nokia's HERE navigation suite is an incredibly powerful set of tools that not only helps map out directions, but lets you search your surroundings. HERE Maps offers a wealth of features that go head-to-head with Google Maps. Some of the associated apps include HERE Drive and HERE Transit. These are individual apps that perform specific functions. HERE Drive plots point-to-point driving directions, while HERE Transit helps manage mass transit route planning.
HERE City Lens is an augmented reality application for finding nearby points of interest. You simply pan the camera around and the app shows you what's in the vicinity. It's easy to pick one of the shops or restaurants it finds and pull up more information and/or details about it.
VZNavigator is also on board. It's laughable that Verizon wants people to spend $10 a month on this app when Nokia's HERE Maps outclasses it entirely.
Microsoft Apps
Some of the useful tools on board most Windows Phones - the Icon included - are Office and OneNote. Office needs no introduction. On the Icon, you can open/edit Word, Excel, and PowerPoint documents, as well as sync them to your personal (or corporate) computers. OneNote is Microsoft's extensive note-taking and -managing app. It functions similarly to EverNote. The SkyDrive app - soon to renamed OneDrive - is a cloud-based storage tool. You can set your photos to automatically upload there for safekeeping. SkyDrive has saved my butt a few times. It's free. Use it.
Wrap-Up
The Nokia Lumia Icon is a solid Windows Phone, but it's not without a few flaws. The Icon may be made with good materials, but the design is rather dreadful. The screen is quite good, as is signal performance and battery life. The inconsistency of call quality bugs me a little bit.
The Windows Phone operating system is mostly unchanged, but additions such as App Folders really help when it comes to organizing and managing applications. The interface is quick and easy to learn, and Windows Phone's compatibility with all things Microsoft is certainly a strength.
The apps from Nokia are too numerous to recount here, but they really help Lumia devices stand out from other Windows Phones. I really like the powerful camera application, even if it had some trouble with white balance. The MixRadio music service and HERE Maps are particularly good.
For Verizon Wireless customers, the Nokia Lumia Icon is the only and obvious choice when it comes to Windows Phones.
It's all fine and good, however
app availability is still rather limited compared to Android OS.

I would love to buy a Nokia phone for a full retail price no questions asked but there are about 6 apps that I need that are not available for WP8 and that's what stops me.
It always seems like Nokia is playing catchup to Android and Apple. First their phones were weak and now they still do not have full app support. I liked WP8 but could not stand their inferior phones or lack of apps.
Another issue is the absence of MHL and OTG.