New Motorola iDEN Phones Revealed
Article Comments 21
Aug 30, 2005, 6:15 PM by (staff)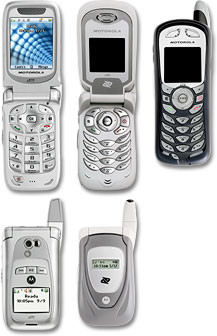 Motorola is preparing several new iDEN phones for launch over the coming months, including a new flagship phone and two new phones for Boost. Documents made public recently on the FCC web site provide some details, confirmed and complemented by info from multiple other sources.
i870: New flagship clamshell phone with dual color displays, a 1.3 megapixel camera with flash and video capture, Bluetooth (including OBEX), microSD (TransFlash) memory card slot, MP3 music player with external controls, WiDEN high-speed data, MOTOtalk off-network PTT, and a push-to-open auto-hinge.
i450: Basic clamshell phone for Boost with specs and features similar to the current i560, including Push-To-Talk, speakerphone, and an external display.
i415: Basic bar-style phone. Similar to the i285, but with a larger, better color display and a narrower profile.
I have an i870
Got it off of ebay of course for an arm and two legs but it was worth it. Can't wait till it really gets released though (can't get it insured or serviced/trouble shooted if anything goes wrong until then) I gotta tell you, I was completely in love and attached to my 860 but this phone blows it away. The MP3 player is awesome, the bluetooth works well. The camera is WAY better than the 860 camera and I thought that was pretty good. 30 second videos, group connect, off network walkie, and the styling is off the hook. If anyone wants some pics I can post those. I lost interest in the 930 as soon as I heard about the 870 and opted to by an overpriced bootleg phone over the 930 It rocks!
any idea when the phone is going to be ready for purchase from Nextel? do you have the specs for it?
Boost Mobile i875
I've seen the Boost Mobile version of the i870 on this site:
http://www.boosthq.com »
Also, I noticed on boostmobile.com, the "Poll of the Week" on what phone feature would be best... an MP3 player... obviously Boost plans to launch this phone!
Who doesn't want this phone?
I don't understand
I am having a very hard time understanding on why more iDen phones are being created. Sprint has finished the deal to buy out Nextel and from the letters people are getting they are now from Sprint saying by early next year you will have to buy a Sprint phone due to the fact that Nextel was bought out. Nextel itself owns such companies as Boost. So unless something has changed to create new phones is useless unless these phones with be compatible with Sprints network when the service change goes into effect early next year.
Spint and Nextel are still going use the network they are using now. they are going to make the 2 networks compatable with the push talk system, so sprint and nextel phones can be used one one network.
i860
Anyone here has an i860?
I870 ....
For an iden phone that is a pretty tuff a** phone. Has a ton of options ..but I know everyone is eyeing the Obex. Would be nice to see Sprint start doing that with their lineup aswell. Ive never been a motorola fan but if they could keep making them kinda phones for sprint, drop the stupid UI from the v710,t720 ect ..unless they already have..I wouldnt know and make their phones stop crashing ( yea I know im asking alot) morotola would be worth buying. This is a pretty big leap for nextel phones...I think its a good choice.
i really cant wait for this phone to come out. i allways wanted the i860 but there have been to many bad reviews, but when this comes out im def. ditching my carrier and getting this phone.
Hubba...
This confirms what I've previously said about Motorola having the best physical design sense in the industry...these phones are beautiful.