Samsung's Olympic Games App Lets Everyone Participate
Article Comments 1
Jan 14, 2014, 8:05 AM by Eric M. Zeman @zeman_e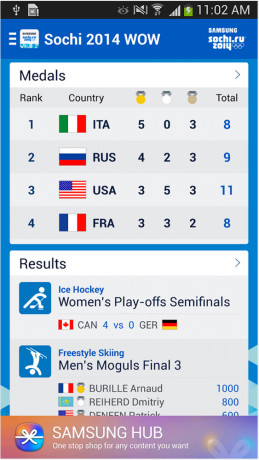 Samsung today announced the availability of its Sochi 2014 Olympic Winter Games mobile app, Wireless Olympic Works (WOW). The app, which can be downloaded and used by all Android phones, lets smartphone owners follow the games more closely and share the experience through their social networks. The app offers detailed event schedules, game times, medal counts, and live results. It allows users to push text and picture messages from the app to Facebook and other social networks. It provides tutorials on all 15 Winter Olympic events. Last, it offers detailed travel information to those who make the trip to Sochi, including recommended restaurants and tourist destinations. Samsung's WOW app is free to download from the Samsung App Store or the Google Play Store.
more info at Samsung »
more info at Play Store »
Awesome!
As a very busy person, I never seem to be able to keep up with all the happenings at the Olympics. I can only assume they will do this with the Summer Olympics 2016 as well. Sweet!