Review: BlackBerry Z30 for Verizon Wireless
Form Performance Basics Extras Wrap-Up Comments 5
Menus
The Z30 runs BlackBerry 10.2, which is a minor update to the BlackBerry 10 operating system that debuted at the beginning of the year. Most of the changes are bundled into the messaging tools, and we'll address them below. The basic user interface of BB10.2 is the same as that of BB10. It's worth noting that, aside from adding a few of its own apps, Verizon did not adjust the UI with its own customizations.
Like most modern smartphones, the Z30 has a lock screen that provides messaging notifications, a clock, and a shortcut to the camera, but it cannot be customized. The main "home screen" is used for multitasking. It houses active tiles of the last eight applications opened by the owner; each tile provides a preview of that app and its content. The main app menu is a swipe to the right. Apps are listed in 4 x 5 grids on each page, and can be organized into folders if you wish. There's a small dock that persists across the bottom of the home screen and app menu that provides access to the phone, search, and the camera.
The Z30 makes use of BlackBerry Flow, which is a series of swipe gestures that are used to move through the UI. If you're coming from a Z10, you'll be right at home. If you're upgrading from an old BlackBerry, the gestures take time to learn and master. The most important gesture is called BlackBerry Peek, which is used to see a preview of new messages and calls from within any app on the phone.
Advertisements article continues below...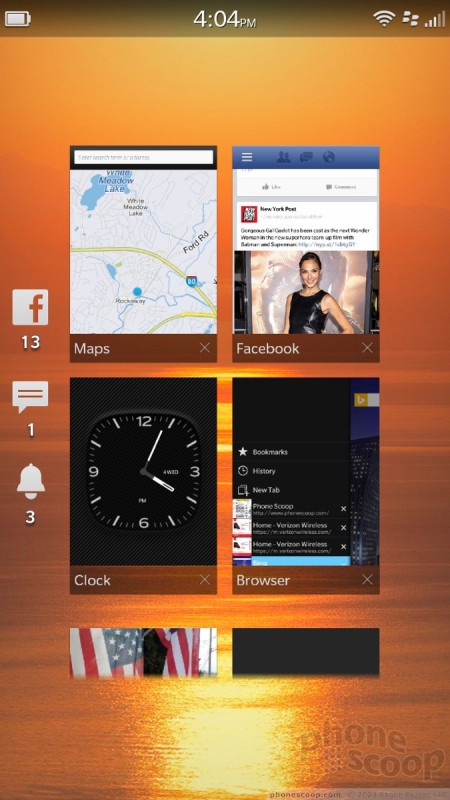 A drop-down shade at the top provides access to controls such as the wireless radios and full settings tools. The Z30 offers some customization options, but not as many as might appear on an Android device or even Windows Phone. The wallpaper can be changed, there are multiple ringer profiles, and of course users can select their own ringtones, and so on. Users cannot customize the multitasking screen, but they can rearrange the app menu.
The full settings menu is a cluttered and confusing place. BlackBerry breaks down nearly every facet of the phone and operating system into its own little set of text-based lists that I don't care for all that much. This section could be cleaned up to improve usability.
In terms of performance, the Z30 is quick and smooth. It has a dual-core Snapdragon S4 Pro processor under the hood with 2GB of RAM, which provides more than enough power to keep the Z30 running at peak performance.
Calls and Contacts
The phone app's default view is that of the call history, with access to voicemail and two other shortcuts at the top of the screen. The phone app has a large software dialpad for punching in numbers, as well as quick access to the contact database. These are both reached thanks to tabs at the bottom of the screen. The Z30's phone includes many of the features you're used to, such as send to Bluetooth, speakerphone, and mute.
The contacts app is visually pleasing and syncs with a wide number of web-based accounts. The contact app can pull in data from Twitter, Facebook, and LinkedIn, in addition to your IMAP (or other) email service. I like that the app offers a peek at your recent communiques with various contacts and makes it easy to call or message them.
Messaging / BlackBerry Hub
BB10.2 makes marked improvements to the behavior of the BlackBerry Hub. The Hub is a universal inbox for absolutely all of your communication needs.
The Hub handles email, SMS, MMS, IM, BBM, LinkedIn, Twitter, and Facebook. It is your one-stop shop for all messaging tasks, be they long-winded or limited to 140 characters. You can view all of your messages jumbled together in one large heap, or separate them into their respective inboxes. All of the messaging inboxes offer threaded views, attachments, and the same basic set of tools for composing and controlling them.
BlackBerry 10.2 adds Priority Hub, which learns over time what conversations are most important to the user. It automatically filters these threads to the top of the inbox so you can get to them faster. You can also earmark which ones you want prioritized. Essentially, the people you email the most are eventually placed at the front of the email conga line.
The Hub itself can be customized in that you can turn some inboxes on or off at will, as well as arrange where they appear in the Hub. You can also get a glimpse of what's in the Hub from any app by using a specific "upside-down L" swiping gesture. It's a neat way to be able to see what's going on in your inbox without necessarily leaving the task at hand. The gesture can be a bit tricky, though.
Social networking is built into the sharing features of the OS as long as you sign into your various accounts during the set-up pages. Of course, separate apps are available for Facebook, Twitter, and so on.
BBM is exceptionally powerful as an IM tool. Not only can it be used to send messages, but it can also be used to conduct video chats, voice calls, and even screen sharing. All three of these tools work well with little fuss.
The Hub, and email in particular, is better at handling attachments in BB10.2. Further, 10.2 lets users see a preview of incoming BBM, SMS, and email messages from within any application, as well as respond to incoming calls with an email, text message, or BBM messages. Those can be handy, though they are tools that have been available on other platforms for years.
I will say that the Z30's larger screen makes a huge difference in the Hub. The Hub has a lot of "chrome" framing the application that takes away from space that could otherwise be used to show you more of your messages. The added screen real estate means you can see more messages on a single screen.