Samsung Debuts Grand 2 Mid-Range Phablet
Article Comments 8
Nov 25, 2013, 8:18 AM by Eric M. Zeman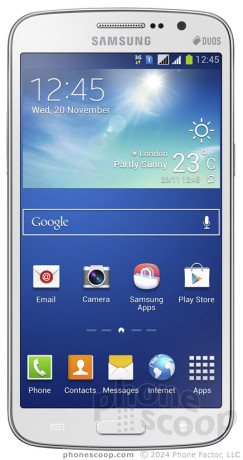 Samsung today announced the Grand 2, a large-screened Android smartphone with middle-of-the-market specs. The Grand 2 has a 5.25-inch 720p HD LCD display, a quad-core 1.2GHz processor, and 1.5GB of RAM. Other hardware features include an 8-megapixel camera with flash and a 1.9-megapixel user-facing camera; Wi-Fi, GPS, and Bluetooth 4.0; a 2,600mAh battery; support for microSD cards up to 64GB; and support for HSPA+ networks. The Grand 2 runs Android 4.3 Jelly Bean with Samsung's TouchWiz user interface and apps such as ChatOn, Samsung Hub, S Health, Group Play, S Travel, S Translator, Samsung Link, and Story Album. The Samsung Galaxy Grand 2 will be offered in white, and black, and pink in select markets. Samsung did not announce specific plans to bring the Grand 2 to the U.S.
DUOS
I'm noticing the phone says DUOS on the face, to the right of the ear speaker. I'm guessing this means the device supports Dual SIMs? Can somebody confirm this for me, as I have very limited internet access from where I am.
Via phonearena.com, it does say it has 2 SIM slots. Very interesting.
Another Point Made.
While so called "High End" phones are eliminating removable batteries and expandable SD Slots, we have lower priced devices with respectable specs that allow us to augment our needs.

I'm telling you. The industry is backwards. It should be the high end phones that allow more versatility. Not the other way around. Is anyone else seeing this absurdity?

John B.
The Nokia Lumia 1520 appears to be a somewhat high end device. It has microSD capability but no removable battery.

The Jolla device has "The Other Half" to allow for mating to the device anything from an additional battery to a Cuisinart, as long a...
(continues)
Yes, I see it too. But lets not forget that the Galaxy Note 3 (hands down highest end phone on the market) has a removable battery and SD slot. More companies should take after Samsung's lead instead of Apple's.