Instagram Available to Windows Phone As a Beta
Article Comments 2
Nov 20, 2013, 2:12 PM by Eric M. Zeman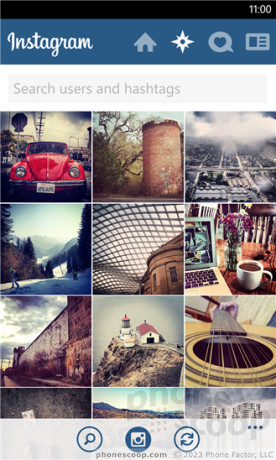 Instagram today made a version of its picture-taking and -sharing application available to the Windows Phone platform. Instagram lets WP8 device owners take pictures, apply filters and frames, and share them with friends. The app also lets people follow and view the photos of others, as well as make and respond to comments. Instagram is calling the app a beta for now, as it does not include all the features available to the Android and iOS versions. Instagram is free to download from the Windows Phone Store.
Breathe a deep sign of relief!
Now you can finally use your Windows phone to post faux-1970s era Polaroid shots of your food to the internet using the most irrelevant internet sensation since Pets.com! Gone are the days when you couldn't annoying your friends with useless photos using the EXACT SAME INSTRAGRAM FILTER every other Instagram user uses.

Rumor has it that Instagram may celebrate this news by creating their 2nd, yes, 2nd filter for damaging your photos! No news yet on what it will be but I'm hoping it will make photos look like they were taken with cameras from the 1960s!
You get the award for the most impressive job of missing the point I've seen yet.

Whether or not you, or any one particular person in this world of 7 billion+ likes Instagram is irrelevant. What's important is that it IS extremely popular in the ov...
(continues)