Moto Maker Now Available to Sprint, T-Mobile, Verizon
Article Comments 2
Nov 11, 2013, 10:08 AM by Eric M. Zeman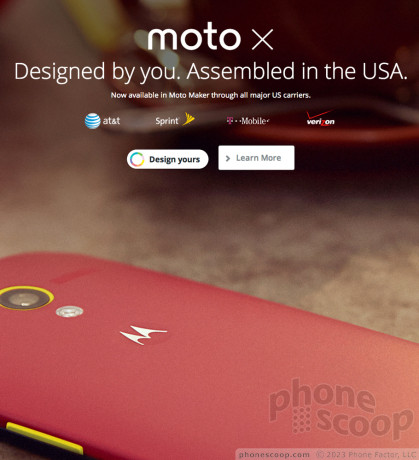 Motorola has expanded the availability of its Moto Maker tool to customers of Sprint, T-Mobile, and Verizon Wireless. Moto Maker lets people customize a Moto X smartphone online and have it delivered to their house. The Moto X offers a range of different back panels, accents, and screen-customization options. Motorola says there are more than 2,000 unique variations of the Moto X. Orders will be assembled at Motorola's Ft. Worth plant and shipped to most customers in four days. Moto Maker was an exclusive to AT&T customers for several months. Further, the price of the Moto X has dropped from $199 with a contract to $99 with a contract. Last, Motorola confirmed that the Moto X will be updated to Android 4.4 KitKat in the near future.
How does warranty and insurance work?
1 year obviously through Motorola I would assume. I'm sure GSM customers have a better experience going through Moto but what about CDMA like Sprint and Verizon?

The same with insurance.

How is a replacement device ordered? Is it a black/white stock one at that point or a completely remade device with the original color combination??
As far as T-Mobile goes - - -

For the warranty, even if you are paying for additional warranty coverage, with this kind of customized device, you'd probably want to go through the manufacturer, and not the carrier. You'd probably get a generic dev...
(continues)