Motorola Unveils Project Ara to Create Modular Smartphones
Article Comments 23
Oct 29, 2013, 7:12 AM by Eric M. Zeman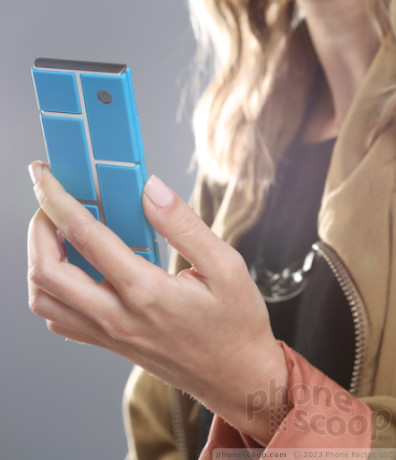 Motorola today announced Project Ara, a new initiative with the goal of developing an ecosystem that creates and supports modular handsets. Motorola says it wants Ara to do for hardware developers what Android has done for software developers. Motorola says Ara modular phones will be based on an endoskeleton, which is the structural frame that holds all the modules in place. Device owners then can add modules - an extra battery, new processor, keyboard, display - to the endoskeleton to create their device. According to Motorola, it has been working on Project Ara for a year and has already completed the technical work to make Ara a reality. It is teaming with the Phonebloks community and hopes to offer an alpha version of its Module Developer's Kit (MDK) sometime this winter. Motorola believes that Project Ara will lower the barrier of entry for hardware makers and result in a vibrant, open community that will let people create unique and compelling devices. Project Ara is similar to what Modu hoped to do with its own modular devices several years ago. Modu, however, ceased operations in 2011 and sold some patents to Google, which now owns Motorola.
That is going to need a case.
You walk into a room

Everyone is down on their knees.

You ask," what happened, did someone lose a contact?"

"No, Bill dropped his phone and it went everywhere."

🤣
Well based on how it looks, the pieces will probably either lock into place, or, it looks like you can use something like a rubber / metal band that would be stretchy and wrap around the phone and hold everything together. It would make more sence if...
(continues)
Skip to 1:10 in the video on the main page to see how it works. A case would probably still be a good idea as the pieces may slide out of place, but they aren't just loosely sitting there.
This would probably be the one instance where I see the point in getting a case.
I think that the one in the picture is just for ilustrative purposes (looks cool, though).
It would make a lot more sense to think that you will have to remove the back cover of the phone, along with the battery, sim card and memory card to access th...
(continues)
This'll be interesting
I wonder how the phone software will handle this much hardware customization. Will there be downloadable drivers for each block, like computer hardware has a driver for each piece of hardware?
You've answered your own question.
Yes, a special version of android 4.4 will be made for Ara devices, and the drivers will be available to install through an application available from Google Play.
I wonder how will it be when chinese manufacturers...
(continues)
AWESOME
Now THAT'S what I'm talking about! PC enthusiasts like myself will eat this up. Motorola is going to revolutionize how we look at our devices. This is the truly anit-Apple platform. Who could ask for more than exactly what they want? Thank you, Motorola and Google!
Very nice. Leave it to Google (Motorola) to make dreams come true. 😛