Nexus 5 Appears in Google Play Store for $349
Article Comments 24
Oct 17, 2013, 8:42 PM by Eric M. Zeman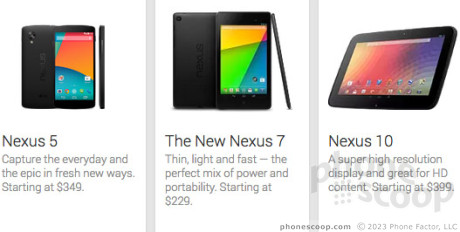 The Nexus 5, which has yet to be officially announced by Google, appeared in the Google Play Store this evening. A small photo of the device is visible alongside the Nexus 7 and Nexus 10 tablets, with the price listed at $349. There are no further details available in the Play Store at this time. A similar device manufactured by LG was approved by the FCC several weeks ago. The Nexus 5 is expected to run Android 4.4 KitKat.
I honestly think these leaks, are not an accident, but done on purpose to tweak people;s intetest.

Back to the N5, does look like a nice phone at a great price, but even if I was going to order one, and probably will, I won't be an early adopter, m...
(continues)
It was just a teaser. It's not like you could buy it.