Samsung Announces the Galaxy Round with Curved Display
Article Comments 6
Oct 8, 2013, 9:21 PM by Eric M. Zeman
updated Oct 8, 2013, 10:48 PM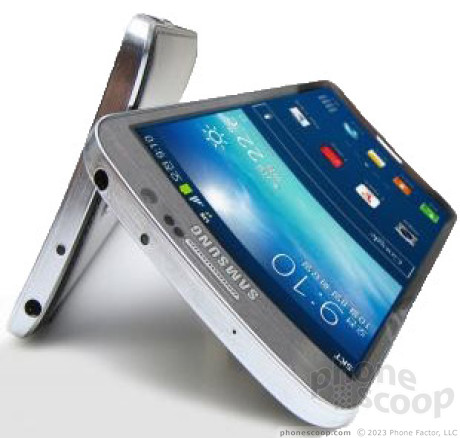 Samsung today revealed the Galaxy Round, an Android smartphone that features a curved display. The Galaxy Round has a 5.7-inch full HD screen that has a slight curve from side-to-side, which makes the device somewhat easier to hold compared to traditional flat smartphones. The Galaxy Round has software features, called Roll Effect and Ground Effect, that take advantage of the curved shape to display information such as missed calls, battery life, and the time/date when the device is tilted on a flat surface. The Galaxy Round's screen may share dimensions with the Note 3, but the device itself is lighter than the Note 3 at 5.43 ounces. It runs Android 4.3 Jelly Bean with Samsung's customized software, including S Voice, S Health, Story Album, and other apps. The Galaxy Round is powered by a 2.3GHz quad-core Qualcomm Snapdragon processor with 3GB of RAM. It comes with 32GB of built-in storage and supports microSD cards up to 64GB. The main camera rates 13 megapixels and the user-facing camera rates 2 megapixels. Both can capture 1080p HD video. Connectivity options includes GSM/HSPA+/LTE, Wi-Fi a/b/g/n/ac, Bluetooth 4.0 Low Energy, USB 3.0, GPS/GLONASS, and NFC. The Round is 7.9mm thick and packs a 2,800mAh battery. Korea's SK Telecom will be the first operator to offer the Galaxy Round, which goes on sale tomorrow for about $1,000. Samsung did not immediately announce plans to sell the device in the U.S.
Advertisements article continues below...
hmmmmmm
Is this a rounded Note? I'm not really sure what Samsung is trying to accomplish here. Who is this supposed to appeal to who isn't already getting a Note 3?
I don't really get the point of a curved screen, won't that make it difficult to fit into your pocket?
The best part of this article
Is that there some thumbnails below indicating that there are more pictures of this device. They disappear when you open the article, though.
Yeah. I noticed it, I spent a few mins trying to view those images, I even thought it was a browser issue. Trolled by PS, I guess...