Amp'd Gets Wings With First Phone
Article Comments 50
Jul 25, 2005, 10:18 AM by (staff)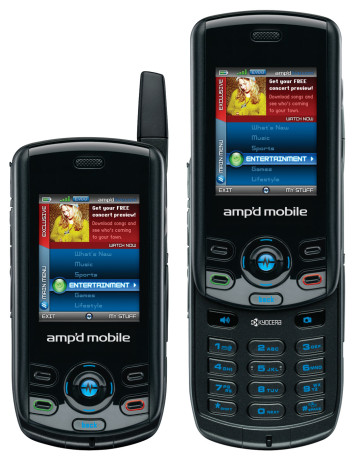 Amp'd today has announced the first handset they will carry at launch. The Kyocera Jet is based on the Slider Remix. It has all the Remix's features and the same form factor, however the Jet adds EV-DO high speed data, Push To Talk, and a VGA camera. Features carried over from the Remix include a TransFlash slot, 176x220 screen, an mp3 player, and mpeg4 video playback. Earlier Amp'd and Kyocera announced they would be working together, but did not reveal any handsets that Amp'd would carry.
source: Amp'd Mobile
Kyo Jet w/ Verizon
I've heard VZ has no plans of bringing back the slider, but what are the chances of putting the Kyo Jet of the VZ network? Any thoughts...
Hopefully they will. The original slider did have some people interested, but the phone itself was rather basic - the style was the only thing going for it, and when you are in a world of cameraphones without a camera, well....

The new one should...
(continues)
Sweet!
That sounds like a sweet combonation of phone and service. I can't wait to see what else Amp'd launches.