Hands-On: LG G2
Article Comments 20
Aug 7, 2013, 12:42 PM by Eric M. Zeman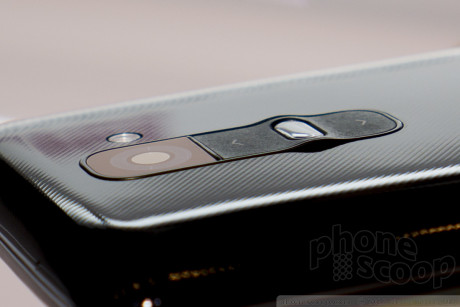 LG came out gunning for Samsung with the G2, its new flagship smartphone. The G2's spec list is crammed full of the latest and greatest options, and its software improvements are also notable.
Advertisements article continues below...
LG's G2 is as close a competitor to Samsung's Galaxy S4 as it possibly could be. The G2 matches the GS4 spec for spec, and in some cases surpasses the Galaxy-branded device. LG also did its best to match Samsung's software innovations with its own. Here are our first impressions.
The hardware is very similar to the G Pro, which came out earlier this year, though slightly smaller. LG did the best it could to maximize screen size while minimizing the overall footprint of the phone. It did this through the use of new capacitive touch panel tech that lets the display send input to either end of the screen rather than just one end. The result is a device with a 0.1-inch bezel (so LG claims). The larger screen and slim bezel look is great, though the overall shape of the phone is a bit bland. It has curved edges everywhere. There are no hard edges or sharp points. It is smooth in every respect. This makes it comfortable to hold and use.
One of the biggest design changes made by LG was to move the power button and volume toggle to the back of the hand. LG said it made this decision based on watching human behavior and where we all place our fingers naturally on a phone. To me, using a large, fat button on the back of the device felt decidedly un-natural. At least today, it did. The button itself is directly below the camera module. There are three buttons, one for volume up, the screen lock button, and one for volume down. They each have good travel and feedback. The volume toggle buttons have some texture to them and are a bit flat, while the screen lock button is smooth and has a rounded shape. The difference between the shape and texture means it is easy to tell which of the three keys you're pressing. I like that the sides of the G2 are completely devoid of buttons of any kind. They are nice and smooth, which helps the G2 feel more comfortable.
The materials are OK, and about what I expected from LG. They are cheap-feeling plastics similar to those used by LG in the G Pro. The plastics have a glossy finish that both Rich and I dislike. Such surfaces often collect fingerprints and felt a bit greasy. The build quality was decent on the units we saw today. The seams looked tight and nothing was loose or creaky. The device feels about the same as the GS4, though it's a bit thicker, which I dislike. The GS4 is thinner than the G2.
Everything is sealed in. The G2's 3,000mAh battery is inaccessible. Further, the phone has no expandable storage. It has just 32GB of built-in storage, with only 24GB of that accessible to users. The G2 uses a microSIM card, not a nanoSIM card, which is accessible via a pop-out tray.
The screen looks fantastic. I've always liked LG's displays and the G2's does not disappoint. It stretches across 5.2 inches and includes 1920 x 1080 pixels. The panel is an in-plane switching LCD, which is typical for LG. It is bright, sharp, colorful, and pretty much awesome across the board. It bests the G4's screen by two-tenths of an inch, but the increased size does mean slightly lower pixel density. My guess is no one will be able to tell the difference.
The user interface itself doesn't look or function all that different from what LG has delivered on other devices this year, but there are some notable additions to its roster of software features. It has five homescreen panels, the typical notification curtain, and customizable menu screen. The innovations include things such as Answer Me, Text Link, Slide Aside. Answer Me will answer calls automatically when the G2 is picked up and placed next to an ear. Text Link will scan text messages for content such as event invites and automatically populate the calendar with appointments, if you wish. Slide Aside is LG's take on multitasking and lets you page through open apps in a way not unlike that of full-screen apps in Apple's OS X. Similar to other flagship phones, the G2 has an IR blaster and the software needed to remotely control your TV and home theater equipment. LG didn't mention any special content software, though, such as Samsung's WatchON app.
The G2 supports one-handed mode, which is a good thing. I have big hands and I still had trouble reaching the far side of the display without dropping the G2. In fact, LG goes as far as supporting both right- and left-handed people with a keyboard that will slide to either side.
Everything I saw was quick and smooth. There were no hiccups or problems in the devices on-site. And there shouldn't be. This phone has one of the fastest mobile processors available under the hood in the Qualcomm Snapdragon 800. It has four cores at 2.3GHz each. The G2 has horsepower to spare. The device is running Android 4.2.2 Jelly Bean, though there's no word on when the device will be updated to Android 4.3 (or Android 5.0, for that matter).
The G2 will be sold by the four major carriers in the U.S., and probably some of the smaller, regional players as well. Though pricing and availability hasn't been announced, expect it to go on sale near the end of the month for about $200 with a contract.
Why no MicroSD?!
I do not get this, I love a lot of things about this phone, and others, but the lack of expandable storage is a deal breaker for me at ANY size. That said, this phone, in a much smaller screen size and overall size, with microSD would be great. Oh well.
Couldn't agree more, expandable storage is absolutely requred. My Pro G has it (and a removable battery). I hope this is just an aberration for this model that will be rectified with the next.
With a flagship like this, they're trying to put the largest possible battery and display into the thinnest possible body.

They actually came up with a non-rectangular battery to fit the curve of the back, to eek everything they could out of every ...
(continues)
I also agree with you!

I've already almost filled up a 32G microSD card on my current phone and will soon need a 64Gb one.

And "Cloud" storage isn't a viable option since I don't have great network coverage everywhere. And with no more "unlimit...
(continues)
Removable battery and microSD slot. This would be my next phone for sure. Without them big time deal breaker. Want is LG thinking ☹️ ☹️ ☹️ ☹️ shaking my head !!!!! This would have been a Galaxy Killer
Call me crazy, but...
...isn't it time manufacturers started focusing on less glitzy features in exchange for features that matter in the real world?

For example, phones are destined for a harsh life of abuse yet they are notoriously fragile with screens getting cracked from minor drops and death from minor exposure to water. Another common complaint is that the batteries just don't last enough hours. Also one or the other speaker (earpiece or speakerphone) tend to fail at some point. Laptops are built to higher standards and they are likely to spend their lives on a desk in a climate/humidity controlled building!

It seems to me that a bigger focus needs to be placed on developing phones that can handle the real world instead of attempting to make a phon...
(continues)
Back buttons?
Won't setting the phone down cause the middle back button to be pressed? It looks raised on some of those photos. My first thought was that it was a little rubber nub-like stand and thought oh cool, but to find out its a button??
Looks like the little brackets on the side on the button are raised, so it couldn't be pressed if placed on a flat surface.
No, there's a stationary thin plastic ridge around all of the buttons, that is raised up along with the center button. It protects it from being pressed accidentally. You can see it - if you look for it - in the top photo of the article.
They're trying
but at the end of the day it's still an LG
What? the Optimus G pro and the Optimus G are awesome phones.

This one is BEAST. If I needed a new phone I would buy this one.