Review: Nokia Lumia 925 for T-Mobile
Article Comments 1
Jul 27, 2013, 5:59 AM by Eric M. Zeman @zeman_e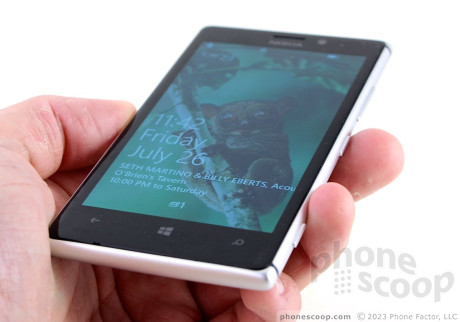 Nokia's Lumia 925 represents the current pinnacle of hardware design for Windows Phone, but it still doesn't get every feature right. See where the 925 shines and where it doesn't in Phone Scoop's full review.
AD article continues below...
Form
Is It Your Type
The Lumia 925 is the top-of-the-line Windows Phone available from T-Mobile. It takes Nokia's design language to a new level, and is stuffed with custom Nokia-made software. If you're looking for a solid Windows Phone, the Lumia 925 has plenty to offer.
Body
The Lumia 925 is the first Lumia smartphone from Nokia to ditch the all-plastic design and use some metal. It also trims some significant girth and weight when compared to models such as the 928 and 1020. The result is a Windows Phone from Nokia that has a new, updated look and its own identity.
There's no doubt that Nokia's polycarbonate smartphones help the entire brand stand out on store shelves. The bright yellows, reds, and other hues give Nokia's Windows Phones some eye-catching luster compared to the black and gray smartphone masses. But not everyone likes color, not everyone likes plastic, and not everyone likes heavy, bulky smartphones. All of which have been characteristics of Nokia's leading devices. Enter the Lumia 925.
Rather than use a polycarbonate shell, Nokia gave the Lumia 925 an aluminum frame and a polycarbonate back panel. On earlier designs, Nokia needed to use thick plastic to give its Lumia phones strength. Aluminum is stronger than plastic, so Nokia can use less of it to reach the same strength needed to protect the device's innards. Bottom line: the 925 is dramatically thinner and lighter. This improves the day-to-day experience of using the 925 by quite a lot.
As far as looks go, the aluminum frame wraps around the 925's sides and has a nice sheen to it. There are four black bands that appear in the frame (one near each corner) that are part of the antenna structure (similar to the iPhone.) The back plate that protects the back surface comes in either white or dark gray. It has a matte finish and is unremovable. The front, of course, is solid black glass.
I really like the way the 925 feels to hold and use. I'm a fan of metal when it comes to phone designs, and the the juxtaposition between the metal, glass, and polycarbonate feels good. The 925 is still a sizable phone, but it will fit into pockets easily.
The front panel has three capacitive buttons at the bottom and the rest is all screen. The three buttons worked well. The rest of the hardware controls are concentrated on the top and right edges. The top is where you'll find the SIM card slot, microUSB port, and stereo headphone jack. The SIM tray requires a paperclip to open. It's a bit fussy, if you ask me, since the tray needs to be extracted slowly with the paperclip. It doesn't just pop out like on most other devices. The volume toggle, screen lock button, and camera button are all on the right edge, in that order. All three are easy to find and have excellent travel and feedback. The camera button, in particular, has well-defined stages for focusing and shooting images.
As noted, the back panel is made of polycarbonate. Since it's not removable, there's no access to the battery, nor a memory card slot of any kind. There's a small hump where the camera module is, and the dual-LED flash is situated next to the lens. There are three metallic contacts on the back for use with a dock, and the speakerphone's grill is also visible.
Suffice to say, the Lumia 925 is one of the best smartphones Nokia has designed in years.
Performance
Screen
The 925's display measures 4.5 inches across the diagonal and has 1280 x 768 pixels. The display is an OLED type and Nokia's ClearBlack technology to enrich the contrast. It's very bright and colorful, and the on-screen elements are all easy to read and see. Viewing angles are great, and there's no color shift or brightness loss when the phone is viewed from an angle. As with other Lumia devices, the 925's display was easy to see and read outdoors. It's a fine screen.
Signal
In general, the 925 held up well on T-Mobile's network. I was able to test it on both T-Mobile's HSPA+ and LTE networks, thanks to T-Mobile's recent LTE expansion. As far as voice calls were concerned, the 925 held on to the network firmly and always connected calls on the first attempt. The 925 didn't drop any calls, nor did it miss any due to signal problems. Data was quick over both T-Mobile's HSPA+ and LTE networks. There was a palpable improvement in raw speeds when the 925 was used with LTE. Web sites definitely loaded quicker. I did notice a few hiccups when transitioning between HSPA+ and LTE, though: sometimes there was a slight pause (5 seconds or so).
Sound
There are two sides to the call-quality story on the Lumia 925. It supports calling over cellular (naturally) and T-Mobile's Wi-Fi calling feature. There was a distinct difference in the quality of calls made over the cellular network versus a Wi-Fi network.
First, volume. The earpiece produces strong volume for both cellular and Wi-Fi calls. I was able to hear conversations fine in all but the noisiest environments. The speakerphone is not loud enough, though; not by a long shot. I had a hard time hearing calls in a quiet office, let alone noisy spaces.
Now, for quality. Over T-Mobile's cellular network call quality was generally decent. There were some odd noises here and there, but most of the time calls sounded good. I was not impressed with the Lumia 925's Wi-Fi call quality, though. Quality was inconsistent at best. Some calls were perfectly clean, while others were horribly garbled and choppy. (The quality came and went, and did not correlate with weak/strong network connections.) Wi-Fi calls on other T-Mobile handsets were somewhat better.
Ringtones and alerts managed to find my ears most of the time, and the vibrate alert was exceptionally rattling.
Battery
The Lumia 925 has the same 2000 mAh battery found in the 928 and 1020. It provides more than adequate daily power for the 925. I had no trouble getting from morning to night with the 925, no matter how intensely I used it. The 925 often had power to spare by the time I called it a day and still had some juice left the following morning if unplugged. As with most modern smartphones, the 925 should be charged nightly.
Basics
Menus
The 925 runs Windows Phone 8 from Microsoft. Nokia has not altered the basic Windows Phone experience, (because it cannot,) so the 925 behaves exactly like every other WP8 handset out there.
In WP8, users can set alerts to appear on the lock screen, as well as determine alerts that are given priority over others. Notifications are visible (but cannot be accessed) on the lock screen even when a lock code is used. WP8 also lets users set their own lock screen wallpaper. My personal favorite is Bing image of the day, which means the lock screen wallpaper is different every day.
The WP8 Start screen is formed by customizable Live Tiles. The tiles come in small, medium, and large sizes, and can be placed anywhere on the Start screen and in any configuration you like. The Tiles exist in an unending vertical column. Many Tiles can display active content on them, which helps make the Start screen a bit more dynamic.
A full list of apps installed on the 925 is visible when the Start screen is swiped from the right to the left. This list of apps is displayed alphabetically and cannot be rearranged.
The 925 has a dual-core 1.5GHz Qualcomm Snapdragon S4 processor. It provides more than enough get-up-and-go for the Lumia 925. Performance across the system was excellent. Nothing slowed the 925 down at all.
Calls and Contacts
There are three settings for calls: Wi-Fi preferred, Cellular preferred, and Wi-Fi only. Wi-Fi calling can also be turned off altogether. Whichever you chose, the phone app itself is exactly the same as other WP8 devices. It has a typical list of features, such as hold, mute, speakerphone, merge calls, and send to Bluetooth. The call log is a powerful tool when it comes to adding numbers to your contact list or redialing missed calls. I like that the phone interface is simple and uncluttered.
Microsoft calls Windows Phone's contact app the People Hub. Rather than a simple list of contacts, the Hub is a much more involved space that ties in users' Facebook, LinkedIn, and Twitter profile data, as well as their email-based contact database. Thanks to the flood of social networking data, the People Hub always makes sure you know what your contacts are up to before you give them a holler.
Messaging
The basic messaging apps on the Lumia 925 are the same as on other Windows Phone devices. WP8 includes support for most email protocols and has a quick set-up guide to help you sync your Outlook Mail, Gmail, work email, or other POP3/IMAP4 email service. The email app itself is clean and does a good job of rendering HTML and plain text emails alike. You can also link multiple email accounts into a single inbox.
The SMS app is also the 925's Facebook and Skype IM app. Windows Phone uses one interface to manage all three messaging types. I've always liked that the messaging services are consolidated in a single spot and don't have me chasing down three or four different apps to find my messages.
Other WP8 messaging tools include Groups and Rooms. These are both subsections of the People Hub. They essentially let you manage, communicate with, share photos with, and coordinate calendars between small groups of people.
Though the People Hub incorporates Facebook and Twitter for basic messaging, you're better off downloading the full Facebook and Twitter apps from the Windows Phone Store for full functionality. They aren't pre-installed.
Extras
Media
The 925 has two creative hearts beating in its chest. The first belongs to Microsoft in the form of the Xbox Hub. The Xbox space and the Windows Phone Store together form the user-facing front through which Microsoft would like to sell you music, movies, TV shows, books, games, and apps. The Xbox Hub is always changing and being refreshed with new content. Any of the content purchased through the Hub can be played back or otherwise consumed with some basic apps on the 925. If you want to sideload music, you'll need to do so via USB and the Windows Phone desktop software, since there's no microSD support.
Nokia owns the other creative heart in the 925. Nokia Music — which is exclusive to Nokia's Windows Phones — is separate from Xbox. It has its own store through which music can be purchased, and offers a wide variety of streamed radio stations, personalized recommendations, and the ability to browse through local concerts. I like the concert discovery tool.
T-Mobile Live TV is the only other media service on the 925. It requires an active cellular connection to work and offers streamed television content. Using it over LTE is dramatically better than over HSPA+ (duh). I find the service works poorly over HSPA+. I would only recommend the service to owners who 1. don't mind paying $10 per month for it, and 2. have good LTE coverage.
Camera
Nokia hasn't done anything to change the behavior of the base camera software, but that doesn't mean it hasn't tried hard to help its Lumia smartphones — including the 925 — stand apart from other WP8 handsets.
The camera launches with a long press of the dedicated button, even when the phone is locked. It's dead-simple software that takes but a moment to figure out. The menus and controls — which are laid out in a clean interface — are all self-explanatory and work well. The base software only allows users to change the most basic settings, such as exposure, aspect ratio, and so on. In order to get really creative, you have to use Lenses.
The 925, like all WP8 phones, supports Lenses. Lenses for the camera are third-party plug-in apps that perform specific actions with the camera. This is where Nokia's work to differentiate its phones stands out. Nokia offers several of its own lenses, which are not available to other WP8 devices. A half dozen were preloaded, and they include Cinemagraph (for making animated GIFs), Panorama, Blink Shot (for burst shots), Bing Vision (for image search), CNN iReport, and PhotoSynth (Microsoft's panorama app).
Using any of the Lenses requires a few extra steps, but that's not unlike other devices that offer special shooting modes.
There's also an entirely separate Nokia Smart Cam app. This camera application is meant to do some fun and creative things in the vein of Samsung's Galaxy S4. If you wish, you can set this camera app to be the default camera app. In short, it fires off a burst of shots. You have to hold the camera steady while capturing the images. You can then use different tools within the app to create unique end results. For example, Action Shot lets you pull the subject from 10 separate images and paste them into a single image to show them running and jumping. Or you can blur the background while freezing the motion of the subject, and so on. There are a handful of other tools to let you put your own stamp on images.
Photos
The Lumia 925's 8.7-megapixel camera takes incredibly sharp and accurately exposed photos. The bulk of the images I captured looked very good. The one problem I noticed was white balance inconsistency. The 925 tended to skew photos toward the yellow end of the spectrum. This can be corrected after the fact on your PC or with Nokia's Creative Studio, but it would be nice if the 925 got white balance correct the first time around. Still, the images turned out mostly well.
Video
The video produced by the 925 showed similar problems to the still camera. Focus and exposure were good, but white balance ranged all over. If you look at the sample below, you can see that the results lean towards the yellow end of the spectrum and then change as I pan the camera around. Hopefully this is something that Nokia can adjust with a software update. Beyond that, the video looks good.
Picture Hub
Microsoft thinks photos are fairly important, so images you capture with the Lumia 925 aren't stored in a gallery app, they are added to the Photo Hub. The Photo Hub doesn't just hold your camera roll, it sinks its hooks deep into your social networks, such as Facebook and LinkedIn. This means you always have lots of photos to look at, many of which aren't yours.
I found it quite easy to shuffle my images between albums, as well as post them to social networks or send them up to Microsoft's SkyDrive cloud service for safe keeping. You can also bookmark your favorite albums (your own, or those of your friends) so they can be found quickly later.
The Picture Hub has only bare bones editing features, which include crop and rotate images. If you really want to edit your photos, you need to use Nokia's exclusive Creative Studio app.
Creative Studio lets users apply various filters and effects to change the tone/appearance of their photos. Creative Studio also includes the ability to blur the background, or use a tilt-shift adjustment tool to give photos a unique look. As far as tilt-shift tools go, it works pretty well. Creative Studio has a pretty good feature set for those who like to tweak their images after the fact.
Apps
T-Mobile has made it a pleasant habit to keep bloatware off its Window Phone handsets. The 925 ships with My T-Mobile, and T-Mobile Live TV. That's it. Everything else is either stock Windows Phone or made by Nokia. Speaking of which there are probably a dozen Nokia-branded apps on board. Any of the apps can be deleted, and there's plenty of storage space available for downloads from the Windows Phone Store.
Bluetooth
I was able to pair the 925's Bluetooth radio with a range of devices with no problems. Calls did not sound all that great when sent to either my car's hands-free system or a regular Bluetooth headset. Quality was the biggest problem; volume was fine. Music sounded quite good through my stereo headphones, though. I was also able to send files to other devices without issue.
Browser
Browsing the internet was almost always a good experience on the 925. Internet Explorer 10 and T-Mobile's LTE go together well, and the 925 does a fine job of making web sites look spiffy on the bright display. While IE10 is good at displaying web content, the app itself isn't as feature-rich as the stock Android and iPhone browsers. There are alternative browsers available in the Windows Phone Store. Browsing the web over T-Mobile's HSPA+ network was slightly less awesome, but still enjoyable.
Clock
The 925 has a nice digital clock on the lock screen. It displays the day of the week and the date and it's easy to see outdoors. The 925 also shows the time when the screen is off. A white clock floats around the black display (this is an age-old Nokia screen saver trick). It's nice that the time is always visible, even when the device is across the room. You can turn this off if you want.
HERE
The GPS radio of the 925 itself performs perfectly. It pinpointed me quickly and accurately no matter where I was.
Nokia's HERE navigation suite is an incredibly powerful set of tools that not only helps map out directions, but lets you search your surroundings. HERE Maps offers a wealth of features that go head-to-head with the best that Google Maps offers on Android handsets and the iPhone.
Some of the associated apps include HERE Drive and HERE Transit. These are individual apps that perform specific functions. HERE Drive plots point-to-point driving directions, while HERE Transit helps manage mass transit route planning.
HERE City Lens (formerly Nokia City Lens) is an augmented reality application for finding nearby points of interest. It works in concert with the camera. You pan the camera around and the app shows you what's in the vicinity. It's easy to pick one of the shops or restaurants it finds and pull up more information and/or details about it.
Microsoft Apps
Some of the useful tools on board most Windows Phones - the 925 included - are SkyDrive, Office, and OneNote. SkyDrive is Microsoft's cloud storage service. All WP8 devices have access to 7GB of online storage for free (you can pay for more if you want). It is accessed online via your Outlook/Hotmail account. You can set SkyDrive up to automatically upload your photos for safekeeping, as well as store documents and so on. Office needs no introduction. On the 925, you can open/edit Word, Excel, and PowerPoint documents, as well as sync them to your personal (or corporate) computers. OneNote is Microsoft's extensive note-taking and -managing app. It functions similarly to EverNote.
Wrap-Up
The Nokia Lumia 925 is no doubt the best Windows Phone available to T-Mobile customers. The unique design gives it a high-end look and feel that stands apart from Nokia's polycarbonate devices. Toss in compatibility with T-Mobile's LTE network, and you have features not available on other T-Mo WP8 devices.
Microsoft's software is just as powerful on the 925 as any other Windows Phone, but Nokia's added elements help give the 925 an edge. Apps such as HERE Maps and Nokia Music offer incredible functionality.
The 925's screen looks good, the battery life is excellent, and performance on T-Mobile's HSPA+ and LTE networks was quite good. I wish call quality were a bit better. The camera and its software is one area that Nokia takes pride in. While the software is easy to use and flexible to match the skills of the owner, the camera's results weren't quite as good as I'd like them to be.
At the end of the day, the Lumia 925 offers a great Windows Phone experience and T-Mobile's network gives it a respectable speed bump.
Nice
The camera on these phones are amazing I love that pureview software and nokia camera app. WP8 hurry up and get more apps! >