Samsung Ring Lands at Virgin Mobile
Article Comments 3
Jun 18, 2013, 1:16 PM by Eric M. Zeman @zeman_e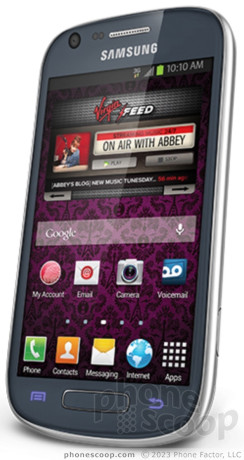 Virgin Mobile today announced that the Samsung Galaxy Ring is now available for $179.99. The Ring features a 4.0-inch touch display, 5-megapixel main camera with LED flash and 1080p HD video capture, 1.3-megapixel user-facing camera, and a 1.4GHz processor. The Ring runs Android 4.1 Jelly Bean and is compatible with Virgin iD packs. Other features include Bluetooth 4.0, GPS, Wi-Fi, and support for Virgin's CDMA 3G network. It is compatible with microSD cards up to 64GB and has a 1,750mAh battery. The device is for sale online and in stores beginning today.
lol @ "Ring"
They're running out of names 🤣 🤣 🤣
almost identical to my Ace II x
This phone is like a carbon copy of the samsung galaxy ace II x with one change - the processor is 400Mhz faster. Why don't they just make a CDMA version of the Ace IIx ? Some of these things these phone manufacturers do makes no sence to me.