Samsung Intros Galaxy S4 Zoom with 16MP Camera
Article Comments 13
Jun 12, 2013, 7:05 AM by Eric M. Zeman @zeman_e
updated Jun 12, 2013, 7:10 AM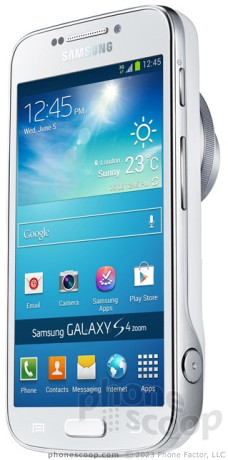 Samsung today announced the Galaxy S4 Zoom, a smartphone that looks more like a point-and-shoot camera than a handset. The Zoom features a 16-megapixel CMOS sensor and boasts 10x optical zoom, Xenon flash, and optical image stabilization. The Zoom has new camera software that replaces traditional digital controls called the Zoom Ring, which Samsung says can be used to launch certain camera functions such as sharing a picture while on a phone call. Beyond the camera, the Zoom runs Android 4.2 Jelly Bean and has a 4.3-inch qHD display, dual-core 1.5GHz processor, Wi-Fi, NFC, GPS, Bluetooth, and support for various different LTE bands. The Zoom includes 8GB of internal storage and supports microSD cards up to 64GB. It is powered by a 2,330mAh battery. Pricing and availability were not announced.
AD article continues below...
UGLY!
Hands down the worst idea ever. 🤨
I wouldn't say worst ever - its a good idea, but bad design. Also - why do they call it an S4 zoom? These are NOT S4 specs!
So instead of having a true experience of a digital camera & smartphone, with a real lens & real zoom, you would rather have a pin-hole lens, and digital zoom instead of optical?

A truly good smartphone combines the best of all multimedia, best m...
(continues)
Gimmick Phone.
And a poor gimmick at that. Most people use their phones for Facebook and various other things like that; they don't need the extra megapixels.
Yeah, I give this whole "camera" fad another hundred years or so before it dies off. No need to add a phone to these fleeting snap boxes.
Most people use their phones to make phone calls. Why try to make one act like them new-fangled computers anyways.
Reminds me of the MEMOIR
This is not the first time Samsung has done this Concept in a phone. First it was the Behold then the Memoir. Both sold reasonably well, of course they were limited by the lack of android. This phone with android + photo apps available through android very well could be a hit.
http://blog.laptopmag.com/t-mobile-launches-8mp-sams ... »
Try the SCH-A970 in 2005.