Samsung Galaxy Active Is a Tougher S4
Article Comments 22
Jun 5, 2013, 7:00 AM by Eric M. Zeman @zeman_e
updated Jun 5, 2013, 7:07 AM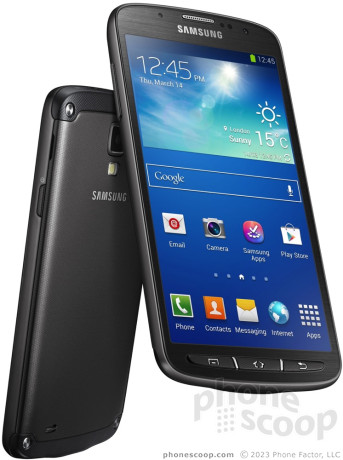 Samsung today announced the Galaxy S4 Active, a semi-rugged variant of its flagship smartphone. The Active has an ingress protection rating of 67, which means it is fully sealed against dust and water. It can be submersed in one meter of water for up to 30 minutes, and includes a water resistant earphone jack so owners can use headphones with their Active even when out in wet conditions. Samsung notes that the GS4 Active's water protection and new Aqua Mode camera features allow it to be used for underwater photography, and the screen can be used when wet or when wearing gloves. Most other features of the Active match those of the regular-issue GS4, including the 5.0-inch HD display, 2600mAh battery, 1.9GHz quad-core processor, and Android 4.2.2 Jelly Bean operating system. The GS4's 13-megapixel camera has, however, been replaced with an 8-megapixel camera in the Active. Samsung said the Galaxy S4 Active will be available for sale in the U.S. beginning this summer. The version announced today supports GSM, EDGE, HSPA+, and LTE networks, but Samsung did not say which carrier might offer the GS4 Active. Pricing was not provided.
Well played Samsung...
The largest complaint I've heard about the S4 is that the outer hardware just doesn't have that nice, solid feel that you get with devices like the HTC One. Glad to see they are offering this variant for consumers interested in a more durable experience. Well played Samsung, well played.
I don't care HOW durable and water proof that thing is, I'm still not using my phone for underwater photography or getting it in the water on purpose... bad juju-ma-gumbo...
Yea but the people who complain about the build of the GS4 really don't care how durable it is. Composite plastic is more durable than the delicate metals they like to rant and rave about in the first place. I agree with you that it is good Samsung is...
(continues)