T-Mobile to Sell BlackBerry Q10 June 5 for $99 Down
Article Comments 18
May 29, 2013, 8:17 AM by Eric M. Zeman @zeman_e
updated May 29, 2013, 8:27 AM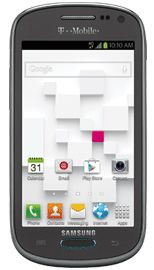 T-Mobile USA today announced that the BlackBerry Q10 smartphone will be available online and in stores beginning June 5. The device will require a down payment of $99, followed by 24 equal payments of $20. The Q10 will support T-Mobile's LTE 4G network and features a physical QWERTY keyboard, as well as a 3.1-inch touch screen. It runs BlackBerry 10.1. T-Mobile also announced that the Samsung Galaxy Exhibit smartphone (pictured) is available beginning today for $19.99 down and 24 equal payments of $9. The Galaxy Exhibit, which is nearly identical to its predecessor, has a 3.8-inch 800 x 480 pixel screen, 5-megapixel main camera, 1-megapixel user-facing camera, and support for T-Mobile's HSPA+ network. It runs Android 4.1 Jelly Bean.
Finally!
I can finally upgrade from my myTouch 4G.

It's odd though: some T-Mobile stores are already selling the Q10 to consumers.

One T-Mobile store I called said that they already started selling the Q10 to non-biz customers, while another said that they have not started selling them.
Business customers have been able to order the Q10 since May 14.
Sales Figures?
Does anybody have any sales figures on the Z10 and Q10?

I have seen general statements like 'this is the biggest Blackberry launch ever' and claims that in certain countries the Z10 was outselling the iPhone, and I've seen polls that as much as 76% of current Blackberry users plan to upgrade to a Blackberry 10 device and that as much as 1/3 of the Blackberry 10's sold have been people upgrading from Android of iPhone, probably old Blackberry customers giving the platform. I've even seen that the stock price has been increasing....

All I've seen are general statements that it's been 'a success'....but does have any actual figures how many have been sold? One million, two million, five million?
These two phones
Q10 - great phone, go for it

Exhibit - don't waste your time, it's not worth the monthly payments, this is a seriously budget device, lots of issues.
I could be wrong but I thought I'd read that the Q10 was going to cost in the area of $250 or 300. Not sure I'd pay $579 for it.