Facebook Expands Free VoIP Calling to Android Phones
Article Comments 5
Apr 18, 2013, 4:23 PM by Eric M. Zeman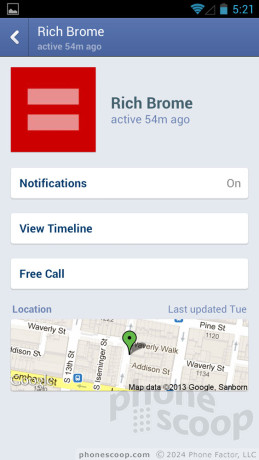 Facebook has ported its free VoIP calling feature from iOS to Android today. The tool allows iOS and now Android users to make free VoIP-based calls to other iPhone/Android Facebook Messenger users over both 3G and Wi-Fi. The calls are initiated via on-screen controls from within individual Messenger conversation threads. Facebook Messenger does not need to be updated in order to use this feature.
source: Facebook
Doesn't Exist
No updates to Facebook Messenger, but still this feature does not work like reported. In fact, the feature doesn't work at all since it doesn't exist on any device I own with Facebook Messenger installed. Are ya sure you're reporting this correctly?
I stand corrected. Facebook hid the feature so well, it took me a while to find it. Even then, it didnt work, since people I told to answer, never got notice of the calls.
worldwide??
is this available to everyone worldwide?
Just in Canada and the US.