Google Refreshes Look of Play Store for Android Devices
Article Comments 19
Apr 9, 2013, 10:20 AM by Eric M. Zeman
updated Apr 9, 2013, 10:26 AM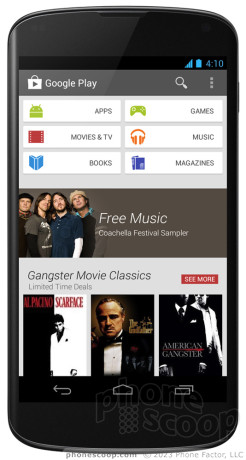 Google today relaunched the Google Play Store with a fresh new design. The Google Play Store app for both Android smartphones and tablets has been updated to reflect to new appearance of the store. According to Google, the new Play Store offers larger images and does a better job of grouping together similar content. Items are arranged on virtual cards, similar to how Google Now behaves on Jelly Bean devices. The store is also more colorful, as it does away with the dark theme of the older version. The revised storefront also offers more personalized app and content recommendations, and a quicker check-out process. The redesigned Google Play store app will be available today for Android phones and tablets running Android 2.2 (Froyo) and above.
WHAT!
My Motorola Droid will not get it! That is crazy, my phone is only three years old! The nerve of google sheesh!
2.1 is old and I thought the Motorola Droid came out in summer of 2009 so that would make it an almost 4 year old phone.

A lot of low-end phones are coming out with 4.0 I am surprise this update even supports 2.2.
Root your phone and install Cyanogenmod 7.1 and you will have Android 2.3 if you Google ice cream sandwich and the model number of your phone you may find a port of ICS for your phone.
I'm actually amazed that thing still works for you!!!
The original Droid was my first smartphone on Verizon, I won't touch another Motorola ever again.