Facebook Announces Facebook Home for Android
Article Comments 13
Apr 4, 2013, 12:12 PM by Eric M. Zeman
updated Apr 4, 2013, 12:54 PM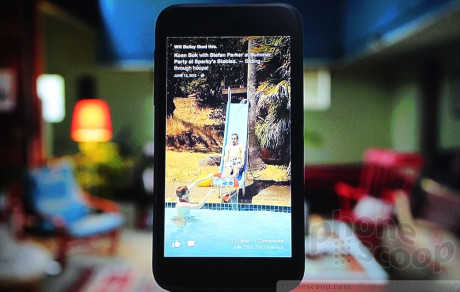 Facebook today announced a new push into the mobile space with new Android-based software that exists as its own user interface overlay. The UI overlay is called Facebook Home, and can be used to replace the home screen of select Android smartphones. The Facebook Home screen makes people a priority - not apps. It serves as the lock screen and the home screen, can be used to replace the camera app and other system-level tools/apps and bring them into the Facecbook Home app. Notifications, for example, are based on contacts, not apps. Facebook Home's Chat Heads feature, which is a new messaging tool, can be used on top of other running apps. For example, text messages and Facebook messages use the same user interface. Chat Heads doesn't interrupt them the current apps, but it will offer floating images of a contact's head with a link to their incoming message. That message can then be expanded and responded to, and then flicked off the screen to return to the current app. Facebook Home has its own app drawer for connected apps, and makes it easy to always post a photo or status update. Facebook Home requires both the latest version of the main Facebook app as well as the Facebook Messenger application. Only then can it be downloaded and installed from the Google Play Store. It serves as a launcher, and can replace the stock launcher that comes with many Android phones (and tablets). Facebook Home will first be available to the HTC One X, One X+, and One, as well as the Samsung Galaxy S III, Note II and S4. Facebook Home will be available on more devices in the coming months.
source: Facebook
Facebook is turning into a cult. Seriously.
Facebook is a handy tool for keeping in touch with people, but that's all it is: a tool. Because of this I see this Facebook Home as being a phenomenal waste of resources doing nothing but reinventing wheels that didn't need reinventing. I already find Facebook too easy to use and too accessible so I've basically disabled it.

Sadly this Facebook Home will likely be a hit because of the sheer number of people whose lives literally revolve around this website to the point that they have no life. There are people in this world who literally can't bare the thought of spending an extra 3 seconds in order to see an faded old-time-ie Instagram-edited photo of their best friend's college roommate's former neighbor's lunch.
Very well put, sir. I agree completely. Facebook has become an image gallery.
I 100% agree. If you let yourself, you can become pretty much a slave to facebook. With all the offerings they have, its easy.

I don't let myself become that. I don't want to be one of the people who is out at a restauraunt with my family / friend...
(continues)
Just a homescreen replacement app
but that being said a lot of android users like homescreen replacement apps. and this is probably the best, most well done homescreen replacement app. I am much more interested in this than a facebook phone. I am curious to see whether that HTC phone that was discussed will have the option of turning off facebook home and just use default launcher.
Not understanding
I think this is a really pathetic application. The only thing i like is "chat head"
Not one of my FB friends uses the chat. Useless.
No, thanks
Have facebook run my phone, and have instant access to everything that I do with my homescreens and camera ? No thanks, this is way too intrusive. The current setup for facebook is fine unless you want it taking over your phone.
If it's a launcher I'll give it a try because then it can be deleted. I currently looking for a good launcher to replace sense.