Review: ZTE Force for Sprint
Article Comments
Mar 27, 2013, 1:07 PM by Eric M. Zeman @phonescooper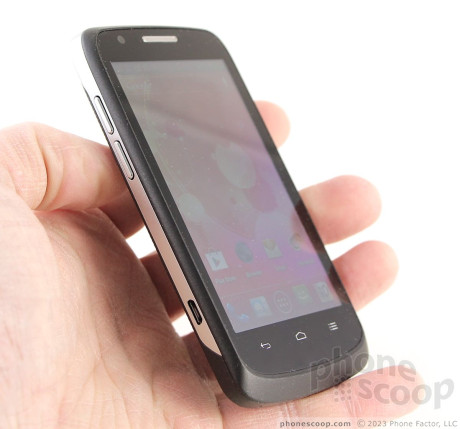 ZTE's Force for Sprint is no farce. See what makes this little Android smartphone a solid pick for the Now Network.
AD article continues below...
Form
Is It Your Type?
The Sprint Force, made by ZTE, is a low-cost Android smartphone that still manages to offer must-have specs, such as LTE 4G, Android 4.0, and a 4-inch display. If you're a budget-minded buyer, the Force is a tempting smartphone.
Body
The ZTE Force may be a simple phone, but it isn't without its own sense of style. It's a smallish slab that avoids the boring design traps into which so many other phones fall.
First, the Force uses more than one color/shade, without going overboard; it sticks to two: black and shiny metal. There is a really nice metallic band that wraps around the sides and forms the shoulders of the device along the back and top. The metal surface is semi-speckled and really catches the light in an attractive way. It also gives the Force plenty of strength. Metal always makes me happy in any phone design, and it is put to good use here.
In the hand, the Force feels solid. The materials aren't cheap. The glass front, textured battery cover, and metallic sides really help the Force stick in the hand. Thanks to the smaller screen (I can't believe I am referring to a 4-inch screen as small, but that's the reality of today's phone market,) the overall footprint of the Force is small enough that I found it easy to grasp and hold onto. It isn't overly thick, and fits in most pockets easily. The weight is just right, and ZTE did a good job manufacturing the parts and piecing them all together tightly.
As expected, the front of the Force is made of glass, and mostly display. There's a thin, silver-y earpiece speaker grill above the display, and three capacitive buttons below the display (Back, Home, Menu). The capacitive keys worked well and gave me no trouble. They offer haptic feedback if that's what you want. The Force's display was better than most at showing me nasty finger grime, though; it requires frequent cleaning.
There are four side buttons. The volume buttons are on the left. ZTE skipped the toggle, and chose two separate buttons, instead. They have an excellent profile and offer the perfect amount of travel and feedback. It is quite easy to tell them apart. Surprisingly, there is a two-stage camera button on the right side of the Force. The button has the same shape and feel as the volume buttons, and the two stages are very well defined. ZTE also did a great job with the screen lock button, which is perched on the top edge of the Force. It is positioned perfectly, has a great profile, and amazing travel and feedback. Other phone makers should strive to make lock screen buttons as good as this one.
Ports on the outside are limited to a stereo headphone jack on top and a microUSB port on the side. Neither has a hatch, but both are embedded in the metal framing, which gives them plenty of strength.
The battery cover forms the entire back surface of the Force. It is a cinch to remove, but still clings tightly to the Force's frame. The battery is rather large in terms of length/width, but it is fairly thin front to back. The microSD card can be accessed without removing the battery. The SIM card must be embedded within the device, because it is not accessible at all.
In all, the Force feels like a phone that should cost twice its $49 price point.
Performance
Screen
The ZTE Force rocks some old-school specs when it comes to the display. It measures 4 inches across the diagonal, and offers 800 x 480 pixels. Displays are often one of the most costly components of a smartphone, so it is no wonder that the Force rocks 2010-era screen specs. That said, it looks really, really good for a $49 phone. Keeping the physical size small helps the pixel density a lot. Images and icons look sharp, the display is bright, and colors look spot on. Viewing angles are good, but not great. It is hard to read outdoors.
Signal
The Force picked up signal fairly well for a Sprint device in the metro NYC area. I've noticed many devices struggle to find Sprint's network in and around NJ and Manhattan, but the Force found it with no trouble. Further, it always remained connected and didn't miss/drop any calls. Granted, this was all on Sprint's 3G network. Data was miserably slow over 3G, whether it was downloading apps or surfing the web. Sprint's LTE network can't come to the NY metro area soon enough!
Sound
I was quite impressed with the Force's voice quality. Calls were clear and free of distortion. Earpiece volume was quite good. Set to half way up, I had no problem hearing phone calls in a busy Starbucks. If turned up all the way, the earpiece was painfully loud. The speakerphone was not impressive, not in terms of quality nor volume. Calls were choppy, and sounded tinny. Volume was not good enough to be heard over the din in the same Starbucks. Ringers and alerts are plenty loud enough, and the vibrate alert is strong.
Battery
The Force does well enough when it comes to battery life that most users should expect to get a full day out of it. I used the device intensely for three days (downloading more than 100MB of data each day, making calls, checking email, filing social networking updates) and it managed to make it from 8AM to Midnight with no problem each day. Over the course of five total days testing, the Force consistently performed well. The only caveat I'll note here is that this was mostly in areas with just 3G coverage and not 4G LTE.
Basics
Menus
Sprint has been really great about shipping devices with stock Android or near-to-stock Android. The Force ships with Android 4.0 Ice Cream Sandwich and very few Sprint-branded apps/services on board. The basics of the operating system fall in line with what we all expect from Android 4.0. The presence of Sprint Zone and Sprint iD are all you have to tip you off that this is a Sprint device.
Sprint hides all its branded apps and services in the Sprint Zone, which is its own App Store. The great thing is Sprint leaves it up to the user about what they install and what they ignore. Don't care for NASCAR? No worries, don't install it. Love NBA Game Time? Awesome, it's there in Sprint Zone, so download away! Sprint iD is of course Sprint's customization tool. Sprint iDs are essentially app/theme/widget packs that can be installed onto most Sprint Android devices. Each iD pack has its own collection of content based on the theme. There are several dozen from which to choose. The only bummer is most iDs also download stuff you might not want.
The rest of the operating system behaves just like stock Android from Google.
In terms of performance, however, the Force is a bit lacking. The processor and RAM combo in the Force don't always provide enough horsepower to get things done. The Force often ran slow, or felt bogged down when performing some tasks. Hopping from app to app was stuttery from time to time, and screen transitions lagged here and there. This is, unfortunately, a case of you-get-what-you-pay-for.
Calls/Contacts
The phone and contact apps work on the Force just about the same as every other Android 4.0 smartphone. In-call options run the norm, and include speakerphone, mute, send to Bluetooth, and add a line. There are the usual home screen widgets for direct contacts, as well as the a nice widget for a collection of your favorites. The bigger widget lets you access your top nine contacts and gives you a cool UI for interacting with them on the home screen.
I do have one complaint, though. The software keypad is way too small. The app wastes tons of real estate on a blank page. Granted, few people dial phone numbers any more, but just the same, the keys should be a bit bigger.
Owners can also choose to download the "Qualcomm Enhanced PTT" app, which gives the Force access to Sprint's Direct Connect service. We were unable to test this feature, however.
Messaging
As far as messaging goes, the Force has the stock Android tools on board and nothing else. The SMS app offers nice, threaded conversations; the Gmail/email apps are great ways to manage your inbox; the Google+ and Google+ Messenger apps are good for keeping up with your G+ activity; and the Google Talk app is as powerful as ever for IM and video chats.
Neither Facebook nor Twitter is pre-installed, so you'll have to download them from the Play Store yourself.
Extras
Media
The Force includes the native Google Play Store and associated apps for consuming media. The store lets Force owners purchase music, television shows, books, and magazines, as well as movies and movie rentals. Each type of content has its own app for playback, and they are all pre-installed on the Force. The Force also includes the stock Android MP3 player, video player, and YouTube apps.
There are no Sprint media apps pre-installed, but plenty are available for download from the Sprint Zone, such as Stitcher Radio, Sprint TV and Movies, Sprint Music Plus, NBA Game Time, NASCAR Sprint Cup and others.
The Force also includes an app called SmartShare. This app makes use of DLNA to ease the pain of wirelessly connecting with and sharing content to HDTVs and other DLNA-compatible equipment. I found the app intuitive to use and managed to pair the Force to my TV set via my home Wi-Fi network with no trouble.
Camera
Despite the presence of a physical camera button, the Force must first be unlocked before the camera can be used. Thankfully there is a camera shortcut on the lock screen that takes you directly to it. Alternately, if you're using the phone already, a long press of the camera button will launch it. The camera app opens fairly quick.
The camera software is rather basic and somewhat annoying. The viewfinder takes up about 80% of the screen, and there are gray stips along either side for accessing the controls and functions.
Four settings controls are visible (front-facing camera, shooting mode, effects, and full settings). What I don't like is how these buttons work. When you press the effects button, for example, the camera app does not pop open a window or drop-down menu with the alternate selections. No, instead, the strip itself scrolls away and shows four effects options at a time. You need to scroll up and down — all in this tiny little strip — to see the options. The same is true when you want to adjust the shooting mode and full settings. It requires a lot of scrolling and flicking and isn't organized in a way that is convenient to use.
That said, there are four different shooting modes (normal, panorama, macro, night); 17 different filters (think Instagram); and controls for resolution, picture quality, and so on. The camera is quick to do everything, which is perhaps its saving grace.
Photos
The Force's 5-megapixel shooter does a pretty good job. About my only complaint is inconsistent focus. About half the shots I took were razor sharp, while the other half were a bit soft. Exposure and white balance were excellent, though. For a $49 phone, the Force's camera delivers the goods.
Video
The Force can capture video at a max resolution of 720p HD. In general, video results look pretty good. I notice the same type of problems with the video camera that I did with the still camera: exposure and color were accurate, but focus was sometimes off.
Gallery
The Force uses the stock Android 4.0 gallery app. I find it easy to share pictures via this app, but the separate albums can be a bit annoying to sort through. The gallery lets you rotate and crop images, as well as adjust color, reduce red-eye, and apply a handful of different filters.
Apps
Sprint has been proactive in reducing bloatware on its Android phones. As mentioned earlier, the only two Sprint-branded apps are Sprint iD and Sprint Zone. Of course, both of these let you do nothing but download other Sprint-branded apps and services. The Force has about 1.9GB of space on board for apps and other content, but it accepts memory cards, too.
Bluetooth
The Force's Bluetooth radio worked very well. I had no trouble pairing it with other Bluetooth devices. Most importantly, call quality was excellent through both headsets and my car's hands-free system. Music worked well, too, via Bluetooth headphones.
Browser
The Force has the age-old standard Android browser installed in addition to the newer Chrome browser. I found both browsers to be good at loading web sites and rendering content, but browsing via Sprint's 3G network is painfully slow. (Browsing will surely be speedier in areas where Sprint's LTE network is available, but we were unable to test the Force under LTE.)
Clock
The Force has a white digital clock that is visible from the lock screen. It cannot be customized or changed. It is difficult to read outdoors, and is best paired with a dark background image.
GPS
Google Maps is the only mapping software pre-installed on the Force. If that's all you ever use, you'll be fine. It is a capable piece of software for discovering local points of interest and routing directions to them. As far as the GPS radio is concerned, it is accurate, but not all that quick. It often took more than 30 seconds to find me, and it was never more accurate than about 50 feet to my actual position.
Wrap-Up
The ZTE Force is a solid $49 smartphone. About the only real complaints I can point to are a somewhat slow user interface and pokey internet speeds.
The hardware is solid and functions well. In fact, it far surpassed what I expected in terms of quality from ZTE. The Force connected to Sprint's network and offered great call quality. Battery life was above average and the camera surprised me with its results. It's always nice to see a stock version of Android, and Sprint does a great job keeping its smartphones free of unwanted apps and junk.
There aren't too many $49 devices that match the Force's performance. The Sprint Force is a force to be reckoned with.
No messages