LG Provides More Details About the Optimus G Pro
Article Comments 12
Feb 18, 2013, 7:48 AM by Eric M. Zeman @phonescooper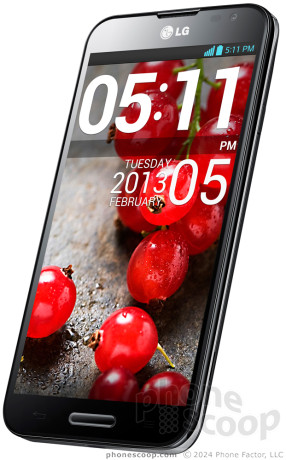 LG today offered more information about the Optimus G Pro, a device it first revealed in part last week. Some of the stand-out features of the G Pro include Dual Recording and Virtual Reality Panorama. According to LG, Dual Recording lets users record video with the rear and front cameras at the same time, creating a picture-in-picture video. The VR Panorama mode is similar to the Photo Sphere feature available on the Nexus 4, as it allows users to create 360-degree views of their surroundings. As noted already, the Optimus G Pro has a 5.5-inch full HD display with 1920 x 1080 pixels. The display runs edge-to-edge, and uses curved glass. The G Pro is powered by a 1.7GHz quad-core Qualcomm Snapdragon 600 processor, which is paired with 2GB of RAM. The main camera rates 13 megapixels and the user-facing camera rates 2.1 megapixels. The G Pro is powered by a removable 3,140mAh battery that supports wireless charging. It runs Android 4.1.2 Jelly Bean and comes with LG's user interace customizations. The G Pro is launching in Korea first, followed by Japan later this year. LG said the G Pro will be made available in other markets, including the U.S., during the second quarter.
AD article continues below...
Performance !!!!!!
Looks like the trend in all quad-core processors is the 2GB RAM..which in my opinion should be 2GB instead of 1GB...The HTC One+ has 1 GB Ram with a quad-core...don't figure...In my opinion I look for the 2Gig RAM in any quad-core , it shows me the design and engineering knows what they are doing in terms of performance......Which BTW phonescoop failed to mention in their review..don't know why , I think the RAM is worth mentioning in their reviews.. 🙂
I would take a quad core if it only had 1 gig of ram more interested in how many channels the ram has if it got 1 gb of ram and 5 channels id take it all day over 2 gb with 1 or 2 channels....
Looks
rather sexy, for a phone.
Looks like an S III/Note 2
looks can be deceiving. It's an LG after all. 😛