Samsung Shows Off S275G Flip for TracFone
Article Comments 18
Feb 15, 2013, 4:16 PM by Eric M. Zeman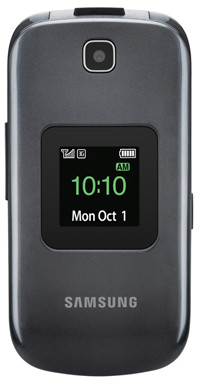 Samsung recently revealed details about the S275G, a simple flip phone for TracFone. The S275 has two displays; the main display measures 1.75 inches and has 128 x 180 pixels, while the external display measures 1 inch and has 96 x 96 pixels. The S275G also includes a 1.3-megapixel camera with video capture and a dedicated camera button, basic music/video players, a WAP browser, and Bluetooth. TracFone has yet to add the Samsung S275G to its online store, so pricing and availability are not yet known.
2005 called............
they want their phone back!!!! 🤣
Remeber the phone from The Matrix? Yeahhh... I would rathar use THAT phone, than this one.
...and said, "You call phones that are the size of a brick, easily broken, uncomfortable to hold, and have battery life that averages less than 24 hours 'smart?'"
Not everyone wants or needs a portable computer/gaming/media player that they have to charge every day. Some people just want to make a phone call.