Review: Sonim XP Strike for Sprint
Article Comments 17
Feb 13, 2013, 6:49 PM by Eric M. Zeman @zeman_e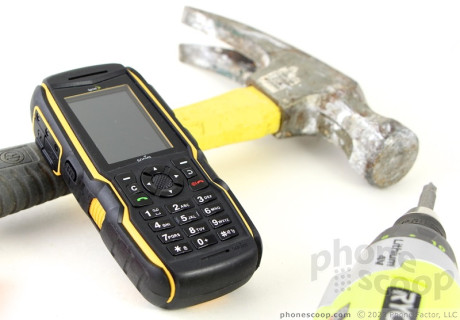 Sonim takes a stab at the U.S. market with the XP Strike, a rugged PTT-enabled feature phone for Sprint.
AD article continues below...
Form
Is It Your Type
The Sonim Strike, sold by Sprint, is the type of phone Chuck Norris would use. Its tough-as-nails build quality could probably withstand a roundhouse kick from Chuck himself and still be used to make calls and browse the web afterward. The Strike is a rugged PTT-capable feature phone meant for use in the harshest environments.
Body
If you haven't heard of Sonim, maker of the XP Strike, don't be worried. It is based in California and specializes in only rugged handsets. The Strike is one of the first to be sold in the U.S. Most of Sonim's devices are sold overseas. There is nothing subtle about the Sonim Strike. It is about as rugged as a device can get. It's thick, heavy, brutally tough, and clearly not meant for use by sissies.
As far as rugged devices go, I like the overall design of the Strike. I don't think anyone would blink twice were it to be sold alongside DeWalt drills or Rigid sawzalls at Home Depot. It has that "construction site" look that is sure to appeal to its target user: people who work outside where things get dropped, kicked, stepped on, and flung.
The colors are a mix of black and yellow. The yellow makes the Strike easy to see pretty much anywhere. I found it to be nearly reflective when out under the sun (it's not actually reflective, though). The yellow portions are made from an extremely hard plastic. The black parts are hardened rubber and serve as a cushioning agent for the device, protecting it from your butter fingers. The Strike is all angles, lines, and other shapes. It is not smooth or refined.
The quality of the materials and build are excellent. It feels like a brick in your hand. To be honest, when I opened the box I was surprised by just how small the Strike is. It is small enough to wrap your hand all the way around it and hold on tight, but it is not the type of phone you're ever going to put in your pants pocket. Nah, the Strike belongs in a holster or something. It's super chunky, as are most devices in this category.
The Strike has a small screen on the front in addition to the navigation cluster and numeric keypad. I am sorely disappointed with the quality of the buttons on the Strike. Most rugged devices reviewed by Phone Scoop have blunt keypads that are big enough to use when wearing gloves. That is not remotely true of the Strike.
The d-pad is positioned just below the screen. It's smaller than a penny. The four directionals and center button all have good travel and feedback. The d-pad is surrounded by six other keys. There are two soft keys, send/end keys, and clear/back keys. All six of these buttons have poor travel and feedback. The clear and back buttons are particularly small, which makes them difficult to use them when *not* wearing gloves. It's flat-out impossible to use them with gloved fingers. The number buttons are not only small, they are crammed closely together. The keys have a decent shape to them, and offer acceptable travel and feedback. They are completely unusable when wearing gloves, though.
The side buttons are much easier to find, but no easier to use. On the right edge, for example, you'll notice the volume toggle and dedicated flashlight button. The buttons are raised rubbed ridges that stand out and can be felt by gloved fingers with no problem. The issue is travel and feedback. They take an inordinate amount of pressure to push in, thanks to the hardened rubber covering. You really have to want to press these buttons to get them to work. Feedback is minimal. The same is true of the user-assignable key (defaults to camera) on the left of the phone.
The charging port and stereo headphone jack - located on the left - are covered by individual hatches. The hatches work fine, I have no problem with them. I do, however, have a big problem with the proprietary charging port used by Sonim. What gives? The entire phone industry (with the exception of Apple) uses micro-USB ports for charging. The Strike uses a unique pin, which will make finding replacement cables a pain in the tuckus.
You'll need a coin or screwdriver to access the battery, as the hatch is locked down to keep the Strike's innards dry. Rather than use one screw, (like most rugged devices,) the Strike has two screws holding the battery cover in place. The battery itself is removable, and the microSD slot is buried underneath it.
Performance
Screen
The Strike's screen measures 2 inches across the diagonal and includes 240 x 320 pixels. It's certainly not the worst screen I've seen on a rugged device. It's bright and colorful, and I had no trouble using it outdoors. From an arm's length you can't see individual pixels, but hold the Strike any closer than about 18 inches from your eyes and you can see them start to appear along the edges of icons and letters. It's a good screen for this class of device.
Signal
Sprint sent us two Strikes to review and both behaved the same on Sprint's network. The Strike is not an LTE device. It uses Sprint's CDMA EVDO and 1X networks, and includes individual signal meters for each. The Strike performed above average when compared to other Sprint devices. It always held onto the network and was always able to make/receive phone calls. Neither device gave me any network-related trouble whatsoever.
Sound
Uh oh, here it comes: the bad news. Normal cellular phone calls with the Strike are absolutely horrible. Volume in both the earpiece and speakerphone is quite good, but volume is no substitute for horrendous quality. The earpiece, in particular, seemed only capable of producing teeth-rattling screeches that were incomprehensible. People with whom I spoke didn't have any trouble hearing me, however, and said I sounded fine in their device. The quality of calls improved only a little bit when routed to the speakerphone. Switching to PTT doesn't make much of an improvement. Walkie-talkie conversations were slightly less awful, but still of astoundingly poor quality. Ringers and alerts are incredibly loud, and the vibrate alert could rouse a bear from hibernation. Both review units exhibited these behaviors. It's a challenge to protect a speaker from the elements without muffling the sound, but most other rugged phones do a better job than this.
Battery
In a word, the battery life is amazing. Three days was the least battery life I got with the Strike. The Strike packs a massive battery and the feature phone operating system sips power conservatively. You can easily wait a day or two in between charges.
Ruggedness
The Strike can handle blowing rain, salt fog, vibration, shock, and dust. According to Sonim, it can also withstand 6-foot drops to concrete, as well as a 30-minute bath in water that's two meters deep. I took it sledding and snowshoeing over the weekend and it didn't mind sitting in the snow for a while. I had it in my front pocket when I rocketed off the top of a ramp, lost my sled, and came crashing down on top of it (it was an epic wipe out). I kicked it around my driveway, threw it down the street, put it in the sink when I washed my hands, and subjected it to all sorts of other abuse. It's still working just fine. It lives up to is tough image.
Basics
Menus
The Strike uses Sprint's age-old feature phone platform. The user interface has been spruced up a bit with new graphics and animations, but the underlying architecture holding everything up is the same.
The home screen provides access to the menu and contacts apps via the soft keys. If you want to get at the main menu, you can also press the center of the d-pad. The main menu is a 12-icon grid. It cannot be customized in any way. The 12 icons don't offer any surprises and are composed of the requisite mixture of phone tools and Sprint service offerings. Once you move deeper into the menu system, the default view of the menus switches to an endless array of lists and folders.
It may look nicer than the UI on older PTT devices like the Kyocera DuraMAX, but it is not as functional. For example, when in the main menu, pressing the number keys doesn't not open the corresponding app/folder. On most feature phones pressing the "1" opens the app/folder in the upper left corner of the screen. Pressing the "2" opens the app in the top middle, and pressing the "3" opens the app in the upper right corner. This basic navigation feature that's been on phones for 10 years is not available on the Strike.
The Strike doesn't allow for much customization out of the box, either. You can adjust the home screen wallpaper, set ringer profiles, and download more wallpapers and tones from Sprint's content store. You can also set shortcuts that work from the home screen (left opens messaging, down opens browser, etc.). But you can't change the font, you can't change the theme or color scheme of the UI, and other similar things offered by other feature phones.
PTT
Once you've configured the handset for PTT services and added some DirectConnect contacts (a necessary step), reaching out to them is a breeze. The user interface for initiating calls and setting up chats is easy enough to figure out. Anyone used to a Sprint walkie-talkie phone will feel right at home with the controls offered by the Strike.
Calls/Contacts
Otherwise, the Strike doesn't offer any surprises in the phone call department. Press the green send key to get at a list of all your calls. The in-call options range from the typical phone book access to 3-way calls. You can also set up to 98 speed dials on the physical keypad if you wish.
The contacts applications is simple and straightforward. From the contact list, the left soft key automatically initiates a text message. The phone holds up to 1000 contacts, and each can carry several phone numbers, email addresses, and other data.
Messaging
A smartphone the Strike is not. The text messaging app is basic at best. There are 20 pre-loaded messages, as well as an easy way to insert web shortcuts, such as "http://", "www", or ".com". You can also control the behavior of the predictive text software and add custom words to the phone's dictionary. Thankfully, messages are threaded into conversations.
There are no email nor IM clients on the Strike. I couldn't find any in Sprint's app store, either. The Strike is limited to text messaging.
Social networks can only be accessed via the browser.
By way of comparison, many of Sprint's other rugged PTT devices do have access to email and IM. Why they aren't available on the Strike is a puzzler to me.
Extras
Media
The Strike has a bare-bones music player application. The app itself really isn't that bad. The controls are easy enough to figure out and it was able to recognize album art and stuff like that. Since there is no music store on the Strike, the only way to get music onto the device is to use a microSD card. The Strike also has an FM radio that I found worked really well and produced good sound (headphones are required). Both apps are very slow to respond, however.
As far as video is concerned, you get a basic app that can play back videos you've recorded yourself. It wouldn't work with any of the video I have (iTunes purchases nor my own ripped MP4 files) on my microSD card. (Not that you'd want to watch movies on this device anyway.)
Camera
The Strike has a 2-megapixel camera. It doesn't have auto-focus, but it does have a flash. The camera launches slowly (3 or more seconds.) It takes a second or so to shoot an image, and another second to process an image. It is not a quick camera, so don't think you're going to get Junior's first steps.
You can adjust all of the exposure controls you'd expect with a phone, such as brightness, contrast, color, and so on. I'd guess most users won't bother with these controls, however, especially since they are buried a few layers deep in the camera's user interface. The camera software is pretty basic.
Photos
The Strike produces rudimentary images at best. They're covered with grain and exposure and white balance are a mess. Focus is terrible; every image looks soft and blurry. If you need to capture an image in an emergency, the Strike will convey the basics, but it's really a crummy camera.
Video
The Strike is limited to 176 x 144 resolution video capture, and the results look worse than the pictures.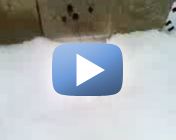 3GPP / MPEG-4 format (viewable with QuickTime)
File size: 407 KB
Gallery
The gallery is not much of a place to view photos. Images are visible in a list of thumbnails. You can open each photo, but actions are limited to share (via MMS or Bluetooth), set as contact/wallpaper, or delete. Thats it. There are no editing features nor other tools for manipulating photos.
Apps
If you want to dig into Sprint's browser-based store, feel free. As I've written before, it's a terrible app and content store. Most of the content doesn't really qualify as "apps". You can buy ringtones and that sort of thing, but legit apps are few and far between. The "messaging" apps I was able to find, for example, were dating services that require monthly subscriptions.
Browser
The Strike has the Access NetFront WAP browser. The controls are a bit fidgety, web pages are slow to render, and the number of physical "clicks" required on the d-pad to do anything gets tedious quickly. Once they arrived, web sites looked OK. The browser's real saving grace is that it has a little pop-up navigation tool that at least lets you get to a Google search or browsing history quickly.
Bluetooth
The Strike has Bluetooth 2.1, and can be used with traditional headsets and stereo headsets. It paired with both types easily, but sound quality of both calls and music was atrocious.
Clock
There is a small digital clock that appears in the corner of the home screen. That's all you get. It is tiny and hard to read.
GPS
The Strike has GPS and Sprint's TeleNav-based mapping service. This $10 monthly app will route you from point A to point B without any trouble, but it doesn't do much beyond that. The GPS radio was accurate, though, and able to locate me fairly quickly.
Wrap-Up
The Sonim XP Strike presents a quandary. If rugged is what you need, it delivers in spades. It is one of the toughest phones I've jumped up and down on with my combat boots. Other than the survivability aspect, the Strike fumbles its core feature: phone calls. The quality of phone calls should be unsurpassed on this type of device. Unfortunately for Sonim, the Strike does not get the job done. Call quality is just not good enough.
The Strike nails battery life, and connects to Sprint's network well. It offers a smattering of apps (media, camera, browser) that some users might enjoy, but includes little in the way of flexibility of the menu system and doesn't even offer email.
If you don't mind the inadequate call quality, then perhaps the Strike is for you. If you need a device that delivers a better voice experience, Sprint has several viable options.
Not good news, but good to know...
Thanks for the thorough review.

Clearly the Sonim Strike is a big disappointment, but it's certainly good to know that up front, without having to go through the pain of switching from iDEN to CDMA and getting a dog like the Strike.

I had high hopes for the Sonim Strike as a replacement for our Nextel Motorola i365's, but it would appear the Strike is NOT viable, given the report of very poor audio performance for earpiece, speaker & PTT calls. The Kyocera Duraplus also has (or at least had) horrendously poor speaker performance. That's two massive strikes (no pun intended) for Sprint's hoped-for successors to the Motorola iDEN PTT line.

I emailed Dan@Sprint.com a couple of weeks ago to inquire when they will have the Sprint Direct ...
(continues)
Oh like it's all sprints fault they have to move off iden and it's all sprints fault they can't get Motorola I'm board to make a CDMA ptt phone? Lol
...Would likely fix this issue.

With regard to the Kyocera phones, our company recently purchased the DuraXT phones and I can tell you the volume level is higher than any Motorola we've used.
strike review
I've been using the Strike for a month, the shape of the buttons make them easy to use with gloves and the call quality is GREAT, I really reccomend this phone above any of the Kyocera offerings
Sorry, our experience with the Strike is very much in line with the review: terrible sound quality - and volume is MUCH too low in even moderately noisy environments (Sonim is coming out with an add-on loudspeaker to remedy this shortcoming). ptt butt...
(continues)
CDMA 800
Please start including whether a particular Sprint device supports CDMA/LTE 800.

Thanks.

BTW does this device support CDMA 800?
That information is always available on each phone's spec page.

Yes, it does.
Actually, all new Sprint phones since late 2011 have supported CDMA 800 (BC10, AKA the old Nextel ESMR band.)

And no phones yet support LTE in that band (which for LTE will be known as band 27.)