MetroPCS Launches LG Spirit 4G
Article Comments 6
Jan 31, 2013, 9:08 AM by Eric M. Zeman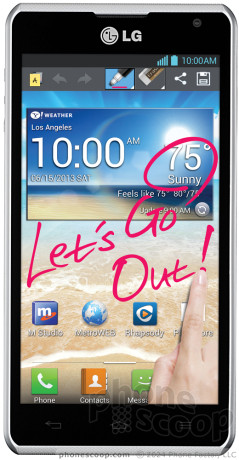 MetroPCS today announced the LG Spirit 4G, a new Android smartphone that has a 4.5-inch display protected by Gorilla Glass. The Spirit runs Android 4.0 Ice Cream Sandwich and is powered by a dual-core 1.2GHz processor. The Spirit has a 5-megapixel main camera that can take 1080p HD video, and a 1.3-megapixel user-facing camera for video chats. The Spirit features LG's QuickMemo application, which lets users take screen shots and compose memos on the. The Spirit supports MetroPCS' joyn messaging service, which can be used for instant messaging and calling via Wi-Fi. The LG Spirit 4G is available beginning today for $199 after a $70 mail-in rebate.
Why?
$199 AFTER a $70 mail-in rebate? Sprint is selling the Optimus 6 for $199 Buy 1, Get 1 Free.
It's the full retail price; is just a prepaid service.
A good phone for just $200.
And a metro bill is 60 flat with everything unlimited when sprint is $119.99 for everything plus tax
Screen Resolution
checked MetroPCS, they don't have the info.

Anybody know ?
540 x 950 is a QHD display.
This phone is the same as the LG-L9.