Review: Samsung ATIV Odyssey for Verizon Wireless
Article Comments
Jan 25, 2013, 1:39 PM by Eric M. Zeman @zeman_e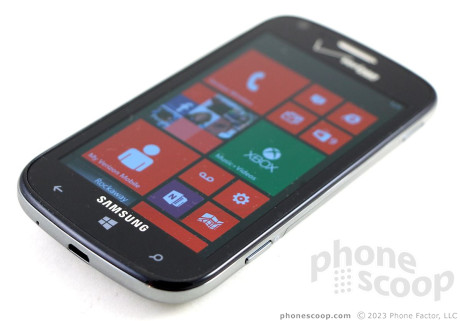 Samsung's entry-level Windows Phone for Verizon Wireless, the ATIV Odyssey, is a more sedate device for the conservative smartphone shopper. Phone Scoop's full review gives you all you need to know to make an informed choice.
AD article continues below...
Form
Is It Your Type
The Samsung ATIV Odyssey is an entry-level Windows Phone for Verizon Wireless. If you like Microsoft's platform, but not the colorful handsets offered by HTC or Nokia, then the ATIV Odyssey may be what you're seeking.
Form
You'll be forgiven for thinking that the ATIV (pronounced ah-TEEV, like 'achieve') Odyssey is another Android smartphone from Samsung. It looks identical to at least a half-dozen such Samsung phones thanks to its conservative design. It's small, compact, and doesn't have half the personality that devices such as the HTC 8X or Nokia Lumia 822 have. Not everyone likes color, but the Odyssey could be a little bit flashier and still be called reserved.
If you've held or used a Samsung Galaxy S III or Note II, you'll feel right at home with the Odyssey. It carries forward the same look and feel of those two handsets, albeit in a much smaller package. The front is all black glass. There's a chrome-ish band that forms all the side edges, and the battery cover has the same faux brushed metal look as the GSIII and Note II.
The Odyssey has a great size and shape. The surfaces are smooth and rounded; there are no sharp edges or corners. It's comfortable to hold and use, though I found it to be a bit slippery. It glides into pockets as though it were lubricated with a fine oil. The quality of the materials is good, but not great. The fit and finish of the device are spot on, the seams are all tight and the phone is well made.
The only controls on the front are three capacitive buttons for interacting with the Windows Phone operating system (back, Start, and Bing.) I didn't have any trouble with these buttons, and the haptic feedback they offered was quite nice. Both Samsung and Verizon have logos on the front of the phone, and the front-facing camera and sensors are plainly visible near the earpiece speaker grill.
The Odyssey's side surfaces are busy with controls and ports. The volume toggle is on the left. It's really easy to find, but travel and feedback feel quite cheap to me. There is also a hatch for microSD cards on the left edge. The screen lock button and dedicated camera button are on the right edge. These buttons are rather small, but still easy to feel with your thumb. I didn't care for the travel and feedback of the screen lock button, but the two-stage camera button feels great. The headphone jack is on top and the microUSB port is on the bottom.
The battery cover peels off from the back of the Odyssey just as the battery cover peels off nearly every other recent Samsung phone. There's a little notch for your thumbnail to help you get started. The Odyssey has a removeable battery, which is typical for a Samsung device. The SIM card can't be accessed unless you first yank out the battery.
In all, there's nothing wrong with the hardware, I simply wish Samsung had jazzed it up a bit.
Performance
Screen
The Odyssey's display is one of the worst I've seen on a Samsung device. It uses Samsung's Super AMOLED technology, measures 4 inches across the diagonal, and includes 800 x 480 pixels. Normally, this combination would be a win-win-win for the Odyssey. The bad news is that the Odyssey uses a PenTile pixel arrangement, and the effect is horrifying. Every element, every icon, every bit of text has an obscene jagged edge that I found very distracting. The Odyssey could be using a first-generation Super AMOLED, an outdated tech, with PenTile pixels. It is entirely possible that the PenTile pixel arrangement combined with the Windows Phone user interface is what makes it look so bad. As for brightness, there are no problems there. I was able to read it outside just fine, even under a sunny sky.
Signal
The Odyssey had no trouble finding Verizon's LTE network. During my review period, the device never dropped down to 3G. It always showed several bars of service and, more to the point, never dropped calls and always connected them on the first dial. Data performance was always quick. I only noticed the Odyssey get bogged down twice, and that was in areas with poor coverage.
Sound
I was bowled over with the quality of voice calls on the Odyssey. Callers were crystal clear and there wasn't even a hint of interference or other noise. The earpiece generates enough volume to trigger a headache if you're not careful with the volume toggle. The same goes for the speakerphone. Both the quality and volume of calls routed through the speakerphone were excellent. It should be no surprise, then, that the ringers and alert tones were also plenty loud. The vibrate alert was solid, as well.
Battery
If you're keeping a list of pros and cons, the Odyssey's battery life would be a pro. The device handily lasted 24 or more hours on a single charge, even with intense use like streaming music and downloading apps. Battery life freaks will still charge the Odyssey every night, but you can probably go every day and a half between charges.
Basics
Menus
With Windows Phone, you know the drill. The user interface of the Odyssey uses Windows Phone 8. It looks and acts the same as every other WP8 device out there. Handset makers and carriers aren't allowed to mess with the look and feel of the OS, and that's a good thing as far as I'm concerned.
The biggest changes are reflected on the lock screen and the Start screen. The lock screen has customizable alerts that pop up when the screen is locked. It's a big improvement over the earlier versions of Windows Phone. You can choose which alerts reach the lock screen and which don't, as well as pick which type of alerts are given priority.
The Start screen is more customizable than before. The Live Tiles can be resized in small, medium, and large variations, and of course the Tiles can be arranged however you wish. More apps support Live Tiles, which should make the Start screen even more dynamic.
The main app menu is an alphabetical list of apps. This cannot be customized. You can, however, choose which color the background is (white or black) and change the color of the basic Live Tiles. There are usually about a dozen or so colors from which it pick.
It doesn't take long to get the hang of Windows Phone, which is probably the simplest of the major smartphone platforms to use.
The Odyssey is the very first Windows Phone I've ever seen suffer from performance issues. The vast bulk of WP smartphones are lightning quick. The Odyssey is not. I often found it stalling when opening apps, and it often stuttered when swapping between the Live Tile and main menu screens. Worse, if you attempt to multitask overmuch, you'll be met with some significant screen freezes.
Calls/Contacts
Samsung hasn't done anything to enhance or change the functions of the WP8 phone and contact applications. The phone app itself is simple to use and offers a standard set of features, such as hold, mute, speakerphone, merge calls, and send to Bluetooth. It's easy to text or call a number stored in the call log, as well as add it to a contact.
The People Hub is as powerful as ever. It ties in users' Facebook, LinkedIn, and Twitter profile data, as well as their basic contact data. It's the most feature-rich contacts app out there, and provides consistent updates and notifications about those with whom you converse the most.
Messaging
The Odyssey uses all of the stock messaging tools that are available to all Windows Phone devices. WP8 has a solid email, SMS/MMS, and IM apps. Social networking is baked into the platform, as well. I find the email program to be quick and useful and the social networking to be particularly good. I like the People Hub and Photo Hub, each of which draws in your Facebook friends' activities and photos.
The SMS app also functions as the Windows Live IM app and Facebook Messenger app. The user interface is spartan, but offers just as many tools as competing platforms. It's a cinch to add photos, videos, or other content to outgoing messages. This app doesn't support AIM, Google Talk, or Yahoo IM.
It is important to know that this app is soon going to be replaced with Skype across Microsoft's products. It's available to WP8 in a preview mode right now, so it doesn't quite have all the new features yet. It ties into the device's native phonebook for dialing and messaging. It runs in the background, allowing for calls and messages to be received when you're off doing other things.
Separate Twitter and Facebook applications are available, as well. Last, Samsung's ChatOn app is available in the separate Samsung App Store. It's not preloaded. If you choose to install it, it can be used to conduct IM conversations with other ChatOn users for free. ChatOn is compatible with Android, BlackBerry, and iOS.
Extras
Media
The Odyssey provides the same tie-ins to Microsoft's XBox entertainment services as do other WP8 devices. The music experience has always been good on Windows Phone devices, and the Odyssey is no different. The media player is a solid piece of software that syncs with iTunes, Windows 8, and older Windows desktop systems with ease.
Video is another story. Windows Phone 8 will not work with iTunes movies, and the XBox Store doesn't offer video content. Your best choice for renting movies is to use the Netflix application, which is a third-party service that you need to download yourself.
The Odyssey doesn't ship with YouTube, Samsung's MediaHub, nor any other media apps. You're on your own to find them in the Windows Phone Store.
Camera
The camera application within WP8 is decent, but not as feature rich as what Samsung offers on its Android phones; not by a long shot. The good news is, it launches quickly with a press of the dedicated camera button, even when the device is asleep. If you want to take pictures in a hurry, press the camera button quickly and it will snap a shot without focusing. If you want to take more time and assure that the photos is in focus, use the two-stage button or the touch-to-focus feature. Either works just fine. The Odyssey focuses fairly quickly.
Of course, the camera app in WP8 supports third-party "Lenses" for applying certain effects to photos. The Odyssey only ships with two lenses: Bing Search (used for scanning barcodes in stores for product details) and CNN's iReport. More are available in the Windows Phone Store.
There are plenty of settings available in the software for tweaking the behavior of the camera, such as setting the resolution, white balance, etc.
Photos
The Odyssey's 5-megapixel shooter captures average images. Some were good, some were OK, some were bad. My biggest complaint is exposure. It tended to blow out whites a lot, while leaving dark regions underexposed. Pictures also showed more grain than I'd care to see. Focus was often soft, as well. It is a passable camera at best.
Video
The video camera produces much better results. The exposure and grain problems go away, and focus is improved as well. It shoots at a max resolution of 1080p HD, and I was overall pleased with my footage. I wouldn't use it for important events, but when you want to catch a spur-of-the-moment clip, it suffices.
Picture Hub
The Pictures Hub is all about the community experience. It lets you easily upload images to Facebook, SkyDrive (Microsoft's photo upload service), Flickr, or send them along via MMS or email.
The native gallery app only offers a few editing tools, which are limited to crop, rotate, and "auto-enhance." All this does is fix exposure, white balance, color, etc. The Odyssey also comes with Samsung's Photo Editor app for those who like to spend time touching up their photos before sharing them. This separate app is a rich photo editor with a vast set of features that include crop, rotate, fix brightness, fix contrast, fix color, etc.
Apps
There are plenty of apps available to Windows Phone handsets in the Windows Phone Store. The Odyssey ships with a number of Verizon Wireless apps, such as My Verizon Mobile, NFL Mobile (which works really well), VZ Navigator, and Data Sense. This last one is my favorite, as it provides a real-time look at your monthly data usage and can be pinned to the Start screen. All of the Verizon apps can be deleted if you want to get rid of them.
Bluetooth
The Odyssey paired easily with other Bluetooth devices, including mono and stereo headsets, and other computers. I thought phone calls routed through Bluetooth headsets sounded very good. Music also sounded great when sent to Bluetooth speakers.
Browser
Internet Explorer 10 is a solid browser for WP8 handsets, though the Android and iOS browsers have more features. On the Odyssey, IE10 worked perfectly. It was quick to render web sites and the tools include support for multiple tabs and pinning specific web pages to the home screen. The one problem is the screen, which sucks. Looking at web sites on the Odyssey's crummy display is no fun, and small text is illegible.
Clock
As with most smartphone platforms, the Odyssey has a nice digital clock on the lock screen, It also displays the day of the week and the date. I wish the clock were bigger — or at least customizable — but it is not. Thanks to the bright display, it's pretty easy to see outdoors.
GPS
The GPS radio in the Odyssey met my expectations. It pinpointed me quickly and accurately no matter where I was. All Windows Phones now use the Nokia-made mapping product, which easily rivals Google Maps on Android handsets in terms of features and performance. My favorite feature is that you can download individual US states or other countries directly to the phone. They are then fully accessible when the device is offline. Downloading the maps also makes the GPS and Maps app perform faster because it doesn't need to talk to a server across the network.
The Odyssey also ships with VZ Navigator. Verizon's app behaves similar to the Android version, but is far outclassed by the native mapping product on the Odyssey. Feel free to waste $10 per month on VZ Navigator, but you'd be doing yourself a disservice.
Kids Corner
Kids Corner is a new feature in WP8 that lets parents cordon off a special area of the phone for their kids. Basically, parents put the phone into a mode that only lets kids access certain apps and features, such as cameras and games. It's meant to prevent kids from wiping their parents' phone or emailing pictures to their entire inbox.
Wallet
WP8 also has a Wallet app that can store credit/debit cards, loyalty cards, membership cards and so on, and works well with Bing to let you know what's around when it comes time to shop. These cards of course integrate with NFC and Isis. Right now, however, it is pretty limited to credit/debit cards, PayPal, and loyalty cards. It does not support boarding passess or Starbucks cards, for example.
Wrap-Up
I have mixed feelings about the Samsung ATIV Odyssey. The hardware functions fine, even if the design is a bit boring. The signal performance and call quality are quite good, as is battery life. The Microsoft operating system is fine, and the apps all work as they should.
The crummy display, questionable processor performance, and so-so camera concern me, though. The display alone would make me avoid the Odyssey. I couldn't stand to look at it for several days. The thought of being stuck with it for two years is flat-out depressing. The Odyssey is also the first Windows Phone I've seen stutter and stall. That can't be a good sign.
At just $50, there's no question the Odyssey offers a good value, but the Nokia Lumia 822 costs the same and performs better across the board. In the end, I'd only recommend the ATIV Odyssey to die-hard Samsung fans who prefer form over function.
No messages