Geeksphone Intros Firefox OS Developer Phones
Article Comments 5
Jan 22, 2013, 8:39 AM by Eric M. Zeman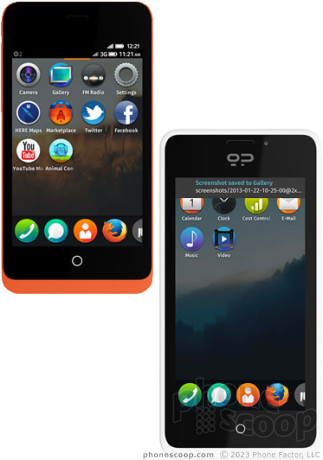 Geeksphone today announced two preview devices for Mozilla's Firefox operating system that are meant chiefly for application developers. The devices, called the Keon and the Peak, run the latest version of Firefox OS (previously known to as Boot-to-Gecko). Firefox OS is an open mobile platform based on Linux and HTML5. It uses web standards to run apps in lieu of a traditional operating system. Mozilla is giving Firefox OS to carriers and handset makers for free as a low-cost alternative to mainstream smartphone platforms.
Keon: The Keon is what Geeksphone calls "all you need to begin." It has entry-level specs, such as a 3.5-inch HVGA display, 1GHz Snapdragon S1 processor with 512MB of RAM, and 4GB of built-in storage. It has a 3-megapixel camera and supports microSD cards, Wi-Fi, and GPS.
Peak: The Peak is more of a mid-range device and features a 4.3-inch qHD IPS display, dual-core 1.2GHz Snapdragon S4 processor with 512MB of RAM, and 4GB of built-in storage. It has an 8-megapixel main camera and a 2-megapixel user-facing camera, in addition to support for microSD cards, Wi-Fi, and GPS.
The devices will receive over-the-air updates so developers will always be working with the latest version of the operating system. Pricing for the devices has not been revealed, but they will be available directly from Geeksphone beginning next month. Mozilla has won support from a number of companies for Firefox OS. Both ZTE and Alcatel have committed to launching Firefox OS devices early this year, and Sprint said it would be interested in selling Firefox OS-based devices when they become available.
...
I personally thought the Ubuntu phone was more interesting. Not sure if the market has a place for this, but only time will tell.
Sprint must hate windows
They jump on these developer devices and out-front state that if these were widely available they'll sell them, but a proven, stable, high-quality OS like windows phone they look down upon?

For shame
How is it a shame? No one wants to buy a Windows phone. They're gawdy. Proven? Phonescoop just linked an article a few weeks ago stating Google won't even bother making apps for it (www.phonescoop.com/articles/article.php?a=11 642 ), because no one's u...
(continues)