Review: HTC One VX for AT&T
Article Comments
Jan 14, 2013, 6:58 PM by Eric M. Zeman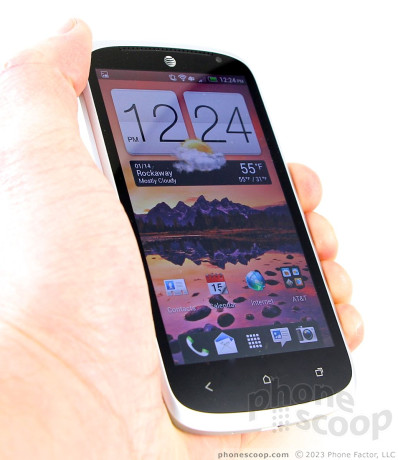 AT&T's latest Android smartphone from HTC is the One VX, a mid-range device that slips into the lineup below HTC's capable One X. This mid-range model is no slouch, however, and carries its weight and then some.
Advertisements article continues below...
Form
Is It Your Type?
The HTC One VX is a smaller, more affordable sibling to the One X for AT&T's network. It dials down the quality a bit, but still manages to offer a lot compared to other phones in this segment.
Body
The HTC One VX is unmistakably from our friends in Taiwan. It fits right in with the current design language being used by HTC with its curves, lines, and overall appearance. It's also unmistakably a mid-market phone, and eschews some of the finer materials and elements seen in HTC's higher-end handsets.
In general, the VX is an attractive phone. It makes good use of white, black, and metallic accents to define the different surfaces. There are plenty of rounded corners and flowing curves that give it a fluid look. The materials and manufacture, however, are not nearly as good as I would like them to be.
The glass panel that makes up most of the front face and display feels fine. The metal-colored band that runs around the outer edges of the VX is really plastic made to look like metal. (HTC has used aluminum in past devices, which would have boosted the feel and quality.) I don't like the feel of this plastic outer band. The seam where it joins the display panel is not comfortable against the skin and the seam where it joins the battery cover is not even. Further, the materials that are used in the battery cover are cheaper than the polycarbonates that make up the HTC One X's shell, for example. It's not falling apart, but it could have been made with finer materials and put together a bit tighter.
Feel of the materials aside, the VX is light and slim. It has a comfortable size, and slips into pockets with no problem at all.
The display takes up perhaps 70% of the front surface. There's a bezel around it that is a wee bit bigger than I'd like to see. There's a generous space below the display for three capacitive buttons (back, home, multitask). These buttons have a hair trigger and provide light haptic feedback when pressed.
The physical buttons for the VX are among the worst I've seen on an HTC device. The screen lock button, which is on top, is flush with the surface. This makes it impossible to find. Worse, the travel and feedback are miserable. This is a vital button that HTC continually screws up. The volume toggle, which is on the right edge of the VX, is only marginally better. It is easier to find, but travel and feedback are minimal. There is no dedicated camera button. The headphone jack is on the top and the microUSB port is on the bottom.
The VX has a removable back cover, but not a removable battery. Instead, removing the back cover allows access to the SIM card and microSD card slots.
At the end of the day, the VX feels exactly as a $50 phone should.
Performance
Screen
The VX has a 4.5-inch LCD panel that offers qHD resolution (960 x 540 pixels.) The resolution and size together mean the screen looks very good, though it falls just short of great. I was easily able to make out individual pixels when I held the device about 9 inches from my eyes. I wish it rendered sharper edges on text, pictures, and icons. It's plenty bright, however, and I had no trouble using it under the bright desert sky in Las Vegas.
Signal
The VX does a fine job of attaching itself to AT&T's network. I was able to test it in NJ and in Las Vegas and had no trouble with it in any location. When LTE was available, the VX was quick to lock on. It transitioned seamlessly to HSPA+ when LTE was not available. The phone connected most calls right away, through it dropped a few in the (very busy) Las Vegas Convention Center. Data speeds were good all around, and LTE, in particular, worked very well in Las Vegas, despite the added presence of 150,000 conventioneers.
Sound
Phone calls sounded quite good. I was pleased with both the quality and volume coming from the VX's earpiece. Calls had a crisp and clean sound that was free of interference. The volume, when set all the way up, is good enough for all but the loudest environments. The speakerphone also had good quality and solid volume performance. I have no complaints whatsoever. Ringers and alert tones were all loud enough to alert me when I needed them to. The vibrate alert has plenty of buzz to it.
Battery
The VX's non-removable battery holds 1810 mAh. It's enough to last an entire day most of the time. It routinely lasted from 7am to 10pm with heavy use under LTE coverage. (Battery life of LTE 4G phones has come a long way since 2011!) No single app or service appeared to have a negative effect on the battery. I wish it would have lasted until 11pm or Midnight, but 15 hours may be good enough most of the time. You'll need to charge it every night.
Basics
Menus
The VX runs Android 4.0.4 Ice Cream Sandwich (no Jelly Bean???) with HTC Sense 4+. The system software and user interface are similar to those of the other HTC phones released this year.
The lock screen on the VX offers a handful of customizable shortcuts. The defaults are phone, mail, messages, and camera, but you can adjust these. One useful lock screen feature is that you can have a camera shortcut and a passcode at the same time. You can also set notifications (email, calendar, SMS messages) to appear on the lock screen.
The drop-down notification shade collects incoming alerts as always. Access to the full settings menu is available from the notification shade, but access to on/off toggles for the radios has been removed from the notification shade.
Apps in the app menu are laid out in a grid in stock Android fashion. The main app listings can be customized however you wish, and that ranges from alphabetical grids to custom grids to alphabetical lists, and so on.
Sense 4+ means you have plenty of customization options. There are different scenes (user profiles) that can be applied. Each of the profiles can be given a different skin. And even the skins can be given their own wallpapers, and so on. Trust me when I say the VX gives you lots of room for personalization.
As for performance, the VX has a dual-core Qualcomm Snapdragon processor on board. Each core runs at 1.2GHz. Nothing I threw at it slowed it down. It's quick at everything.
Calls
HTC uses the same old calling and contact skins it has used forever with its Sense phones. I'm actually disappointed that HTC hasn't done much to update these functions.
The phone app itself offers the basics, including speakerphone, Bluetooth, and access to other apps such as the contact list.
Perhaps the best part of HTC's customizations to the phone software are the gesture-based actions. For example, if the phone rings, you can turn it over to silence the ringer. Or, if you pick it up, the ringer won't silence completely, but will drop significantly in volume. You can also set the VX to recognize when it's in your pocket (it senses darkness) so that it will automatically vibrate as well as ring. Lastly, the VX can automatically switch to the speakerphone when flipped over during a call.
As for contacts and calling widgets, they are plentiful. You can set direct dial shortcuts to the home screen, and there are three different styles of widgets for your favorite set of contacts.
Messaging
The VX doesn't differ much from other Android phones in the messaging department. The individual messaging tools include Gmail, email, SMS, Google Talk, Google+ and Google+ Messenger. Google Voice is conspicuously absent. These are all fine applications that continue to be useful for composing all sorts of messages. The VX also includes AT&T's social messaging application, which houses Facebook IMs, SMS, and Twitter DMs all in one spot.
In terms of social networking, the VX offers integration with Twitter and Facebook within the OS. Sign into your social networking account and you can do things such as share photos, or messages from inside other applications more easily. The separate Facebook app is preloaded on the VX, but the official Twitter app must be downloaded from the Google Play Store.
Extras
Media
The VX offers the stock Android media options, which include the Google Play Store and separate Google Music and Google Video apps, and YouTube. There is also the age-old Android MP3 player app. All of these Google media apps work well.
If you're looking for extras, the VX has an FM radio, SoundHound, TuneIn Music, AT&T LiveTV, and HTC Watch. HTC Watch is HTC's movie rental store. The selection between HTC Watch and Google Play is about the same, as are the prices.
Music sounded good and video looked good on the VX. I was pleased with the quality of music, in particular, thanks to the Beats Audio integration.
Camera
The VX's camera is not as fast as the Droid DNA or One X, but it's still very quick, especially for a mid-range model. We can probably thank the dedicated ImageChip for its speed. There's no physical camera/shutter button, so you have to take care of everything from the display.
The camera app uses the entire display as the viewfinder and reduces clutter to a minimum. Small icons, clustered against the left edge of the display, can be used to quickly adjust items such as the flash or for accessing the entire settings menu.
The VX provides tons of tools to make picture (and video) taking a finely-tuned experience. Some of the stand-out features include continuous shooting, auto smile capture, and easy HDR and panorama modes. As with all One-series phones, you can shoot still images while recording video.
Photos
The VX's camera can capture images up to 5 megapixels. For a mid-range model, it does just fine. The more discerning photographer might be a bit disappointed, though. Focus was a bit soft in the majority of images I captured. Many had an overabundance of grain, too. White balance and exposure were generally correct, however. For the majority of people, the pictures will look just like what they are: images taken with a cameraphone.
Video
The VX's video camera is more forgiving and produces better results than the still camera. Focus was better, and I noticed less grain, while exposure and white balance were about the same. It does fine as an HD video camera in a pinch, though it doesn't match the results achievable from today's best devices.
Gallery
The VX makes few changes to the stock Android 4.0 gallery app. The gallery collects photos based on where they are stored, such a your Picasa or Facebook account, as well as those on the phone itself. The tools let you sort through and organize photos, see them on a map, as well as share them with various social networks.
I am most disappointed by the editing features. You can crop and rotate images, and apply effects/filters. You can't fix red eye or alter exposure, contrast, and brightness. There are a lot of filters, but that makes the gallery app feel more like Instagram than anything else.
There's also a basic Movie Editor app that lets you trim or piece together video clips, if you're so inclined.
Apps
As per usual, most of the AT&T-branded services are on board, such as Navigator, TV, MyAccount, etc. Most of these cannot be deleted, but they can be "deactivated." Deactivated apps no longer appear in the main app menu, but still reside in the phone's storage.
Bluetooth
The VX's Bluetooth radio works perfectly. It paired with every device I could find. Phone calls, in particular, sounded excellent when sent through my car's speaker. Music sounded very good when sent to stereo Bluetooth headphones. I had no issues pushing files back and forth, either.
Browser
The VX ships with the older stock Android browser. There are plenty of alternatives available in the Google Play Store. The installed browser works well, and delivers web sites in a blink thanks to AT&T's speedy LTE network. The browser's controls are easy to master, and it even supports advanced features such as Incognito Mode (for keeping your web history private.)
Clock
The lock screen clock is the same old white digital clock at the top of the screen like on every other HTC handset. It can be hard to read in bright sunlight. The only way to change this is to pick one of the lock screen set-ups that prioritizes the clock. (There are 8 different lock screens, each of which prioritizes a different function: messages, weather, stocks, etc.). If you choose the clock lock screen, you can pick from about a dozen specific clocks.
GPS
The GPS worked flawlessly. The VX's GPS radio was able to lock on my position in less than 10 seconds, and was accurate to within about 10 feet, Paired with Google Maps or AT&T Navigator, it makes the VX a fine navigation tool.
Wrap-Up
The HTC One VX brings a lot to the table for its $50 price tag. While I wish the hardware felt and functioned a wee bit better, I can't ding HTC too much for picking cheaper plastics in this price class. The fine performance of the Android operating system and many applications contained therein make the VX an excellent vehicle for checking email, staying in touch with social networks, and perhaps even getting some work done. It has as many entertainment options as any other modern smartphone, and the camera does a decent job for this class of device.
If you're on a budget, the HTC VX delivers plenty of performance.
No messages