Samsung Debuts the Galaxy Grand with 5-Inch Screen
Article Comments 8
Dec 18, 2012, 8:49 AM by Eric M. Zeman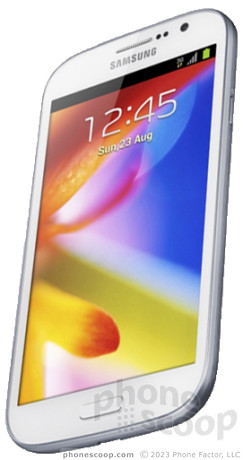 Samsung today announced the Galaxy Grand, a new Android smartphone that has a 5-inch display. Unlike the Galaxy Note II or Galaxy S III, both of which have 720p HD displays, the Grand's screen has a lower resolution of 800 x 480 pixels. The Grand has a dual-core 1.2GHz processor, an 8-megapixel camera with 1080p HD video capture, 2-megapixel user-facing camera, as well as Wi-Fi, Bluetooth 4.0, and GPS. The Grand comes in several wireless variants, including one that supports HSPA+ at 21Mbps in the 850/1900/2100MHz bands, which makes it compatible with AT&T's 3G network. One version has two SIM card slots and supports two numbers. The Grand includes 8GB of onboard storage and supports microSD cards. Samsung did not say when or where the Galaxy Grand would go on sale, nor how much it will cost. No U.S. carriers have announced plans to carry it.
Maybe not for the US :(
This one is most likely going to other markets.
Some people appreciate real state in trade of resolution. Might not be the sharpest display but has enough room to do a lot of things with it.
According to the specs the phone mustn't be so expensive, so, many people in other markets where carrier subsidies are not good enough to allow common people to get a top of the line smart-phone but would make good use of a big screened device for his/her work would be interested on acquiring such device.
It wouldn't be too appealing to most people in the US though, because most users look for a good device to consume media.
Yeah I don't see it coming to the U.S. It just doesn't make any sense anyway especially with the Galaxy S IV on the horizon. The price on the III would be low enough at that point.
Yes off course, you are right but the target market is available in USA also, it may be take some month to lauch in USA at lower level of Carrier.
New Galaxy
Really great device S III have already creat a unique space in the globe, hope this is also a great one. 🤭
I'm not sure you could consider this "great" (depending on your metric, I suppose). Everything I've seen about this device points to it being a decent but mostly just mediocre mid-range smartphone. It is, however, the BIGGEST (screen-wise) mediocre ...
(continues)