Review: Android 4.2 Jelly Bean
Intro New Changed Tweaked The Rest Wrap-Up Comments 6
Nov 29, 2012, 11:05 AM by Eric M. Zeman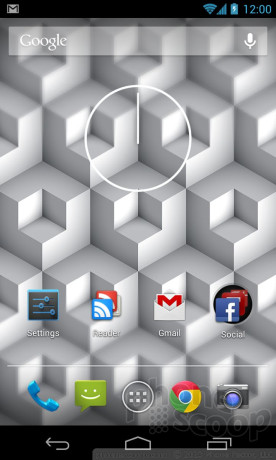 Android 4.2 Jelly Bean builds on the foundation set by Android 4.1. The list of new features in Android 4.2 may not be all that long, but there are plenty of under-the-hood tweaks that make Jelly Bean — and Android — better than ever.
Advertisements article continues below...
Google has refreshed its Android operating system twice this year. First, it unveiled Android 4.1 in June, and later, Android 4.2 in October. Both use the same Jelly Bean name. The June update was a significant refresh that added a number of new features, most notably "Project Butter" for speeding up the overall performance of the platform and Google Now for voice searches and other, personalized information. The October update further tweaked the Jelly Bean code and introduced several new capabilities. This review provides a detailed look at Android 4.2 in particular, with some discussion about Android 4.1 for the sake of being thorough.
Core
Android Jelly Bean use the same basic appearance that Google brought to Android 4.0 Ice Cream Sandwich (ICS). There's been little in the way of a visual refresh of Android since ICS debuted in October 2011, which uses Google's "Holo" theme. There are some minor navigation changes to the way the lock screen works and the way the drop-down notification shade works. We'll cover those in depth later in the review.
As on all Android devices, there are user-customizable home screen panels in Jelly Bean that can be loaded with widgets, shortcuts, and other content. Jelly Bean adds a few more widgets, but leaves the overall architecture of the platform alone. There are four app shortcuts at the bottom of the home screen and a fifth that opens the main app menu. These home screen shortcuts can be customized with ease.
The main app menu is the same as it ever was. It includes a grid of icons that are laid out in alphabetical order. Unlike devices that have been customized by hardware makers or carriers, you can't adjust the main app menu in stock Jelly Bean. It is stuck in an alphabetical grid. That's kind of a bummer. You can, however pull apps out of the main app menu and install them on the home screens as individual shortcuts or within folders. The folders let you organize apps on the home screens into groups, such as games or media apps, for example. The behavior makes Jelly Bean look and feel a bit more like Apple's iOS. New apps that are downloaded from the Play Store are added to both the main app menu and the home screen. This feature can be turned off, however.
There are dozens of widgets preinstalled in Jelly Bean, and apps of course add their own as you download and install them from the Play Store.
Android 4.x uses just three buttons for interacting with the operating system. (Previous versions of Android were designed around four buttons.) The new standard buttons are: back, home, and multitask. The first two are self-explanatory. The multitasking button summons a vertical list of all the recent apps complete with miniature views of those apps in action. Simply scroll through the list to find the app you want to go back to, and there you go. The three buttons are Google's preferred behavior for Android, but some hardware makers may choose to use different configurations of dedicated physical or capacitive buttons below the screen, as well as software buttons on the display itself.
Stock Android 4.2 - which is only available to Nexus-branded devices - remains a slick and quick operating system, but some of the new elements fumble the usability factor here and there.
re: Is Blue Tooth fixed yet
😳
Any one know if 4.2 fixes the horrible sound quality of phone calls via Bluetooth that came with 4.1?
The only bad thing about 4.2
Is the bug that slows performance, after I update my Nexus 7 to 4.2 it slowed down noticeable doing mundane task.
After searching the web I found that Google Current was to blame and I don't even use Current. But the auto sync setting has a bug that slows the device down, just unchecking the auto sync fixed it. It just took a week to find the bug but it was a week to long and had me fustrated.
Shortcuts automatically added to desktop
"New apps that are downloaded from the Play Store are added to both the main app menu and the home screen. This feature can be turned off, however."

FYI, this is turned off in the settings within the Play Store app, not the Android OS settings.
Woot!!
Is it wrong, that I get wood when I read about another Android update? 👀
it would be wrong if you didnt. 🤨
It really all depends where you're placing your wood. People wouldn't be able to "connect" with the idea that you tried to dock it with a USB port because that would be so wrong.

John B.