Hands-On: HTC Desire C for Cricket Wireless
Article Comments 1
Nov 15, 2012, 6:53 PM by Eric M. Zeman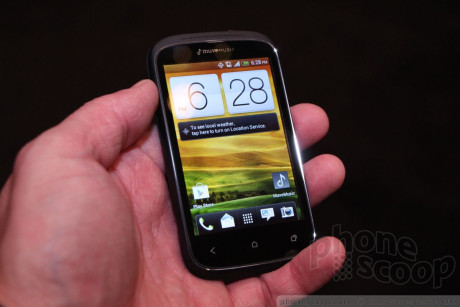 The HTC Desire C is a wee little smartphone for Cricket Wireless. This thing may be small in size, but it's still got plenty to offer. Here are our first impressions.
Advertisements article continues below...
The Desire C is the latest Android smartphone for Cricket Wireless. It basically takes everything we've seen from HTC in terms of design for the last year and squashes it down considerably. It's a cute little phone that surprises in many ways.
I was quite impressed with the quality and feel of the Desire C. It is a puckish phone that has a polycarbonate shell, just as some of its larger HTC brothers. The shell has a soft touch finish that gives it some grip. It has gently curved sides and really resembles a bar of soap in terms of shape. It is light and comfortable to hold. Though the length and width are diminutive, it is thicker than most other HTC devices. But it's not overly thick and still slips into a pocket easily.
There are no buttons on the left side. The volume toggle is on the right side, and is a thin strip. I found it had good travel and feedback. The same can be said for the screen lock button, which is on the top of the phone, near the headphone jack. The microUSB port is on the bottom. There is no dedicated camera button.
The display measures 3.5 inches and has HVGA resolution. For the size, it looks really good. Given the low price point of the device, you can't expect it to be dazzling. It's merely good for this class of device, and certainly beats some of its competitors.
The Desire C runs Android 4.0 Ice Cream Sandwich and the latest version of Sense from HTC. It looks, feels, and behaves just as most other HTC smartphones shipped this year. In the few moments I spent playing with it, I noticed that it was mostly quick and speedy, but I saw several hang-ups here and there. It is of course laden with Cricket's apps and services, such as Muve Music.
What's most impressive about this device is the price point. It costs just $180 and doesn't require a contract. Given all that it can do and how small and usable it is, I expect it to sell well.
May as well get the LTE device they just launched
It's a little larger, better specs, and has LTE... and for not much more $