Review: Nokia Lumia 920 for AT&T
Article Comments 5
Nov 13, 2012, 6:38 PM by Eric M. Zeman
updated Nov 14, 2012, 11:54 AM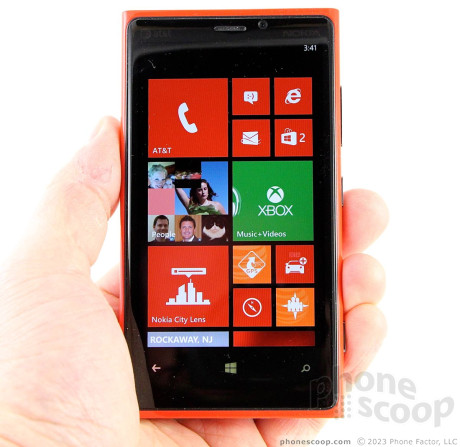 Nokia pushes all sorts of boundaries with the Lumia 920, its feature-laden flagship smartphone for AT&T. If the luminescent colors don't attract you, the big screen, LTE 4G, and dual-core performance might. Here is Phone Scoop's full review.
Advertisements article continues below...
Form
Is It Your Type?
The Lumia 920 is Nokia's latest flagship superphone. This mega-phone for AT&T crams every feature possible — LTE, PureView camera, dual-core processor, NFC, and more — into its polycarbonate shell. It runs Microsoft's Windows Phone 8 platform, and offers a wide selection of Lumia-exclusive apps and content.
Body
The Lumia 920 carries forward the design language used first by the Nokia N9 and later the Lumia 800 and Lumia 900. It is formed from a polycarbonate shell that comes in various colors and has a distinct look. It's bigger and much heavier than the 900, though it's not pushing the same dimensions as the Samsung Galaxy Note II.
In general, I like the design of the Lumia 920 (and the 800/900 before it). It has its own look that makes it stand apart from the boring black-slab crowd. The colors certainly help, and though "polycarbonate" is really just a fancy name for plastic, the hard shell that forms the 920's shape has a good feel to it. The curved back surface and rounded edges are really comfortable to hold and grip.
It's important to note that the colors have their own textures. The red, white, and yellow versions all have smooth, glossy finishes to them. The cyan and black versions have a matte finish. The matte finish sticks better in the hand, but the glossy version slips into your jeans better.
There's no denying that the 920 is massive. It's taller and wider than the 900, though a wee bit thinner. The difference in the weight, however, is beyond ridiculous. Where the Lumia 900 weighed 5.6 ounces, the 920 weighs 6.53 ounces. The 920 is even heavier than the much-larger Note II. By comparison, HTC's Windows Phone 8X weighs 4.59 ounces. You feel the weight in your hand, in your pocket, in your coat: dang the 920 is a heavy, heavy phone.
Whichever color you pick, 90% of the front is the black display and surrounding bezel. The 920 has three capacitive buttons for the standard Back, Home, and Bing (search) functions. Nokia made a key improvement to the display when compared to the 900. The 900's display had a raised edge that was uncomfortable. That edge has been smoothed down, and the seam between the glass and the polycarbonate is so tight you can barely feel it. This makes a huge difference in how comfortable the 920 is to hold.
All of the 920's physical buttons are on the right edge. They're all colored black to match the display and stick out from the side of the phone the perfect amount. The volume toggle is closest to the top, followed by the screen lock in the middle, and the dedicated camera button closest to the bottom. All three buttons have absolutely perfect travel and feedback. There are no controls on the left edge at all. The microUSB port is on the bottom and the headphone jack is on the top.
In step with other modern smartphones, the Lumia 920's battery is built into the device and completely inaccessible. It is improved over the 900's battery (2,100mAh compared to 1,830mAh). If a removable battery is something you want, the 920 isn't for you.
The SIM card can only be removed with the help of a SIM card tool or small paper clip. The tray is housed in the top edge of the phone. The Lumia 920 does not have a user-accessible memory card slot, which is a bummer since WP8 now supports removable memory.
I like a lot about the 920's design, but I wish it were 20% thinner and 20% lighter.
Performance
Screen
The Lumia 920's display is the best yet from Nokia. It measures 4.5 inches across the diagonal and packs in 1280 x 768 pixels. Yup, that makes it an HD screen, baby! It also uses Nokia's ClearBlack technology, which is supposed to deepen the blacks and improve contrast. Images and text looked razor sharp to my eyes, and colors were bright and vibrant. There's no doubt in my mind that the 920's display is one of the "most viewable" when taken outdoors. I had no trouble using the 920 under a bright and sunny sky.
Signal
The 920 performed on par with other AT&T smartphones when it came time to talk to the network. On average, it showed the same number of bars that several other AT&T devices did during my tests. More importantly, it always worked when it came time to make calls and surf the web. I had no trouble connecting calls on the first dial, and the device never dropped any calls while I used it — no matter what the signal meter read. Browsing the web was consistently good, even when the 920 showed only a single bar of coverage. The 920 worked as well on AT&T's LTE network as it did on AT&T's HSPA+ network.
Sound
I was not all that impressed by the phone calls I made with the Lumia 920. The clarity of call was fine. There was absolutely no background noise to speak of, but voices sounded dull and bland. There was no warmth at all. Further, the earpiece stops short of being loud enough. Set to the maximum volume, I was barely able to hear my father when I spoke to him from a noisy roller rink (yes, gettin' my 1980s on.) This is one of those phones where you need to leave the earpiece volume set up all the way no matter what. The speakerphone was similarly dull and muted. The sound was just too flat and too quiet for my tastes. The speakerphone will work fine in a quiet space, but anywhere there's any sort of noise, you'll have a hard time hearing. I didn't have any trouble hearing ringtones, but the vibrate alert is anemic. I missed several calls thanks to bad vibrations.
Battery
The 920's battery did a fine job during the time I tested it. I never found myself without at least some power left at the end of the day. The larger battery and better power management tools built into the 920's processor really helped it surpass the 900 in day-to-day battery life — at least, while only under 3G coverage. Using the 920 in New York City with a constant LTE connection drained the battery in a hurry. As with most modern smartphones, you're going to need to charge it every night.
Basics
Menus
The 920 runs Windows Phone 8, the newest smartphone platform from Microsoft. We've already provided an in-depth look at all the major changes that arrived in Windows Phone 8 here. Here's a quick summary of what's new.
The biggest changes are reflected on the lock screen and the Start screen. The lock screen has customizable alerts that pop-up when the screen is locked. It's a big improvement over the earlier versions of Windows Phone. You can choose which alerts reach the lock screen and which don't, as well as pick which type of alerts are given priority.
The Start screen is more customizable than before. The Live Tiles can be resized in small, medium, and large variations, and of course the Tiles can be arranged however you wish. More apps support Live Tiles, which should make the Start screen even more dynamic.
The rest of the menus behave more or less the same as earlier versions of Windows Phone.
The Lumia 920 has the same Qualcomm Snapdragon S4 processor that many of today's top-shelf smartphones are using. It has two cores at 1.5GHz each. The 920 is without a doubt the fastest Windows Phone 8 device I've used. I surfed the Windows Phone Store and downloaded 10 apps in less than a minute. It's ridiculously fast all the time. Nothing I did with the 920 seemed to tax the processor at all.
Calls and Contacts
Nokia hasn't done anything to enhance or change the functions of the WP8 phone and contact applications. They are the same tools found on every other WP8 handset for sale.
The phone app itself is simple to use and offers a standard set of features, such as hold, mute, speakerphone, merge calls, and send to Bluetooth. It's easy to text or call a number stored in the call log, as well as add it to a contact.
The People Hub is as powerful as ever. It ties in users' Facebook, LinkedIn, and Twitter profile data, as well as their basic contact data. It's the most feature-rich contacts app out there, and provides consistent updates and notifications about those with whom you converse the most.
Messaging
The 920 doesn't have any messaging features that aren't also available to other WP8 devices. WP8 has a solid email client, SMS/MMS, IM, apps. Social networking is baked into the platform, as well. I find the email program to be quick and useful and the social networking to be particularly good. I like the People Hub and Photo Hub, each of which draws in your Facebook friends' activities and photos.
The SMS app also works as a Windows Live IM app and a Facebook Messenger app. They are all three one and the same. The user interface is spartan, but offers just as many tools as competing platforms. It's a cinch to add photos, videos, or other content to outgoing messages. I particularly like that the Messaging app handles Facebook, too. It's quite convenient to have them all in the same place. It doesn't support AIM, GTalk, or Yahoo IM.
Separate Twitter and Facebook applications are available, and they are much more robust than before.
Perhaps the biggest change for messaging in WP8 will be Skype. It's available to WP8 in a preview mode right now, so it doesn't quite have all the new features yet. First, it ties into the device's native phonebook for dialing and messaging. It runs in the background, allowing for calls and messages to be received when you're off doing other things. Most importantly, it will eventually merge the Windows Live Messenger service with Skype messaging. Microsoft hasn't said when this merge will be finalized, but Skype will replace Windows Live for IM services on WP8 devices in the months to come.
I think the Skype software is still a bit vacuous in design, but it does what it advertises: provides free Skype-to-Skype calls and cheap Skype-to-international calls.
Extras
Media
Microsoft's XBox Hub and associated services are the, er, hub, for all things to do with entertainment. That's where the platform stores all your tunes, videos, games, and other media. The Hub is expansive. It not only includes the software used to playback your media, but also storefronts through which you can purchase/rent more. I've always liked the media playback features of Windows Phone. You'll need to use desktop software to sync your music to the device, though.
The Lumia 920 also includes Nokia Music, something unique to Nokia's phones. Nokia Music is an entirely separate music service from Microsoft's XBox. The service has its own store through which tracks and albums can be purchased, and offers streamed radio stations, personalized recommendations and so on. My favorite feature is called "Gigs." You can guess what it does. It uses the device's location data to offer up a list of local concerts and/or performances. It's very accurate, and even listed the concert I'm planning to attend later this week. You can purchase tickets to most events through a third-party service called Softkick.
Then there's the AT&T-branded stuff. AT&T's Live TV service and AT&T Radio service are both on board. These two standard apps stream content over the network to your device if you so wish. Given the rich(er) features of the XBox Hub and Nokia Music apps, I don't know why you'd bother with these other than that they provide access to local news and channels and the others don't.
How did music sound? Great. I really enjoyed listening to tunes through my favorite headphones. Movies looked good on the 920's luscious display.
Camera
The camera application itself doesn't behave any differently than other Windows Phone 8 devices. It launches quickly with a long press of the dedicated button and is a snap to use for taking pictures. It's fast and the software doesn't get in the way of what matters: capturing good photos.
The big feature update for the WP8 camera is of course support for lenses, which are third-party plug-in apps that do interesting things with the camera. Nokia offers several of its own lenses, which are not available to other WP8 devices. Some of them include Panorama, Smart Shot, and Cinemagraph. These all need to be downloaded separately; they don't come pre-installed (though there is a link in the camera app that takes you right to the Lenses section of the Windows Phone Store).
The Smart Shot feature is specifically for creating group shots in which everyone is smiling and everyone's eyes are open (c'mon, we all have that annoying aunt or cousin who blinks in every picture). Basically it takes several pictures, analyzes them quickly, and automagically pastes together one photo that's all pearly whites.
Cinemagraph is by far my favorite. It essentially lets you create animated GIFs directly on your phone. Let's say you take a picture of your kid waving their hand. Using the Cinemagraph app you can choose to animate their hand so rather than having a static image with a burry hand, you have an actual picture of them "waving" their hand, compete with real motion. It's a freaky fun time, this feature.
Photos
The Lumia 920's 8-megapixel "PureView" camera did a fine job most of the time. I shot a number of pictures in a darkened roller rink, and the majority of them turned out in focus, well exposed, and free from annoying grain. Other shots I took of regular, household items were razor sharp, showed excellent exposure, and had impressive color. Even so, I saw some white balance problems from time-to-time, particularly when the flash was involved. Usually white balance takes care of itself when the flash fires, but that's not how it worked out with the 920.
For the most part, however, you're going to like what you see.
Video
The 1080p HD video that I shot in the same dark roller rink looked fantastic. The 920's sensor does a really good job in low-light situations. I was also impressed with video I shot under bright sun and even gray skies. It all looked good, clean, and free of artifacts, noise, or distracting problems.
Picture Hub
The Pictures Hub is all about the community experience. It lets you easily upload images to Facebook, SkyDrive (Microsoft's photo upload service), Flickr, or send them along via MMS or email. Microsoft wants users of Windows Phones to share and share alike.
The native gallery app only offers a few editing tools, which are limited to crop, rotate, and "auto-enhance." All this does is fix exposure, white balance, color, etc. The 920 also includes Nokia's Creative Studio. The Creative Studio app, which can be opened from within the Pictures Hub, is sort of like Instagram in that it lets users apply various filters and effects to change the tone/appearance of their photos.
Apps
Microsoft boasts that the Windows Phone Store is home to more than 125,000 apps. The most important thing you need to know is this: Older apps written for WP7/WP7.5 will run on Windows Phone 8 — but not vice versa. If you're buying the 920, you don't have to worry about app compatibility. They will all work. There are a half dozen AT&T-branded apps on board (Family Locator, MyAT&T, AT&T Radio, etc.), but they can all be deleted if you wish. Then there's Nokia-specific stuff such as the ESPN Hub, which is a killer app for sports-lovers.
Bluetooth
The 920 supports the typical set of Bluetooth profiles, such as stereo Bluetooth, object push, and phone book access. The 920 paired easily with other Bluetooth devices, including mono and stereo headsets, and other computers. I thought phone calls routed through Bluetooth headsets sounded pretty poor. The quality was bad enough through my car's hands-free system that I needed to cut the call short. Music sounded fine when sent to Bluetooth speakers.
Browser
The new Internet Explorer 10 browser is a significant step up from IE9. Full details about the new browser are available in Phone Scoop's full review of Windows Phone 8. In sum, it has more features, is better at rendering web pages, and absolutely flies on the 920 thanks to the speedy processor and LTE data. I still think the Android and iOS browsers are a bit more feature rich (for example, syncing tabs across devices), but IE10 will surely make fans of Windows Phone happy. What's more, the 920's large, pixel-rich display makes web sites look great.
Clock
As with most smartphone platforms, the 920 has a nice digital clock on the lock screen, It also displays the day of the week and the date. I wish the clock were bigger — or at least customizable — but it is not. Thanks to the bright display, it's pretty easy to see outdoors.
GPS
My favorite feature of Nokia Maps (which is the new mapping product on Windows Phone devices) is that you can download individual US states or other countries directly to the phone. They are then fully accessible when the device is offline. Downloading the maps also makes the GPS and Maps app perform faster because it doesn't need to talk to a server across the network. Trust me when I say that Maps on Windows Phone is second to Google Maps, but just barely. It offers an incredible array of tools and functions for managing locations, sharing points of interest, and routing directions. It's all free.
The GPS radio itself performs flawlessly. It pinpointed me quickly and accurately no matter where I was.
Beyond basic mapping, the Lumia 920 has access to Nokia's full suite of location-enabled apps, such as Nokia Drive, Nokia Transit, and such. These are individual apps that perform specific function. Nokia Drive, obviously, plots point-to-point driving directions, while Nokia Transit helps manage mass transit route planning. They are each powerful and work as promised. I was able to use Nokia Transit to navigate the NYC subway system with no problem. I wish, however, that these were simply features of the larger Nokia Maps app and not separate applications.
Nokia City Lens
Nokia City Lens is an augmented reality application for finding stuff that's nearby. When you open it, City Lens turns on the camera. You pan the camera around and the app shows you what's nearby. For example, I used it in NYC for a little bit. As I panned around a street intersection, it accurately identified several close-by restaurants and shops. It is easy to pick one of the shops or restaurants to see more information and/or details about it. It's pretty cool. It even worked where I live in the sticks of NJ.
Wrap-Up
The Nokia Lumia 920 is, for the most part, a fantastic phone. It is an attractive and unique approach to smartphone hardware and still includes all the must-have features.
Things that stand out are the gorgeous display, blazing fast user interface, and impressive array of Nokia-developed applications. The media options are plentiful, the camera and video camera are powerful and immersive, and the performance on AT&T's data network is among the fastest I've seen in recent months.
The 920 falls short in at least a few categories, though. Battery life under LTE coverage is questionable, call quality was not that good, and the incredible weight of the 920 makes it cumbersome to carry around and use.
But as far as Windows Phones go, the Lumia 920 is almost as good as it gets.
Exclusivity...
I was really thinking of starting from scratch with a Windows Phone 8 device, coming from a T-Mobile G2 a few years ago. But I couldn't deal with switching from from T-Mobile to AT&T and paying so much more per month.

When the announcement that the off-contract Lumia 920 was $450, I was ecstatic, but that was short lived when it was confirm that AT&T would not offer unlock codes for the 920 for at least 6-months.

So I ended up buying a Nexus 4, and although it has an okay (rather than great) camera, it's buttery smooth and cost only $350 via Google Play. I may end up giving this Nexus 4 to my wife and pick-up a 920 next year, but only time will tell.

And no, I didn't care for the 810.
Quad Core?
Eric on phonescoop's main page it says something along the lines of it being a quad core phone. Its only a dual core processor. right?
Yes, dual-core. Too many phones makes my head spin...