Droid DNA Boasts 5-inch 1080p HP Display
Article Comments 52
Nov 13, 2012, 11:12 AM by Rich Brome @rbrome
updated Nov 13, 2012, 1:00 PM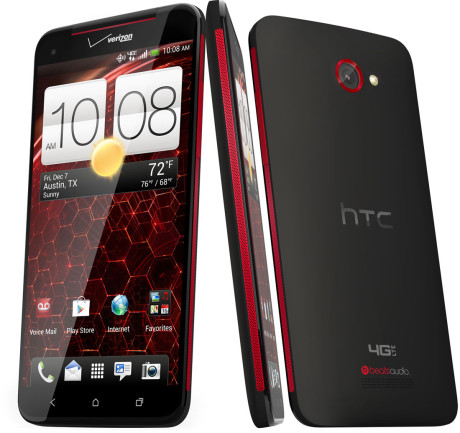 HTC and Verizon Wireless today announced the Droid DNA, a new flagship Android phone with the first full 1080p HD display in a phone for the US. The 5-inch display has 440 ppi pixel density. The phone sports a curved glass front and a unibody solid polycarbonate curved back with matte texture. Features of the DNA include the same 8-megapixel camera as the One X, plus HTC's ImageChip, supporting simultaneous photo and video capture. The 2.1-megapixel front camera has a wide-angle f/2.0 lens. The processor is a quad-core Qualcomm Snapdragon S4 Pro at 1,500 Mhz. It comes with 16 GB of fixed memory and a 2,020 mAh non-removable battery. Audio is powered by Beats, with dual amplifiers at 2.55-volts. The phone also includes wireless charging. The Droid DNA is available for pre-order today, shipping November 21 for $200 with contract.
source: HTC
Only 16GB Memory?
You would think with a beast of a phone sporting HD screen and extremely high MP Cameras in front and back, with the intent of taking HD movies, that there would be at least 32GB maybe even 64GB onboard memory for this device. If not, 16GB will cover it, if HTC included a Micro-SD Card slot for 64GB cards. Otherwise, this is just limiting the phone and its user. Which in my eyes is the only thing wrong wit the device, other than it being on Verizon and not Sprint, which is notorious for carrying HTC products more than Verizon.
With todays cloud services, 16GB should be enough. Maybe they were trying to keep additional costs down? Who knows. All I know is that I have a 47" LCD TV that is 1080p and it looks daaamn good. I can only imagine seeing that on the 5" screen this thi...
(continues)
rwalford79 said:
Which in my eyes is the only thing wrong wit the device, other than it being on Verizon and not Sprint, which is notorious for carrying HTC products more than Verizon.
As someone here on PS previou...
(continues)
Ask Verizon. HTC would gladly make a 64GB version of this with a memory card slot (trust me) but that's not what Verizon wanted.
And 1 serious problem....
That is 1 sexy looking beast! But alas, 16GB of storage with no SD card slot. #FAIL
Makes no sense that the Butterfly J does though.
HTC has been making a lot of stupid decisions lately, that isolate potential customers, that sway people towards the Galaxy S3, like the non-user accessible batteries & non expandable memory!
Really stupid decisions!
Dual amplifiers?
What kind of speakers are on this thing?
There's one amp for the speaker and one for the headphone jack. They're high-power amps. Many phones have just one low-power amp.
iPhone Killer!!!
If this phone came with expandable memory and was released all all 4 major carriers under the same name like the SIII has done. HTC has a gorgeous phone that is a beast that could become a dominant phone if it was available on all 4 carriers plus had expandable memory.
Why....
Why no SD slot or removable battery? Both are a big deal! You need a place to put things (SD) and I find my batteries deteriorate before phone contracts are up, so being able to replace it is important. This trend sucks!
I agree dude!!!

Hey, thank God for the Galaxy S3, I was nervous Samsung would follow this trend before the S3 was officially announced, but was greatly relieved that both the battery AND memory are expandable!

This line of thinking that HTC goe...
(continues)
The battery is in the middle of the device, between the display and the circuit board. That helps them make the back curved and the device volume smaller overall. So it can't be removable, but at least there's a genuine trade-off there.

As for the ...
(continues)
Wonder if at&t is getting any of these new 1080p phones?
Wonder if at&t is getting any of these new 1080p phones?
Muy grande!
I don't know. When is big too big? This is borderline phablet. 5"? Love the idea of 1080p though but will most apps be accommodating? There's apps on the iPhone 5 still show black bars. Developers are taking forever to update them.
But anyway I'd have to see this device in person and hold it with my hands.Then 16GB? Hmmm
What??????
1080p?!? i really want this now.. cant i get this with winodws 8. but yes agreed what idiot put a 16gb card in this... you can play blue ray quality video and you can hold what two videos on that? wow... I'd pay 100 more for a 64gb version and with other phones already breaking the $200 price barrier im shocked a phone with otherwise nice specs failed in this area. Really??????
A blu-ray video file that retains 1080P is going to run you at least 15GB..Avengers was 16GB for the MKV rip online.