Review: Windows Phone 8
Article Comments 10
Oct 29, 2012, 1:23 PM by Eric M. Zeman @zeman_e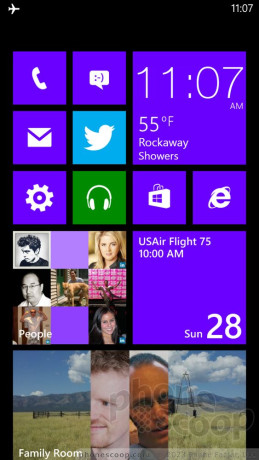 It's finally here, the mobile operating system from Microsoft for which we've been waiting. Though Windows Phone 8 is surely familiar to anyone who's used Windows Phone 7 or 7.5, there are enough new features that even the most devoted Windows Phone user will find plenty of new gems to like.
AD article continues below...
Intro
Windows Phone 8 represents a major revision of Microsoft's mobile operating system. Though it looks and feels similar to Windows Phone 7 and Windows Phone 7.5, the underlying code is entirely different and shares the bulk of its code base with the also-new desktop Windows 8 and tablet Windows RT platforms. It represents years of work on Microsoft's part aligning the three so that it has a cohesive platform strategy moving forward.
According to Microsoft, it chose this path to make it easier for developers to create applications for all three platforms. Microsoft representative Greg Sullivan explained that about 90% of the APIs for the Windows 8 kernel are applicable to all three variations. This means that if developers want to make a Win8 app, and then port it to RT or Windows Phone 8, they only need to change about 10% of the code. This might seem overly geeky, but it will play a huge role down the road for Windows 8, Windows RT, and most importantly, Windows Phone 8 apps.
Core
The basic user interface of Windows Phone remains mostly unchanged, though the tweaks Microsoft made to the Start screen are very welcome. You still have a crossword puzzle of Live Tiles on the main home screen and then an alphabetized list of apps, tools, and so forth on the app menu.
The Live Tiles on the Start screen now fill the entire display edge-to-edge. On WP 7.x, Microsoft left a blank strip between the Tiles and the right edge of the display. That is gone, which means the standard Live Tiles are slightly bigger and content on them is easier to see.
This change also makes room for more, smaller Tiles. There are now three Live Tile sizes; small, medium, and large. It takes four of the smallest Tiles to equal one medium Tile, and (as before) two medium Tiles to equal one large Tile.
The best part of the new Live Tile arrangement is that they can all be resized. It takes just a few taps to change any Tile from small to medium to large and back again. There's a catch, though. The smallest tiles aren't really Live, or at least not to the extent of the medium and large Tiles. For example, if you minimize the messaging Tile to the smallest size, the only Live content you'll see is an unread message count. When this same Tile is set to medium or large, you'll see message previews, and so on.
The full app menu is basically identical to previous versions of Windows Phone. The three buttons below the display (Back, Home, Search) are the same, and have the same action that they've always had.
We tested Windows Phone 8 on a pre-production HTC 8X, and can report smooth operation of the user interface. It's a fast and fluid operating system.
What's New
It may look and feel nearly identical to WP7/7.5, but there are plenty of brand new features that really stand out.
Kids Corner
This Hub is meant for parents who often find themselves lending their smartphone to their children. The Kids Corner essentially lets parents put the device in a sort of kid mode, which grants access only to certain approved apps and features, and locks them out of others. The idea is to give parents peace of mind that their kid isn't going to accidentally delete their entire email inbox, wipe the phone, or send prank text messages to their boss.
For example, parents can allow their kids to access games, music, photos, and video content, but block them from email, messages, and the internet. In fact, kids using a WP8 device set to Kid Corner mode can't access any network-based services. Games or apps that require an internet connection will not work properly. That means no YouTube, no downloading apps/games, and no surfing the web.
Kids can access Kids Corner by swiping the lock screen to the left. Kids can customize Kids Corner to their own liking. That means setting up colors and themes, selecting wallpapers, and rearranging the Live Tiles on the Kids Corner home screen. In effect, Kids Corner is a completely separate chunk of the user interface. Kids Corner is a sectioned off part of the OS that looks and acts like the rest of the platform, but is governed strictly by parental controls and only has access to whichever apps/services the parents permit.
It's a neat idea, and also helps Microsoft pitch Windows Phone as a secure system to its business customers.
Company Hubs
Another change aimed at its business customers are Company Hubs. Company Hubs are miniature app stores that businesses can establish to control the apps and services that are on their corporate WP8 devices.
Let's say you're a Fortune 500 company and you have tens of thousands of employees. Rather than worrying about pushing device and app updates to thousands of devices from a complicated device management portal, the Company Hub serves as its own, micro Windows Phone App Store. Company apps and other services/information can be updated in the Company Hub and then disseminated to employees via the Hub.
Microsoft set up a fake corporate hub for WP8 reviewers to use. Through the Company Hub, I was able to download approved apps, access behind-the-firewall information, and so on.
It's a pretty straightforward idea that will please Microsoft's business customers.
Groups
Groups aren't entirely new, but have been updated significantly with respect to features and capabilities.
Microsoft expects Groups (pulled from your larger contact database) to be made up of people who you contact frequently or like to receive/see updates from regularly. You can create a group for work colleagues, one for your bowling league, and so on. When you open a group, you'll see all the emails, text messages, social network updates and such from those specific people. You can contact them all together, as well as peruse all their photos.
Of course, Microsoft also envisions that Groups will be a boon to business customers as well, which can set up groups for their employees. For example, the Windows Phone development team has its own Group for team communication. Groups are determined by individuals and there isn't any sort of permission involved to pool your contacts into Groups. Also, Groups now sync with your Microsoft account (Windows Live and/or Exchange), and will automatically populate groups you've set up in your corporate or personal address book.
I liked Groups and how they made managing certain types of communication easier. But Rooms are where it's really at.
Rooms
Rooms are a new addition to the People Hub that, in effect, let users create micro social networks. They allow WP8 users to segregate and share content with specific sets of people. Rooms are much more personal than Groups.
For example, say you and your three best college buddies whooped it up on a Friday night and maybe had a few too many drinks. Shenanigans ensued and some compromising images resulted. Rather than post the photos to Facebook or Twitter, where they'd be seen by too many people, you can create a Room with just a handful of people. Put the photos in your "College Buds" Room, and only they will be able to see them.
The Rooms also serve as places to hold group chats. For example, the fellas from The Verge, PCMag, Laptop Magazine, ZDNet, Engadget and I set up a "Room" of our own. We used the Room to share photos, send one another messages and location details, etc., while we all reviewed the operating system. It is actually a really useful feature when you want to communicate with just a few people at a time. Rooms also have shared notes and a shared calendar that can be accessed and updated by all the members.
Rooms support up to 25 people, and also pull in the recent emails and social networking status updates that you may have received from the people in the Room. The result is a miniature social network that feels more intimate and inclusive than Facebook and Twitter.
Each Room has an administrator who has to handle all the invites. Invitees have to accept the administrator's invite to join the group. Once joined, all members can contribute at any time. According to Microsoft, Groups and Rooms can accommodate iPhone users, but not Android users. This is accomplished via WebDAV and CalDAV. Microsoft said that these are compatible with iOS thanks to its Exchange support. However, Microsoft said that the Android platform is too scattered with too many versions for it to work properly.
I was able to set up and use Rooms with no trouble. Once a few guys were on board, it was a great place. We traded information about the OS, shared photos with one another, set-up a shared calendar for our day in San Francisco to attend the WP8 launch event, and did a whole lot of joking around. I think this is going to be a really popular feature with WP8 owners.
Major Changes
In addition to new features, Microsoft updated the behaviors of several components within Windows Phone 8. These major changes significantly boost the usefulness of existing features.
"For You"
Microsoft wants WP8 to be more personal. That's why it's going to make more recommendations for things that are specific to each user.
First: Local Scout. This is Microsoft's search tool for finding stuff close to you. It's been given a good boost in features. Opening the app automatically pulls up results for locations near the user. These are broken down into nearby eateries, hotels/gas stations, shops, and so on. Then there's a "For You" section. The For You section showed me all of the events happening in my town for the weekend. I didn't do anything to generate these results, but there were all the things scheduled to take place in my town (plays, parties, parades, etc.) Neat.
A "For You" section has also been added to the Windows Phone Store. This recommendation feature generates results not only on your own purchasing and downloading behavior, but the behaviors of your friends. For example, say you have a Facebook friend who recently downloaded an app and rated it highly. That app will probably appear as a recommendation for you in the "For You" section. These tweaks go a long way to providing an individualized experience for WP8 users.
In the short time I spent with the operating system, I can't say that the "For You" section of the Windows Phone Store delivered any stunning or amazing recommendations. In fact, I didn't use it to download any apps. The "For You" area of Local Scout was far more impactful. It's one thing to tell me what restaurants and shops are nearby, but it's another thing to add in local events, festivals, and other special events that might only be known to locals.
IE 10
The browser is new and a major step up from the IE 9 browser in the previous version of Windows Phone. It's dramatically better at rendering web pages and loads them faster, too. I found that all of the web sites I browsed just worked better and were more touch friendly.
I compared a handful of sites side-by-side with a device running Windows Phone 7.5, and the difference in how the pages render and work is like night and day. The browser also has a new address bar, more functional tabs, and better search capabilities when seeking something on that web page.
IE 10 is the browser that WP8 deserves. I still prefer iOS and Chrome, but at least now WP8 devices have a browser that's in the same stadium, let alone the same league as the competition.
Lock Screen and Notifications
In Windows Phone 7.x, the lock screen was a fairly static place. It would show you a list of unread/missed messages and or calls, but that was about it. In version 8, the whole notification system has been overhauled. It is much better overall, but the changes are most obvious - and welcome - on the lock screen.
Several different types of notifications can be sent to the lock screen, including calls, texts, emails, calendar, and so on. Select apps can also deliver alerts to the lock screen, such as Weather or CNN. Only five such apps can display notifications on the lock screen at any given time; you can customize which show up and which don't. The lock screen also lets you prioritize one of these. The prioritized notification - let's say email - provides a preview of the most recent email message in addition to the unread email count. If you pick the calendar, it will show you a preview if your next meeting, and so on.
Beyond these customization features, priority messages are delivered to the home screen in a new way. For example, all of the activity from my custom Room flashed on the home screen, letting me know that new Room content was on my phone. It's a drastically improved system.
Last, Microsoft is giving WP8 device owners more control over the lock screen wallpaper. For example, it can be set to a single, static image, or a random rotating slide show of your own photos. It can also be set to the Bing photo of the day. You can also set certain apps to control the home screen. CNN, for example, can be given permission to change the wallpaper based on the breaking news of the day. That's a small but quite visible innovation for the platform.
I love the new notification system and lock screen. It is far more informative and useful. It solves a major problem that I had with earlier versions of Windows Phone, which I found didn't provide enough information on the lock screen. Now, all of it is there, and it can also be customized. Well done, Microsoft.
Maps
Microsoft has now fully adopted Nokia's mapping technology. It's an integral part of Windows Phone 8. It's truly fantastic. Google Maps may be more familiar to most web goers, but Maps in Windows Phone easily smacks down Apple Maps in every way possible.
First, the level of detail is incredible. I love that you can download the maps of specific regions for offline use. For example, I downloaded all the maps for the entire states of New Jersey, New York, and California, and was able to zoom around those states when the device's radios were all turned off. Furthermore, the traffic tools, aerial views, and expansive geographic data that are baked into Maps make it an incredible tool.
I was even able to use Maps on an airplane (no network connection, obviously) and still route point-to-point directions. I couldn't however, look up points of interest when offline. It handled addresses and locations, but no details further than that.
NFC and Isis
Windows Phone 8 supports near-field communications, also called NFC. NFC can be used for various purposes and WP8 adds some of the vital ones.
First: Isis. Microsoft is a partner (along with AT&T, T-Mobile USA, and Verizon Wireless) of Isis. Isis launched its initial trail markets October 22. Smartphones equipped with Isis can make NFC-based tap-and-go payments at select merchants and have the purchase billed to their credit card. Microsoft will support Isis at launch and Windows Phone 8 devices can be used in the trial markets (Austin and Salt Lake City) right away.
Other NFC-based actions include a tap-to-share function. For example, if I want to share a picture, contact card, or song with another WP8 device, it is much easier to do so thanks to the NFC tool. I have to make sure NFC sharing is enabled in the settings. Once it is, any file I choose to share will be transferred automatically to my friend when I tap the back of my phone to the back of their phone (it requires that they accept NFC-based file transfers). NFC can also be used on WP8 phones to automatically pair with other NFC-equipped Bluetooth gear, such as Bluetooth speaker systems.
WP8 also has a brand new Wallet app that can store credit/debit cards, loyalty cards, membership cards and so on, and works well with Bing to let you know what's around when it comes time to shop. These cards of course integrate with NFC and Isis. Right now, however, it is pretty limited to credit/debit cards, PayPal, and loyalty cards. It does not support boarding passess or Starbucks cards, for example.
The NFC stuff is certainly cool. Who doesn't like tap-to-share functionality on their phones? I wish it worked with Android devices, though. Right now, it only works with other WP8 devices, which is rather limited. Isis will be the real differentiator here. Microsoft is going to run out the gate with Isis support and its own Wallet system. Microsoft has a chance of leapfrogging both Apple and Google with its Wallet, NFC, Isis triple-play.
Productivity
The messaging, email, Office, and other productivity apps all have new features. The email inbox now offers a dark view, for example, that matches the phone's theme. Email attachments are much easier to find. Office documents that are attached to emails are automatically added to the Office Hub and backed up on SkyDrive. The email app also supports voice dictation. Last, entire email threads can now be deleted easily.
The SMS/MMS app - which also doubles as the Windows Live IM app - lets users send photos, contacts, voice notes, contact cards, videos, and location data. It didn't support all of those features in WP 7.x. I found it was simple to attach files to outgoing messages.
I found these changes to all be good. I liked that I can stick a new theme in the email app, though it only goes so far as the inbox. Once you dive into an individual email, it's the same black-on-white experience as before. The email app also feels faster and looks sharp. It's still not as robust as the Gmail app on Android devices, but it is much better than the iOS email app
The added support for file sharing essentially just puts Windows Phone in feature parity with Android and iOS. The tools work well, weren't clumsy, and now have all I need to remain productive and not throw my phone against the wall.
SkyDrive
Microsoft has really ramped up SkyDrive, Microsoft's cloud-based storage service. Pretty much anything you do with a WP8 phone can be backed up or stored in SkyDrive. Much of it happens automatically.
For example, all your documents are backed up in Sky Drive. Any Word, Excel, PowerPoint files you have on your phone are automatically synced not only from the device to SkyDrive, but to any Windows 8 and RT devices you might have. The same goes for photos, playlists, XBox games, and so on. It also includes device settings. Say you lose your WP8 handset. If you replace it with another, the previous device's settings can be synced with the new device, getting you right back to where you were without missing a beat.
Skype
Skype for Windows Phone has been given some powerful new features. Most importantly, Skype can be opened and then set to run in the background. Previous versions of Skype would close when you navigated to a different app, meaning the person could not be reached via Skype unless they were actively using the Skype app. This was a shortcoming of the OS, and it's been addressed in version 8. Skype can be left on and Skype users can be reached at all times.
Skype also now works better with other parts of the operating system, such as the People Hub and contact cards. It's a more seamless experience across the board, but the changes stop short of building the application into the OS itself. Skype is still a separate application.
The Skype experience still manages to fall flat when compared to Android and iOS, though. Apple and Google have done a good job of making sure the app runs in the background, integrates with the native tools and so on really well. Skype for Windows Phone is dramatically better, but still feels a bit spartan when it comes to features.
Windows Phone 8 will support other VoIP apps in the same way that it supports Skype.
Windows Phone Store
The online Windows Store is being completely overhauled so that it has a cohesive look and feel across the Windows 8, RT, and WP8 platforms. The new Windows Phone Store, which now shares the same look and feel as Win8 and WinRT, is far simpler to use and browse through, and supports new methods of payment for apps, such as direct carrier billing, PayPal, credit cards, and gift cards.
For all intents and purposes, the store on Windows Phone handsets looks the same on Windows Phone devices. The online store for Win8 and WinRT were changed to more closely match the phone store. There are additional pages of recommendations and other ways to browse through, find, and pay for apps, but these are minimal changes as far as the end user experience goes.
Tweaks
Beyond the brand new apps and updated apps already discussed, there are plenty of small changes throughout the operating system that warrant discussion.
Camera
The camera has been updated a little bit. The viewfinder now fills the entire screen. The preview of the previous image that was visible along the left edge of the viewfinder is no longer there. You can still access it by swiping sideways, though. You can also pinch-to-zoom in the viewfinder for fine-tuning the shot you'd like to take. The camera includes more editing features for cropping, rotating, and making other adjustments.
What I liked most is that he camera app is much, much faster. This is probably thanks to the dual-core processor. No matter the reason, the camera app on WP8 performs as I expect a camera to perform: fast.
There are more controls and more features, such as "Bing Vision" and compatibility with third-party lenses. Bing Vision is Microsoft's version of Google Goggles. You can take a picture and then perform a Bing search based on the image.
Last, there are new things called Lenses. Lenses are mini-apps that work with the camera to extend its functionality. Lenses are sort like augmented reality apps for Android and iOS. They use the camera to interact with the real environment. The third-party lenses - which would have to be downloaded from the Windows Phone Store - enable stuff like barcode scanning and so on. I was able to download a lens in the CNN app, which works with its iReporter service. Different manufacturers will each offer their own set of lenses in part to help differentiate their phones from their competitors'. It's a cool way to add effects to images or find cool information through the camera. It's better than what's available to iOS, but not as good as what I've seen from Android augmented reality apps.
Wider Hardware Support
One of the most welcome updates to the Windows Phone platform is that it now supports a much wider degree of variation in hardware. This means phone makers will be able to make a larger array of unique and interesting phones.
First, the platform now supports multi-core processors. Previously, only single-core processors were supported. This means that the latest Snapdragon processors that are all the rage in Android handsets can now be used for Windows Phone. WP8 also supports more screen resolutions. The initial two versions of Windows Phone only supported 800 x 480 screens. Now, Windows Phone supports 1280 x 768 and 1280 x 720.
WP8 also supports removable storage. Huzzah! This means hardware makers can offer memory card slots for users to increase storage capacity.
Hardware Syncing
Microsoft is offering a wider array of tools for syncing content to your WIndows Phone. There's a brand new Windows 8 client for interacting with your music and video content. This includes an advanced file browser that lets you see everything on the phone, as well as everything on the computer, and easily transfer things back and forth.
Microsoft is also preparing a simpler "Connector" app for Windows 7, Vista, and Mac OS that will allow for basic syncing of photos, videos, and music. According to Microsoft, these clients will be more robust than the versions currently available. I was able to test a beta version of this app for my Mac and it worked well enough. I wanted to transfer a play list to the phone, and it let me. Video was tougher. I have a bunch of video on my computers, and unless you're transferring illegally ripped DVDs, then you're out of luck with any sort of DRM'd video content.
WP8 devices will also appear on Windows machines as a regular old D: or E: drive. Using the old-style Win8 hard drive control screen, you can drag-and-drop files back and forth between Windows desktops and WP8 devices.
Screen Shots
Now you can simply press the lock button and the Start button at the same time to capture a screen shot. Hooray! It worked as well as it does on any other phone that allows screen shots.
XBox
Windows Phone 8 brings with it support for in-app purchasing, the XBox SmartGlass App for interacting directly with the XBox from the WP8 device, and support for Direct3D for more immersive games. Unfortunately, I don't own an XBox, so I was unable to test this feature directly.
Wrap Up
Microsoft has done a commendable job at delivering a truly modern operating system that is just as feature-rich as the competition. Windows Phone 8 takes all the strengths of Windows Phone 7.x and pushes them to the next level. Like Apple, Microsoft now has a broad ecosystem of platforms, devices, apps, and services that run across its product portfolio. It's a compelling selling point that can't be underestimated.

On a feature-for-feature level, no one can tell you that Windows Phone 8 lacks anything. It has just as many tools available as competing platforms when it comes to communication, media, the cloud, and productivity. It surpasses even surpasses iOS and Android in some respects, such as gaming with WP8's tie-in with the XBox ecosystem. Microsoft's approach has never been about focusing on individual features, but on getting the basics better than anyone else. We can see that in the Hubs Microsoft has created for Windows Phone 8.

The People Hub, for example, is the central point on which everything else to do with the platform hinges. The People Hub lets you manage your various social networks and contacts in one place that is visually appealing and robust when it comes to avenues for communicating. By adding the Rooms functionality, for example, WP8 users have an incredibly powerful tool to interact in a more intimate way with their closest social circles.

Kids Corner is another excellent idea that's well implemented, and frankly is a feature that's long overdue for all smartphones. It sets up a nook in the operating system that lets kids access parent-controlled features without risking the security of the entire device. Well done, Microsoft.

I can't say that WP8 is as straight-forward to use as iOS, or as wildly customizable as Android, but it offers a refined experience that still includes plenty of flexibility for making each device personal. The overall experience is slick and modern, and once you learn the ins and outs of the platform, it is simple to control.

Combine the many new and improved features with the forthcoming wider array of appealing handsets, and Windows Phone 8 is primed to bring Microsoft back into the smartphone game from the fringes, as a real contender.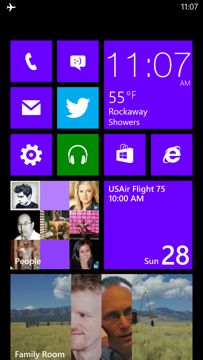 with metro...
microsoft has made it impossible for me to continue to use windows
or use Windows 7 mode on Windows 8?
bob a said:
microsoft has made it impossible for me to continue to use windows
Why? Just use it as you would Windows 7.
Geezus, people--just read up on something before you comment.
How much Personalization?
I have been following Windows Phone 8 for some time now. I have been an Iphone user since the 3g days but I am ready to break out from under Apple's control. One thing I havent been able to find is how much, if any, personalization will be in WP8. My question is will there be custom tones and alerts, contact specific tones and such will be available? With that said, everything I have seen today looks very slick. LUMIA 920 here I come.
Supports full custom ringtones, even for each individual contact. Windows Phone 7 didn't out of the box, but this feature was added in with 7.5 I believe, and has been improved with 7.8 and 8 (ringtones, alerts, everything can be customized).

Simi...
(continues)
Finally!
Been waiting for this since Friday. Beautiful write-up. I'm pretty convinced my next phone is going to be a Windows phone, probably the Lumia 920.
Though a serious question, do you think Rooms will expand to support Android phones any time soon? A lot of my friends use Android...
Best Phone I Have Ever Owned in My Entire Life!
I was partial to Android. Three Android phones later (and also one iPhone later), I decided to take a leap and go with the Lumia 710. I knew it was a low to mid-range Windows 7.5 phone that would not be capable of upgrading to 8, but bought it anyway. Best Buy price matched it to Amazon, so I got a great deal.

I was VERY skeptical, and anticipated taking it back, but I was pleasantly surprised. It does not lag, freeze up, or display any sort of weird stuff that all of my previous Androids displayed. Plus, it synchronizes with everything...I was heavily invested in the Google ecosystem, and it easily synced all my contacts and calendar.

The interface is where it really shines. Microsoft has done such a great job (I can't believe I am sa...
(continues)