Kyocera Remixes The Slider, Adds New Phones
Article Comments 16
Mar 14, 2005, 11:11 AM by (staff)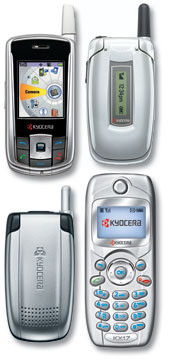 Kyocera announced 4 new CDMA phones today at CTIA. All of the models are expected out in the third quarter.
Slider Remix KX5: A Slider style phone that builds on the feature set of the KX2, adding music and a better screen. Features a 1.3 Megapixel camera with built in flash, a TransFlash slot and an mp3 player. Also features a new 262k color 176 x 220 screen.
KX9: A entry-level clamshell phone with dual displays and BREW support.
Topaz KX7 and Prisma KX17:Two low cost phones designed for emerging markets, namely Latin America and India. The KX7 is a clamshell model and the KX17 is a candybar with integrated antenna.
the slider remixed
do you think the slider remixed will come out with verizon because i want to go to verizon but i dont really like any of their current phones
Yes, most likely. see the story re: the new Amp'd carrier coming this fall. They're going to operate through Verizon's network.

Plus, the current slider was popular and (badly) needs this update. crossing my fingers! 😎
Latin America and India...
I wasn't aware that India even had any CDMA networks. There's certainly a market for it...with 1/6 of the world's population. Pretty neat looking phones too.
CDMA in India is a fairly recent thing (at least on a large scale). I believe that from 2002 to 2004 the CDMA carriers' market share in India went from 2% to around 25%.
India's largest wireless carrier is currently operating both GSM and CDMA-2000 networks. The CDMA-2000 will be operating on CDMA450 which is operating at 450MHZ for greater range from the towers.

The plan is for the CDMA network to become the domes...
(continues)