Samsung Hits New CDMA Highs
Article Comments 57
Mar 13, 2005, 11:08 PM by (staff)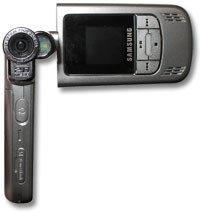 Samsung showed off two new high end and one mid-tier CDMA phones at CTIA, due out in the second quarter. They also announced another GSM model they had previously mentioned during CES.
A970: A twist and flip EV-DO clamshell with dual displays and an internal antenna. Features a 2.0 Megapixel camera with flash and optical zoom held camcorder style. Also has Bluetooth, a TransFlash slot, and speaker independent voice recognition.
A880: A CDMA clamshell with an internal antenna with dual color displays. Features a 1.3 MP camera with flash, speech to text input, and PictBridge photo printing.
A570: Slim CDMA clamshell with speaker-independent voice recognition and dual displays.
X475: A basic GSM clamshell with an internal antenna for T-Mobile USA. Dual-band (900/1900) with dual displays.
source: Samsung